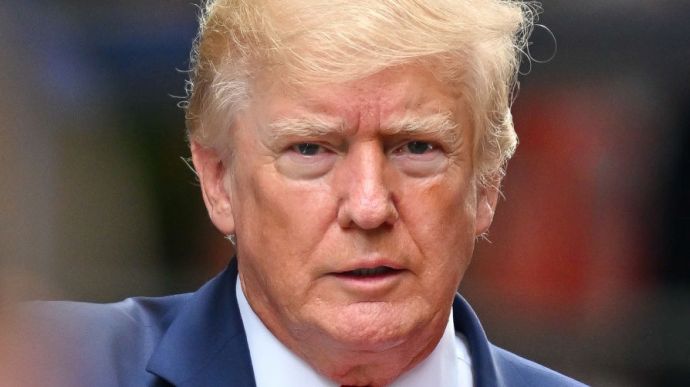 Trump promises to end war in Ukraine in 24 hours:
Former US president and likely Republican presidential candidate Donald Trump promised his voters to end the war in Ukraine within 24 hours of being elected to a second term.
Source: Trump during his first campaign rally in front of supporters in Texas
Trump said that Russian President Vladimir Putin began to withdraw troops to the borders of Ukraine after the "disaster" of his expulsion from the White House – that is, with his loss in the elections.
He accused President Joe Biden's administration of not even trying to negotiate with President Putin.
"It is no coincidence that the 'deep state' [a conspiracy term, according to which there is a coordinated secret group in the US that influences public policy – ed.) has haunted me even more since I promised to end the war in Ukraine," Trump said.
He said he could end the war "very quickly" once elected president.
"When I say yes, I will get a settlement very quickly… I will have a settlement within 24 hours. Standing before you today, I'm the only candidate to make that promise. I will stand in the way of the Third World War we are heading for," Trump said. ---READ MORE HERE
NY POST: Putin wanted 'total cleansing' of Ukraine with 'house-to-house terror,' leaked spy docs reveal:
Russian President Vladimir Putin planned a "total cleansing" of Ukraine with "house-to-house terror" to subdue its people, leaked spy documents reportedly show.
Chilling emails from within Russia's FSB intelligence service talk about orders "from the very top" for civilians to be taken to concentration camps in a bid to conquer Ukraine.
The emails were leaked by a source within the FSB to Russian human rights activist Vladimir Osechkin, who founded Gulagu, a website that highlights the conditions in the country's prison system, the US Sun reported.
The leak comes a week after the International Criminal Court charged Putin with war crimes on charges related to an alleged scheme to deport Ukrainian children to Russia.
Ukrainian president Volodymyr Zelensky said that there have been over 16,000 forced deportations carried out by Russia.
The revelations came as Russian troops appeared to refocus their efforts in eastern Ukraine.
Moscow's months-long push for the key Ukrainian city of Bakhmut has stalled, despite the leader of the Russian Wagner mercenary group's claims that the city was surrounded by three sides in early March.
Ukraine's Commander-in-Chief Valerii Zaluzhnyi said that the fight for Bakhmut is "stabilizing" and his troops' "titanic efforts" have thus far held back Moscow's forces. --->READ MORE HERE
Follow links below to
+++++relevant+++++
and related stories:
+++++Russia-Ukraine News LATEST UPDATES: (REUTERS) (AP) (NY POST) and (WSJ)+++++
+++++Military expert explains growing number of drone explosions in Russia+++++
+++++Explainer: What are tactical nuclear weapons and what is Russia's policy?+++++
Holding Bakhmut is a 'military necessity' - Ukrainian general
German Leopard 2 tanks have reached Ukraine -security source
Russians angry at downing of Ukrainian drone over their homes
Mayor: Explosions in occupied Melitopol, building with Russian law enforcement damaged
Moldovan Defense Ministry announces joint military exercises with US, UK
"He is Satan": audio of 2 prominent Russian figures allegedly criticising Putin gains traction in Russia
Ukraine's Avdiivka becoming 'post-apocalyptic', official says
Poland: Foreigner held on suspicion of spying for Russia
Ukraine fears nuclear plant could face dangerous water cooling shortage
China creates a new world order as Biden ignores the threats
If you like what you see, please "Like" and/or Follow us on FACEBOOK
here,
GETTR
here
, and TWITTER
here
.