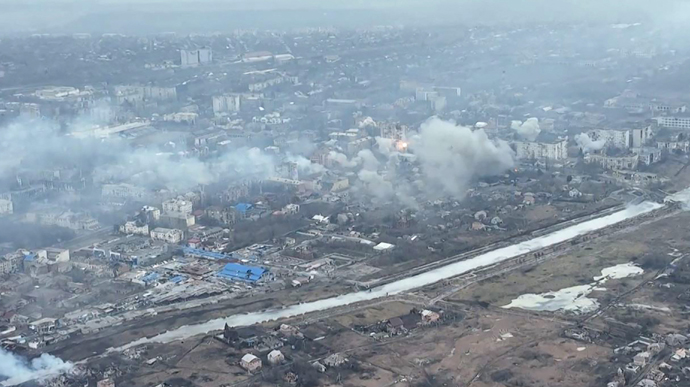 Occupiers unsuccessfully attempted advances on the outskirts of Bakhmut, Ukrainian Armed Forces struck air defence – General Staff:
The Russian military unsuccessfully tried to advance on the outskirts of Bakhmut and assault the city itself, and the Armed Forces of Ukraine struck Russian air defence.
Source: General Staff
Details: The aviation of the Defence Forces caused damage during the day - 12 strikes in the areas of concentration of Russian military personnel and equipment and a strike on an anti-aircraft missile system at a firing position.
Units of Rocket Troops and artillery struck three areas of Russian concentration and air defence equipment in firing positions during the day.
During the day, Russia launched 42 air and five missile strikes. Russia used 11 Shahed-136 UAVs during air attacks, nine of which were shot down and made more than 10 MLRS attacks, particularly by locality.
The primary efforts focus on conducting offensive operations on Kupiansk, Lyman, Bakhmut, Avdiivka and Shakhtarsk fronts.
On Volyn, Polissia, Sivershchyna and Slobozhanshchyna fronts, the operational situation has not changed significantly. The formation of Russian offensive groups was not detected. At the same time, Russia continues to hold its units near the state border of Ukraine. Currently, Russia is carrying out mortar and artillery attacks on the areas of the settlements of Senkivka, Chernihiv Oblast; Starikove, Holyshivske, Pavlivka, Volfyne, Sumy Oblast and Veterynarne, Strilecha, Krasne, Ternova, Ohirtseve Vovchansk, Budarky, Kharkiv Oblast. ===>READ MORE HERE
Zelensky says Ukraine will not withdraw from Bakhmut despite Russian assaults:
President Volodymyr Zelensky in his nightly address on March 6 said that along with Ukraine's top-level commanders, the decision was made not to withdraw from Bakhmut in Donetsk Oblast and instead to reinforce the troops currently defending the eastern city from Russia's relentless attacks.
"Today at the General Staff meeting, I directly asked both commander of the Khortytsia operational and strategic group of troops, (Oleksandr) Syrsky, and Commander-in-Chief (Valeriy) Zaluzhny about their view on the further defense operation in Bakhmut: either withdraw or continue to defend and reinforce the city."
"Both generals replied: do not withdraw and reinforce. The General Staff unanimously backed this opinion. There were no other opinions," he said.
Russia has been attempting to encircle Bakhmut for months as part of its larger objective of capturing the entirety of Ukraine's eastern Donbas region, comprised of Donetsk and Luhansk oblasts. Russia has occupied nearly all of Luhansk Oblast since it first invaded in 2014 and then later during its full-scale invasion.
The losses on both sides are thought to be extremely high. --->READ MORE HERE
Follow links below to
+++++relevant+++++
and related stories:
+++++Russia-Ukraine News LATEST UPDATES: (REUTERS) (AP) (NY POST) and (WSJ)+++++
+++++UK Defense Ministry: Ukrainian forces have 'likely stabilized' their defensive perimeter in Bakhmut+++++
+++++Wagner Group leader: Russia will lose territory in Ukraine if Moscow relents+++++
General Staff: Ukraine's military repels over 95 Russian attacks in 5 areas
Air Force: 13 out of 15 Russian drones downed by Ukraine overnight
Russia Claims Missile and Drone Attacks Within Its Borders
Russian reservists short on ammo fighting with shovels designed in 1869: report
Ukrainian forces inflict 'high casualties' as battle for Bakhmut rages
Russia loses 5 times more soldiers than Ukraine in battles for Bakhmut – CNN
Zelenskyy vows not to retreat from Ukrainian city of Bakhmut
Air defense downs 4 drones over Dnipropetrovsk Oblast
Inflatable tanks, missiles: Czech firm makes decoy armaments
UK Defense Ministry: Russia deploying 'vintage' tank models following heavy equipment losses
Bulgaria transfers to Ukraine weapons worth billions of dollars through third countries
Inside Russia's harrowing 're-education' camps — where they send kidnapped Ukrainian kids
EU closer to joint arms-buying to aid Ukraine but hurdles remain
Russian forces attack Ukraine residents fleeing 'almost destroyed' Bakhmut
Ukraine plant builds 6-person bunkers for war's front lines
If you like what you see, please "Like" and/or Follow us on FACEBOOK
here,
GETTR
here
, and TWITTER
here
.