WSJ: From Javelins to Tanks: What $30 Billion in U.S. Military Aid to Ukraine Looks Like
Washington has committed portable rockets, artillery, ammunition, armored vehicles and more to the fight
Since Russia launched its full-scale invasion of Ukraine over a year ago, the U.S. has committed more than $30 billion in security assistance that has included artillery, missiles, small arms, armored vehicles, radar systems, drones, body armor, millions of rounds of ammunition and more.
In his first remarks after the Feb. 24, 2022, invasion, President Biden said nothing that indicated how that would unfold. He pledged, "Our forces are not and will not be engaged in the conflict with Russia in Ukraine."
The following day Mr. Biden authorized the provision of $350 million in arms to Ukrainian forces.
It is difficult to determine exactly how many pieces of equipment the U.S. has sent or promised, in part because of the sheer scale: more than 10,000 antiaircraft systems and antiarmor systems, more than 200 helicopters and tanks, and more than 1.5 million artillery and ammunition rounds are among the gear the U.S. has committed.
A few types of equipment—Javelin and Stinger portable rockets; 155mm artillery, High Mobility Artillery Rocket System, or Himars, Bradley Fighting Vehicles. and Abrams tanks—were pledged to Ukraine at key moments in the war: --->READ MORE HERE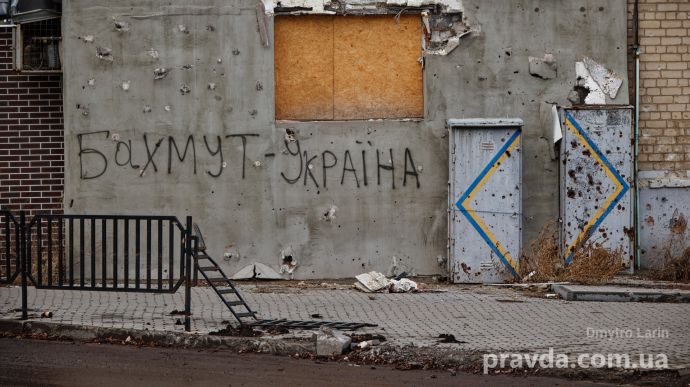 Ukraine's Armed Forces repel Russian attacks on Bakhmut and hit ammunition storage point – General Staff:
The Armed Forces of Ukraine repelled Russian attacks on Bakhmut and hit an ammunition storage point of the Russian occupiers.
Source: General Staff of the Armed Forces of Ukraine on Facebook, information as of 18:00 on 2 March
Details: Over the past 24 hours, the Ukrainian Air Force carried out 13 strikes on clusters of Russian military personnel and equipment, and Ukraine's Rocket Forces and Artillery struck one ammunition storage point.
Over the course of the day, Russian invaders carried out 24 airstrikes on the positions of Ukrainian troops and three missile strikes on the cities of Chasiv Yar, Donetsk Oblast, and Zaporizhzhia. As a result of the terrorist act, residential buildings were damaged and there were civilian casualties.
The Russian army conducted over 55 attacks using multiple-launch rocket systems, in particular on the civilian infrastructure in the settlement of Ulanove, Sumy Oblast.
On the Volyn, Polissia, Sivershchyna and Slobozhanshchyna fronts, the situation did not change significantly. Russian forces continue to maintain a military presence in the areas bordering Ukraine and continue the engineering of the positions. No offensive groups have been detected. Russian forces deployed mortars and artillery to attack areas in and around the settlements of Ryzhivka, Khotin, Stetskivka and Slavhorod in Sumy Oblast, and areas in and around 15 settlements in Kharkiv Oblast came under Russian fire. In particular, Krasne, Hlyboke, Vesele, Vovchansk, Ohirtseve and Strilecha....--->READ MORE HERE
Follow links below to
+++++relevant+++++
and related stories:
+++++Russia-Ukraine News LATEST UPDATES: (REUTERS) (AP) (NY POST) and (WSJ)+++++
+++++General Staff: Ukraine repels more than 170 Russian attacks over past 24 hours+++++
+++++Moscow accuses Ukraine of launching strikes inside Russian territory+++++
Slovakia considering giving Ukraine 10 of its 11 Soviet-era MiG-29 jets
Russia lost more troops in Ukraine in one year than in all wars since World War II combined — CSIS
Ukraine's Foreign Minister speaks on five Russian defeats and advises them to "choke on missiles"
Russia tries to close ring on Bakhmut as Ukrainians resist
EU to speed up deliveries of howitzer shells for Ukraine
Russia could run out of cash by next year, Putin pal Oleg Deripaska says
Ukraine clings to Bakhmut, Blinken tells Lavrov US to back Kyiv all the way
Kremlin 'financed' over 20 torture chambers during 'genocidal plan' in Kherson: investigators
Russia hits apartment block, kills four in Ukraine's Zaporizhzhia - officials
When Russia Invaded Ukraine, Germany Promised to Rearm. One Year Later, It Is Having Second Thoughts
Russian resistance group says it crossed into Russia, calls on Russians to take up arms against Putin regime
How Ukrainians Are Training to Take Western Tanks Into Battle
Explainer: China's increasing role in Russia's war against Ukraine
If you like what you see, please "Like" and/or Follow us on FACEBOOK
here,
GETTR
here
, and TWITTER
here
.