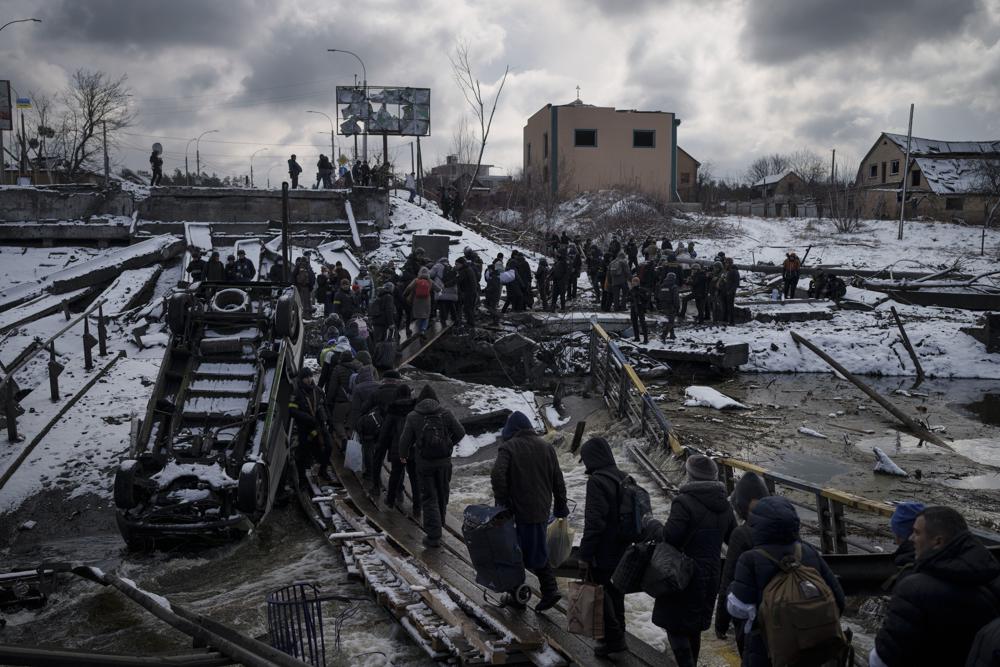 Ukraine's Year of Pain, Death —and also Nation-Building:
In the final hours before the Russian onslaught, a last grasp at peace. Russian troops would soon pour across Ukraine's borders and Russian missiles would fill Ukrainian skies, taking Ukrainian lives in the biggest air, sea and ground assault in Europe since World War II. But Ukrainian President Volodymyr Zelenskyy still appealed, on war's brink, for reason to prevail.
Staring intently into the camera in a last-ditch, dead-of-night, video-recorded plea against the invasion, Zelenskyy warned Russia that the consequences would be "an abundance of pain, filth, blood and death."
"War is a huge calamity," Zelenskyy said, in what proved to be one of his last outings in a suit before his switch to military-style casual wear. "This calamity carries a huge cost — in every meaning of this word."
The date was Feb. 24, 2022 — cataclysmic for Ukraine, course-changing for Russia, history-shaping for the wider world. Every hour of every day since has proven those words to be right.
As milestones go, the invasion's first anniversary Friday is both grim and vexing. It marks a full year of killing, destruction, loss and pain felt even beyond the borders of Russia and Ukraine — with war-related price shocks being just one example. But it also raises a question that is unsatisfying because it can't be answered at this partway point: How much longer until this stops?
"Not soon enough" might be one response, though any peace deal looks far off as Russia's invasion force meat-grinds into Year Two, with neither side close to reaching hoped-for objectives. --->READ MORE HERE
Putin's Ukraine Gamble Seen as Biggest Threat to His Rule:
Vladimir Putin says he learned from his boyhood brawls in his native St. Petersburg: "If you want to win a fight, you have to carry it through to the end, as if it were the most decisive battle of your life."
That lesson, cited in the most recent biography of the Russian president, seems to be guiding him as his invasion of Ukraine suffers setbacks and stalemates. The Kremlin strongman, who started the war on Feb. 24, 2022, and could end it in a minute, appears to be determined to prevail, ruthlessly and at all costs.
Stoking his countrymen this month on the 80th anniversary of the Battle of Stalingrad that turned around Moscow's fortunes in World War II, he said: "The willingness to go beyond for the sake of the Motherland and the truth, to do the impossible, has always been and remains in the blood, in the character of our multiethnic people."
But so far, Putin's gamble in invading his smaller and weaker neighbor seems to have backfired spectacularly and created the biggest threat to his more than two-decade-long rule.
HISTORY AND MODERN ROADBLOCKS
He began the "special military operation" in the name of Ukraine's demilitarization and "denazification," seeking to protect ethnic Russians, prevent Kyiv's NATO membership and to keep it in Russia's "sphere of influence." While he claims Ukraine and the West provoked the invasion, they say just the opposite — that it was an illegal and brazen act of aggression against a country with a democratically elected government and a Jewish president whose relatives were killed in the Holocaust.
Putin laid the foundation for the invasion with a 5,000-word essay in 2021, in which he questioned Ukraine's legitimacy as a nation. That was only the latest chapter in a long obsession with the country and a determination to correct what he believes was a historical mistake of letting it slip from Moscow's orbit. He reached back three centuries, to Peter the Great, to support his quest to reconquer rightful Russian territory.
But rectifying history soon hit modern roadblocks.
"Literally everything that he set out to do has gone disastrously wrong," said British journalist Philip Short, who published his biography, "Putin," last year.
Despite armed interventions in Chechnya, Syria and Georgia, Putin overestimated his military and underestimated Ukrainian resistance and Western support. Russian media try to boost his authority with images of a bare-chested Putin riding a horse, shooting at a military firing range and dressing down government officials on TV, but the war has exposed his shortcomings and the weakness of his military, intelligence services and some economic sectors. --->READ MORE HERE
Follow links below to
+++++relevant+++++
and related stories:
+++++Russia-Ukraine News LATEST UPDATES: (REUTERS) (AP) (NY POST) and (WSJ)+++++
+++++General Staff: Ukraine repels near 90 Russian attacks over past day+++++
+++++Russia's War Machine Tested by Rift Between Military, Wagner Group+++++
Attack on Kyiv by "hundreds of Russian aircraft" won't happen – Ukraine's Air Force
Russian ICBM test failed while Biden was in Ukraine: report
General Staff: Ukraine repels Russian assaults near 7 settlements
America's Choice in Ukraine
Czechs have sent 89 tanks, hundreds of pieces of heavy machinery to Ukraine -PM
Americans know Russia's defeat in Ukraine is in our interests — even if some Republicans don't
Poland to send Leopard 2 tanks to Ukraine in next few weeks
Italy's Giorgia Meloni rules out sending Ukraine planes in Kyiv visit
Crimea, Donetsk and Luhansk oblasts are Ukrainian, not for trade or sale – Danilov
Putin meets China's top diplomat to 'deepen' Beijing relations
Hundreds of foreign soldiers to help train Ukrainian troops in Germany, general says
"I offered him to make an old dream of his come true – to go on a trip around the world. But he went to war instead" – stories of foreign soldiers who died fighting for Bakhmut
International journalists federation suspends Russian union
Russians have hit critical infrastructure facilities 255 times
General Staff: Russia has lost 145,060 troops in Ukraine
House Republicans demand more transparency on Ukraine aid
If you like what you see, please "Like" and/or Follow us on FACEBOOK
here,
GETTR
here
, and TWITTER
here
.