Texas names border czar who wants to make state 'least desirable place for illegal immigration':
Texas is getting tough on illegal migration, appointing its very own Border Czar, to deal with the "unprecedented" numbers of people flooding over the border.
Michael Banks, a retired US Border Patrol agent was named to the role Monday.
"For me, the #1 priority is to make the State of Texas the least desirable place for illegal immigration to cross," Banks responded when asked his role.
US Customs and Border Patrol data showed some 2.4 million encounters with migrants attempting to cross into the border in the last fiscal year — the highest on record.
Governor Greg Abbott unveiled the new position as construction continues on the Lone Star State's version of a border wall in the town of San Benito — adding Banks' only focus will be responding to "President Biden's open border policies."
The appointment comes as the US Border Patrol announced as the focus remains on the beleagured town of El Paso, which has become the number one busiest border crossing in the country. --->READ MORE HERE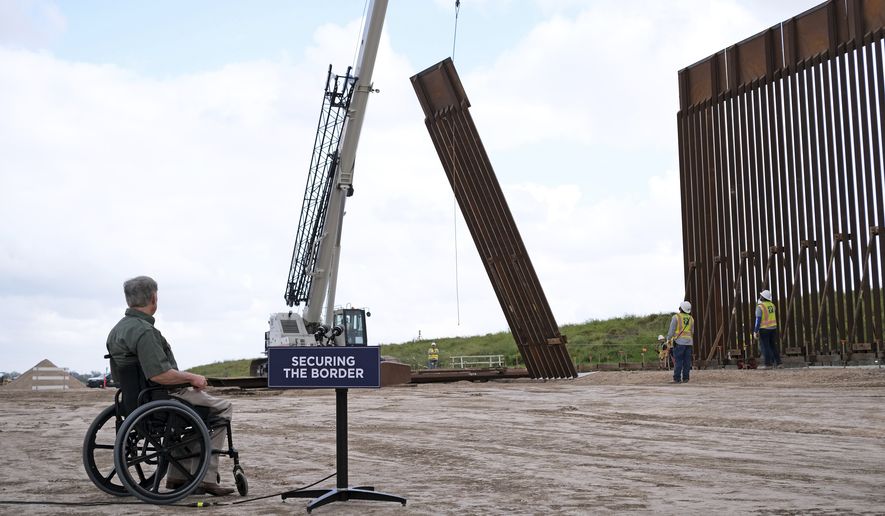 Miguel Roberts/The Brownsville Herald via AP
Texas Gov. Greg Abbott appoints state border czar, citing Biden's absence:
Texas Gov. Greg Abbott is tapping the state's first border czar to respond to the surge of migrants across the border.
Mr. Abbott, a Republican, said he selected an experienced U.S. Border Patrol agent, Mike Banks, to serve as his "special adviser on border matters to the governor" because President Biden has been absent on the matter.
"For nearly two years, the state of Texas has taken unprecedented, historic action under Operation Lone Star in response to the Biden administration's refusal to secure the border," Mr. Abbott said at a news conference on a border wall construction site in San Benito, Texas. "To continue doing what no other state in the history of our country has done to secure the border, I hired Mike Banks as the state of Texas' first-ever border czar."
Mr. Abbott said he appointed a czar to ensure that border security strategies are fully executed when there is a lack of federal action.
Mr. Banks will advise the governor on ways to manage migrant surges like the one that shocked the El Paso area in December.
Mr. Abbott's decision to appoint a special czar comes on top of efforts to bus migrants to other parts of the country, saying liberal states that advertise themselves as sanctuaries should accommodate the new arrivals. --->READ MORE HERE
fOLLOW LINK BELOW TO A RELEVANT STORY:
++++Gov. Greg Abbott hires "border czar" to accelerate wall construction++++++
If you like what you see, please "Like" and/or Follow us on FACEBOOK
here,
GETTR
here
, and TWITTER
here
.