WSJ: Tanks Aren't Arriving in Ukraine Despite Promises From European Allies:
For months, Germany withstood international pressure to allow neighbors to supply Ukraine with German-made tanks. Yet since Berlin finally yielded last month, only one country in Europe has agreed to dispatch a sizeable contingent.
European allies' reluctance to make good on earlier signals despite intense lobbying from Berlin in recent days is raising doubt that enough tanks can arrive in Ukraine in time for an expected Russian offensive.
It is also leaving Germany's government in an awkward position it has sought to avoid: becoming the sole purveyor of a large contingent of Western-made main battle tanks for Ukraine. Since the start of the war, German Chancellor Olaf Scholz has made a point of coordinating weapon deliveries with allies.
Europe's sudden misgivings about supplying Ukraine with tanks reveal that, as with ammunition and heavy artillery, North Atlantic Treaty Organization members in the region have fewer operational tanks that they can spare at a time of heightened geopolitical tension than was originally estimated by experts and officials.
"The fact that there are so few operational battle tanks and that they are so incompatible with each other should be taken as an alarm signal in Europe," said Nico Lange, a former senior defense official in the German government and now a senior fellow at the Munich Security Conference.
Britain and France, which have the biggest armed forces among European NATO allies, have around 220 tanks each, but it is unclear how many are actually battle-ready, according to GlobalFirepower, an online database. Germany has a similar number of tanks, with government surveys showing that less than half of them can be deployed because the rest are in need of repair. By contrast, Russia started the war with over 12,000 tanks, while Ukraine had nearly 2,000. --->READ MORE HERE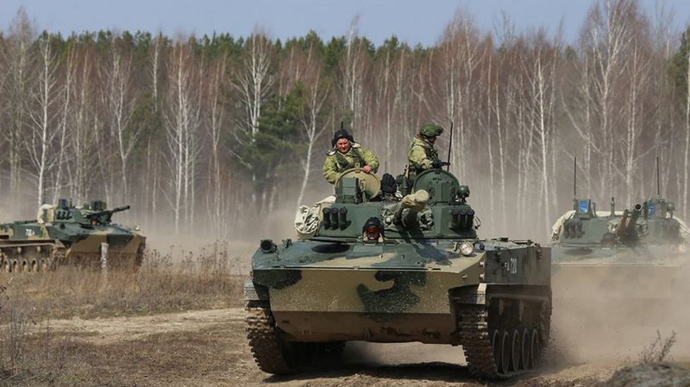 Russians advance on Luhansk Oblast, but Ukrainian Armed Forces prevent them from securing significant gains – ISW:
The Institute for the Study of War (ISW) has noted that Russian forces have begun a major offensive in Luhansk Oblast, but Ukrainian forces are currently preventing them from securing any significant gains.
Source: ISW
Details: According to the ISW, Russian forces have regained the initiative in Ukraine and have begun a major offensive in Luhansk Oblast.
The pace of Russian operations along the Svatove-Kreminna line in the western part of Luhansk Oblast has increased markedly over the past week, and Russian sources are widely reporting that conventional Russian troops are attacking Ukrainian defensive lines and making marginal advances along the Kharkiv-Luhansk Oblast border, particularly northwest of Svatove near Kupiansk and west of Kreminna.
The ISW noted that geolocated combat footage has confirmed Russian gains in the Dvorichna area northwest of Svatove.
The commitment of significant elements of at least three major Russian divisions to offensive operations in this sector indicates the Russian offensive has begun, even if Ukrainian forces are so far preventing Russian forces from securing significant gains.
The Russian offensive, as the ISW suggests, has not yet reached its full pace; Russian command has not yet committed elements of the 2nd Motorised Rifle Division (1st Guards Tank Army, Western Military District), which were deployed in Luhansk Oblast in January after being deployed to Belarus. --->READ MORE HERE
Follow links below to
+++++relevant+++++
and related stories:
+++++Russia-Ukraine News LATEST UPDATES: (REUTERS) (AP) (NY POST) and (WSJ)+++++
+++++Zelenskyy: Ukraine caught Russian plan to 'destroy' Moldova+++++
+++++WSJ: Moldova Says Russian Missile Entered Its Airspace as Barrage in Ukraine Intensifies+++++
How a band of Ukraine civilians helped seal Russia's biggest defeat
Lithuania to provide Ukraine with 36 air defense systems
Russia massing 500K soldiers, 1.8K tanks to launch offensive in 10 days: official
Zelenskiy says a victorious Ukraine will be part of EU
Zelensky greeted with standing ovation, cheers at EU Parliament
Quarter of Ukrainians at risk of severe mental health conditions - adviser
SpaceX Limits Ukraine's Military Use of Starlink Satellite Business
Ukraine agrees repairs of heavy armour in Czech Republic
Investigators Say Putin Likely Approved Supply of Missile System That Downed Flight MH17
Spain trains Ukrainian volunteers ahead of expected Russian offensive
Ukraine's Zelenskyy makes emotional appeal for EU membership
Ukrainian forces destroy Terminator tank-support fighting vehicle near Kreminna
Reuters: SpaceX curbed Ukraine's use of Starlink Internet for drones
Portugal to send Ukraine three Leopard 2 tanks
Ukrainian military arrives in Belgium to learn how to operate underwater drones
Finland will transfer tanks to Ukraine only after it joins NATO
If you like what you see, please "Like" and/or Follow us on FACEBOOK
here,
GETTR
here
, and TWITTER
here
.