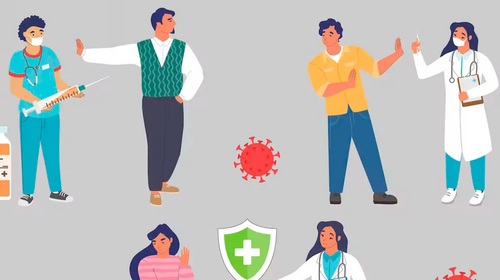 Satire Or Serious: "Why Didn't The Unvaccinated Do More To Warn Us?":
Given the gargantuan level of gaslighting going on globally, it is difficult for us to judge whether the following is the most serious reframing of the entire COVID crisis yet or the most satisfyingly satirical take on the farcical narrative-managers op-eds we've ever read.
You decide..
They knew: why didn't the unvaccinated do more to warn us?
The unvaccinated knew what we didn't. Some of them said too little. Most said nothing at all. A lot of blood is now on their hands.
As the world struggles to come to terms with the devastating effects of the COVID-19 pandemic, one question that continues to surface is why the unvaccinated didn't do more to warn us about the potential dangers of being injected.
While well intending citizens lined up, did the right thing, and received their COVID19 vaccinations -- now seeming to do more harm than good -- their unvaccinated friends stood by and let them do it. Some of them said too little. Some said nothing at all.
Even though they knew what we didn't.
Our blood is now on their hands.
Those are strong words. But the unvaccinated had access to important information about the potential side effects of vaccines. They knew about the risks of severe allergic reactions, blood clots, and other serious health complications. They knew that vaccines did not immunize us. They knew it wasn't effective, and that they can cause more harm than good.
They knew all of that, but instead of warning us, the unvaccinated chose to remain silent. They chose to look the other way and not speak out about the potential dangers of vaccines. They let millions of good folks who did the right thing (at the time) fall to death and disease, and many antivaxxers even gloated online about how their coin flip had been the right bet. The more diabolical even urged folks they disagree with to "get boosted." --->READ MORE HERE
Cuomo staffers worked on $5M COVID book deal as 1K NYers died each day: report
Then-Gov. Andrew Cuomo had top administration staffers working on his self-aggrandizing, $5.1 million COVID-19 memoir at the height of the pandemic — as New York was losing around 1,000 residents a day to the deadly virus, a bombshell new report alleges.
The conservative Empire Center for Public Policy said emails obtained under the state Freedom of Information Law showed that top Cuomo aide Melissa DeRosa began directing staffers to compile information for her on March 30, 2020.
"Who can do a timeline for me? call me to discuss," DeRosa wrote at 7:58 a.m., according to the email.
That was little more than two weeks after Cuomo announced the state's first coronavirus-related fatality: an 82-year-old woman who died at Wycoff Heights Medical Center in Brooklyn.
The emails span the period of time from March 30 to April 18, 2020, during the first and deadliest wave of the pandemic, when the seven-day average death toll peaked at 978 on April 13.
Although none of the messages explicitly mentioned Cuomo's book project, his memoir later used dates and the related numbers of COVID-19 cases, hospitalizations and deaths for each chapter title, according to the Empire Center.
In addition, one of Cuomo's speechwriters sent DeRosa and other top gubernatorial aides an email on April 18, 2020, with a draft version of "a preface I've been working on."
It was written, as if by Cuomo, in the first person, and recalled his plans for Jan. 8, 2020, which was described as "a special day, the day I would deliver the State of the State address." --->READ MORE HERE
Follow links below to relevant/related stories and resources:
Republicans introduce bills to reinstate service members fired over coronavirus vaccine mandate
Coronavirus-denying monk who called Putin a "traitor to the Motherland" sentenced to 7 years in Russian prisonc
USA TODAY: Coronavirus Updates
WSJ: Coronavirus Live Updates
YAHOO NEWS: Coronavirus Live Updates
NEW YORK POST: Coronavirus The Latest
If you like what you see, please "Like" and/or Follow us on FACEBOOK
here,
GETTR
here
, and TWITTER
here
.