WSJ: Russia Pushes on Several Fronts in Ukraine:
U.K. says Moscow's lack of resources is likely to hinder any major offensive
Russian forces launched several attacks in eastern Ukraine, pushing for a breakthrough on the battlefield ahead of the delivery of new Western weapons, although the U.K. cast doubt on the prospects for a major Russian offensive.
The General Staff of Ukraine's armed forces said Russia was regrouping and attacking on five fronts in the eastern Donetsk and Luhansk regions, as part of a wider offensive anticipated by Kyiv and its Western allies.
But while the Russians are seeking to regain the initiative on the battlefield after a number of stinging setbacks last year, the U.K.'s Ministry of Defense said a lack of necessary munitions and mobile units would hamper any major Russian offensive.
"It remains unlikely that Russia can build up the forces needed to substantially affect the outcome of the war within the coming weeks," the ministry said Tuesday.
Russian forces have only managed to take several hundred meters of territory a week since attempting to resume offensive operations last month with the aim of seizing remaining parts of the Donetsk region under Ukrainian control, the ministry said.
Ukrainian officials have warned Russia is preparing a renewed onslaught as the first anniversary of the invasion approaches later this month. Moscow has yet to secure the goals of its campaign, including full control over the industrial Donbas area of eastern Ukraine.
"They are focusing their main efforts on conducting offensive actions on Kupyansk, Lyman, Bakhmut, Avdiivka and Novopavlivka fronts," the General Staff of Ukraine's armed forces said.
Russia's Defense Ministry said Tuesday that its forces were conducting combat operations across the Kupyansk and Lyman fronts, the entirety of the Donetsk region, and the southern Zaporizhzhia and Kherson regions. --->READ MORE HERE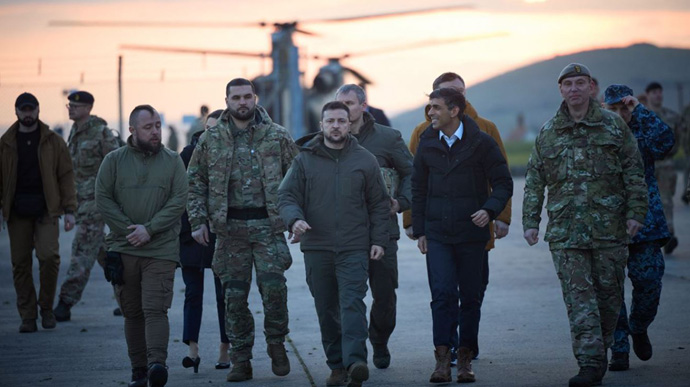 Zelenskyy: Let's make Russians wait for Ukrainian offensive:
During his visit to the UK, Ukrainian President Volodymyr Zelenskyy stated that the Russians did not stop their offensive so the international community must make them wait for the Ukrainian counter-offensive to start.
Source: press conference of Volodymyr Zelenskyy and British Prime Minister Rishi Sunak on 8 February
Quote: "Concerning the offensive and when it will start. We are living in a state of war and speaking about when the offensive will start…Did it ever stop? It was simply on a different scale. I think that we should make Russians think when the Ukrainian offensive will start, and how they can withdraw from our territory."
Details: Zelenskyy also explained why Ukrainian forces are not withdrawing from the city of Bakhmut. He stated that if it happened, the occupiers would want to advance further and the question would be what city they would choose to besiege next.
Background:
On Wednesday, 8 February Volodymyr Zelenskyy arrived in the United Kingdom, making it his second visit abroad since the beginning of the full-scale Russian war against Ukraine.
--->READ MORE HERE
Follow links below to
+++++relevant+++++
and related stories:
+++++Russia-Ukraine News LATEST UPDATES: (REUTERS) (AP) (NY POST) and (WSJ)+++++
+++++Ukraine's Secretary of National Security hints that Ukraine can strike Russian territory+++++
+++++UK Defense Ministry: Russia unlikely to build up forces needed to affect war outcome in coming weeks+++++
General Staff: Air Force hits 9 Russian military positions
Ukraine's Armed Forces attack Russians while they dig trenches
Soviet-era Stryzh recon drone, modernized by Ukraine, likely behind explosion near Kaluga, experts claim
Official: Loud explosions reported in Russian-occupied Mariupol
Danilov: 'Ukraine's national interest is Russia's disintegration'
Ukrainian guerrillas set fire to railway signal box in Luhansk Oblast, says governor
Ukrainian military fires in a day 'same number of artillery shells a small country orders in a year'
Germany, Denmark, Netherlands pledge Ukraine Leopard 1 tanks
Americans still back Ukraine, but fractures form over aid, poll shows
Occupiers lose flash drive and expose FSB handlers in Balakliia
Britain needs new 'stockpile' strategy to support Ukraine, says Labour
Mayor of Ukrainian city where civilians were slaughtered visits NY, demands Russia face war tribunal
Netherlands, Denmark and Germany buy 100 Leopard 1 Tanks for Ukraine - Dutch gov't
Russia 'eradicating' towns in Donbas as battle for eastern Ukraine heats up
'Fences protect Europe', Hungary's Orban says ahead of EU migration summit
Russia: NATO involvement in Ukraine threatens 'unpredictable' escalation
If you like what you see, please "Like" and/or Follow us on FACEBOOK
here,
GETTR
here
, and TWITTER
here
.