Russia now suffering biggest losses in Ukraine since invasion, military intelligence says:
Russian troops are currently suffering the biggest losses since the beginning of its full-scale invasion of Ukraine, Ukrainian Military Intelligence spokesperson Andriy Yusov said on Ukrainian national television on Feb. 15.
According to Yusov, Russian forces are desperately trying to occupy the Ukrainian-controlled territory of Donbas by late March.
However, Donbas, in particular the town of Bakhmut, are holding the field, he emphasized.
Yusov added that Russia has a significant mobilization reserve.
"Yes, often poorly armed and poorly trained (soldiers), but there are many of them," he said.
"But this does not stop the Ukrainian defense forces. There are plans and mechanisms for responding to all challenges."
According to Ukraine's General Staff, Russia has already lost almost 140,000 of its military personnel and thousands of pieces of military equipment since the beginning of the full-scale invasion of Ukraine. --->READ MORE HERE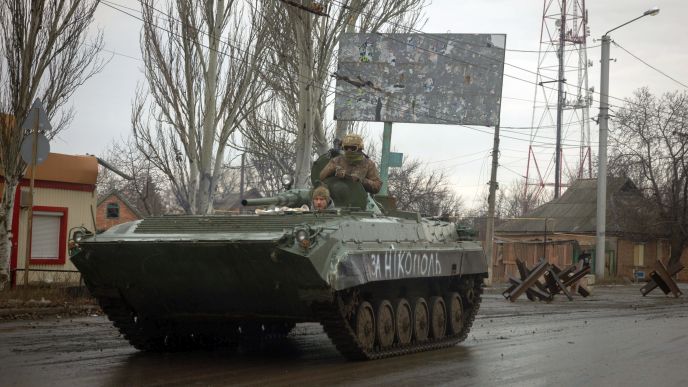 Ukraine not to surrender Bakhmut, Russians paratroopers badly hit – Lt. of Ukraine's Armed Forces:
Ukrainian fighters are not going to surrender Bakhmut in Donetsk Oblast to the Russian invaders; a multi-layer defence perimeter has been set in the city.
Source: Volodymyr Nazarenko, deputy commander of Svoboda battalion, Lieutenant of the National Guard of Ukraine, in the broadcast of the Svoboda Live program; Radio Svoboda
Quote: "I would like to assure you that the Ukrainian forces are not going to surrender the city.
Every street of the city is guarded. Every street, every building is a fortress. There are strong fortifications throughout the city. I do not want to disclose their exact location and how they are equipped but trust me: this is a multi-layer defence.
Russians are carrying out active, very dynamic, very tense battles in the outskirts of the city, which is a private sector and a few apartment blocks in the North, to the East from the city, but in general the occupiers have not reached the heart of the city. They are trying to push through but they are not there yet. In fact, the heart of the city, the city centre, and western outskirts are under secure control. The Ukrainian forces are the masters in this city.
So far we cannot say that full-blown street fights are ongoing there, like they were in the cities of Sievierodonetsk and Rubizhne in Luhansk Oblast. Because there is a pretty reliable defence in the city."
Details: Nazarenko is convinced that "Russian forces will end sooner or later", and Russians already "have to rebuild new connections again and again after the previous ones were thwarted." --->READ MORE HERE
Follow links below to
+++++relevant+++++
and related stories:
+++++Russia-Ukraine News LATEST UPDATES: (REUTERS) (AP) (NY POST) and (WSJ)+++++
+++++Armed Forces of Ukraine destroy three ammunition storages, Russia drops gas grenades – General Staff+++++
+++++Three Russian crime bosses recruited by Wagner Group are killed in Ukraine+++++
Suspected Iranian Weapons Seized by U.S. Navy May Go to Ukraine
Kyiv clamors for fighter jets as war nears 'critical' phase
EU seeks to use frozen Russian funds to rebuild Ukraine
Pentagon head says allies to help Ukraine launch counter-offensive in spring
Ukraine talks further aid with U.S. as training on modern tanks starts
Ukraine's Troops Will Need Fewer Bullets and Shells After Training, U.S. Hopes
Americans warned to leave Russia as State Dept. issues 'do not travel' alert
Germany to produce ammo for air defense guns sent to Ukraine
Spain to train Ukrainian soldiers on Leopard tanks starting this week
GOP leaders start laying groundwork for more Ukraine aid
Polish defense minister: Western tanks will arrive in Ukraine by March
U.S.-backed report says Russia has held at least 6,000 Ukrainian children for 're-education'
Shmyhal: Russia drains Dnipro River reservoir, endangering Ukrainians' water supply
Elderly brothers eke out life among ruins of Ukraine war
Norway to send 8 Leopard 2 tanks to Ukraine
Kremlin: NATO becoming more involved in Ukraine conflict
If you like what you see, please "Like" and/or Follow us on FACEBOOK
here,
GETTR
here
, and TWITTER
here
.