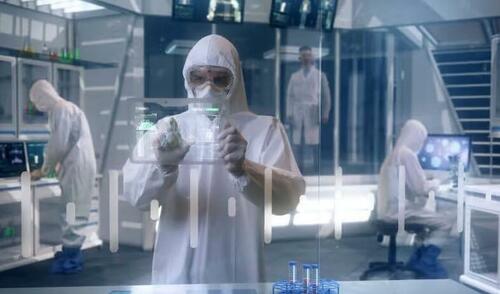 Everything You Need To Know About The Lab Leak (But Were Not Allowed To Ask):
Between 2014 and 2019, US tax dollars were funneled to the Wuhan Institute of Virology via EcoHealth Alliance. Given that US scientists have far more virology expertise than the Chinese, this begs an obvious question: what type of research were US tax dollars paying for in Wuhan, China? Dr. Fauci's surprising statement in an interview might provide the short answer to this question: "You don't want to go to Hoboken, NJ or Fairfax, VA to be studying the bat-human interface that might lead to an outbreak, so you go to China."
Given what we've endured for the past three years, Fauci's "so you go to China" comment suggests that he hadn't considered the global implications of a highly transmissible coronavirus leaking from a Chinese lab plagued by serious safety issues.
Unwilling to admit that he, EcoHealth Alliance, and their Chinese collaborators, are suspects in one of the largest crimes against humanity, Fauci instead opted to conspire with his boss, Francis Collins, to declare "lab leak" a "destructive conspiracy" that must be "put down." Sadly, it's clear that from the beginning, these two distinguished scientists made up their minds about virus origin without evidence from both sides of the debate.
Even worse, renowned scientists that rely on Fauci for their research funding, fearful of sanctions being placed on their life's work, rallied around the "anti-lab leak" stance. One of the premier scientific journals, Science, whose political bias has become very apparent, attempted to provide legitimacy to Fauci's position by publishing a paper by authors that claimed "dispositive evidence" that SARS-CoV-2 emerged from an animal at the Wuhan market. This paper allegedly "crushed" the lab-leak hypothesis, despite leaving much room for debate.
The good news is that Big Tech, scientific journals, and most media sources were forced to stop censoring countervailing evidence as it reached critical mass and began spilling over into the public domain. Far from being a "conspiracy," there is a lot of evidence that strongly suggests SARS-CoV-2 is an engineered virus that spread from a Wuhan virology lab. Before getting into the evidence that SARS-CoV-2 was engineered and leaked from a lab, let's start a debate around the "dispositive evidence" that SARS-CoV-2 is natural and emerged from the Wuhan market. --->READ MORE HERE
PLAYING WITH FIRE: Wuhan Covid 'lab leak' firm STILL doing US-funded deadly bat virus tests that 'could spark new pandemic'
A FIRM under fire over the origins of Covid is still doing deadly virus tests that could spark a new pandemic, a top US senator has warned.
The US government has dished out MILLIONS to EcoHealth Alliance for "dangerous" new projects, The Sun Online can reveal.
That's despite questions still raging over its role in the alleged lab leak from the Wuhan Institute of Virology in China during chilling bat tests.
Current EcoHealth Alliance projects include experiments with bats and hamsters on the deadly brain-swelling Nipah virus in Bangladesh.
Nipah is listed as a potential threat to mankind by the World Health Organisation.
In other tests, humanised mice are infected with zoonotic viruses in Thailand, Singapore and Malaysia, according to grant documents.
US Senator Joni Ernst has called on Congress to immediately stop dishing out grants for these experiments. --->READ MORE HERE
Follow links below to relevant/related stories and resources:
The pandemic's long over — can we get fully back to normal already?
Why Vaccine Skepticism Is Growing on the Right
USA TODAY: Coronavirus Updates
WSJ: Coronavirus Live Updates
YAHOO NEWS: Coronavirus Live Updates
NEW YORK POST: Coronavirus The Latest
If you like what you see, please "Like" and/or Follow us on FACEBOOK
here,
GETTR
here
, and TWITTER
here
.