Biden Calls for Amnesty for Millions of Illegal Aliens at State of the Union:
President Joe Biden, on Tuesday evening, called for amnesty for millions of illegal aliens living throughout the United States during his third State of the Union (SOTU) address.
"If you won't pass my comprehensive immigration reform, at least pass my plan to provide the equipment and officers to secure the border," Biden said. "A pathway to citizenship for DREAMers, those on temporary status, farm workers, and essential workers."
Biden made the plea in his last SOTU address.
Such a plan would ensure that millions of illegal aliens living across the U.S. can secure green cards and, eventually, naturalized American citizenship. Those given amnesty would also help hugely inflate the labor market, flooding working and lower-middle class industries with cheaper labor to hire for businesses.
Already, the U.S. gives out 1.2 million green cards to foreign nationals annually. In addition, about 1.5 million temporary work visas are rewarded to foreign nationals to take American jobs. Also, hundreds of thousands of illegal aliens are entering American communities every month as a result of Biden's expansive Catch and Release network. --->READ MORE HERE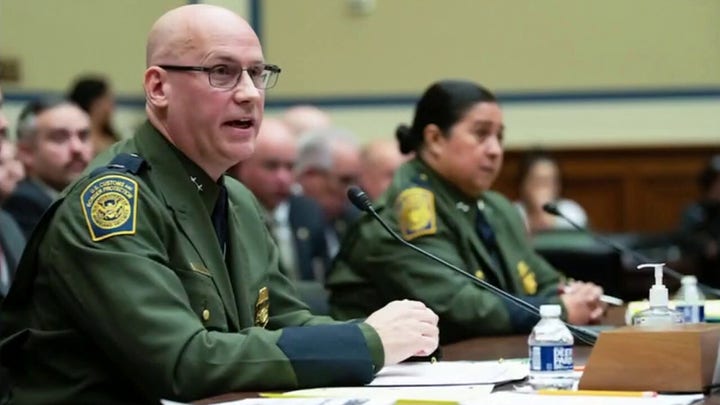 State of the Union 2023: Biden re-ups amnesty call for illegal immigrants, GOP reps yell 'secure the border':
President Biden on Tuesday used his State of the Union address to double down on calls for Congress to pass a mass amnesty for illegal immigrants, while touting a recent drop in migrant numbers at the southern border from the historic highs seen during his administration – and was met by yells to "secure the border" by some Republicans.
"Let's also come together on immigration and make it a bipartisan issue once again," he said.
Biden's administration has been rocked by a migrant crisis at the southern border now into its third year, with a record 2.3 million migrant encounters and nearly 600,000 "gotaways" in FY 2022. In December there was a record 251,000 migrant encounters alone.
Republicans have battered the administration over the crisis, blaming the administration's rolling back of Trump-era border security policies and interior enforcement. But the administration has blamed a hemisphere-wide crisis and has hit out at Republicans for not agreeing to funding and reform measures proposed by the administration.
On Tuesday Biden touted increases in Border Patrol staffing and also increased fentanyl seizures at the border, which officials have said shows that apprehension is getting better.
"We now have a record number of personnel working to secure the border, arresting 8,000 human smugglers and seizing over 23,000 pounds of fentanyl in just the last several months," he said.
He also noted border measures introduced last month, which extended a humanitarian parole program for Venezuelans to include Cubans, Haitians and Nicaraguans nd would allow 30,000 in a month if they did not cross illegally, had a sponsor already in the U.S. and met other conditions.
That was accompanied by an expansion of Title 42 expulsions to include those nationalities. --->READ MORE HERE
Follow links below to related stories:
Biden Largely Ignores the Border Crisis He Created, While Calling for Amnesty for Illegal Aliens, Charges FAIR
Border Advocates Blast Biden's Call for Amnesty in State of the Union
If you like what you see, please "Like" and/or Follow us on FACEBOOK
here,
GETTR
here
, and TWITTER
here
.