WSJ: Ukrainian Victory Against Russia Would Be Great for America:
When Russia brutally invaded Ukraine in February 2022, many predicted that my country would be overwhelmed and the war would end quickly. As we near the improbable one-year mark of this conflict, it's clear that Ukrainians are far stronger than Vladimir Putin imagined. I see this strength every day as I walk the streets of Kyiv—resilient people going about their lives with steely determination, even as they endure constant assault. In subzero conditions and with no heat, my hometown celebrated the holidays with hope, coming together to light the tree on Sofia Square and sing, despite fears of continued shelling.
In 2023, Ukraine can defeat Russia decisively and end this horrific war, which would be great not only for democracy and freedom but for the U.S. economy as well. To win rapidly and convincingly, we need more help from our strongest ally, America.
We ask for the continued support of the American people with full appreciation of their generosity so far. We are grateful for the nearly $25 billion in security assistance we have received from the U.S. since the invasion began. There is no question that it has helped us remain strong.
But we need more to stop the aggressors and guarantee freedom for all Ukrainians. While Ukraine's defenders have recaptured various regions and fought back Russian advances in others, we need to take our campaign to the next level. If we can demonstrate resolute defensive capabilities such as the Patriot missile system, Mr. Putin will be forced to relinquish his dream of conquering Ukraine. Winning requires rapid access to advanced weaponry that a country of our size and wealth simply doesn't have on its own.
In addition to military support, Ukrainians need help surviving the difficult and sustained onslaught from Russia. This humanitarian need can be seen plainly in the streets of Kyiv. Just the other day, a bomb exploded near my apartment in the middle of the night. We can't stand to live in constant terror. The toll is not only physical but emotional—and the trauma will linger for years.
With everything going on in the U.S., it's easy for Americans to wonder why they should do more. There are two reasons. --->READ MORE HERE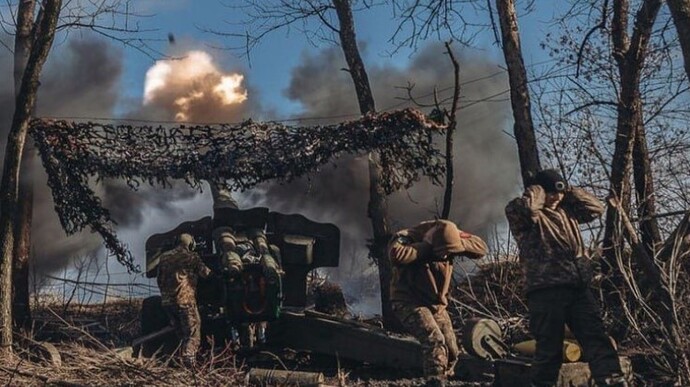 Ukraine's Armed Forces hit Russian command post, cluster of personnel, and electronic warfare station:
Units of the Rocket Forces and Artillery of the Defense Forces struck one command post, one cluster of manpower, and one electronic warfare station over the past 24 hours.
Source: General Staff of the Armed Forces of Ukraine on Facebook, information as of 18:00 on 18 January
Details: The Russian invaders have carried out 22 airstrikes and more than 50 strikes from multiple-launch rocket systems in the course of the last 24 hours.
According to the General Staff, the occupiers are focusing their main efforts on conducting an offensive on the Bakhmut front. They are conducting unsuccessful offensive actions on the Avdiivka front. In addition, they are trying to improve the tactical position on the Lyman front. On the Zaporizhzhia front, unsuccessful offensive actions were carried out in the areas of the settlements of Orihiv and Huliaipole. The Russians are defending their positions on the Kupiansk, Novopavlivka and Kherson fronts.
On the Volyn, Polissia, Sivershchyna and Slobozhanshchyna fronts, the situation has not changed significantly, and no Russian offensive groups have been detected. Joint exercises of the Russian Aerospace Forces and the Air Force and Air Defense Forces of the Republic of Belarus are ongoing on the territory of Belarus. Practical tasks regarding the interaction of air and ground units in offensive operations are being worked out.
The areas of the settlements of Rivne and Novodmytrivka in Sumy Oblast, Budarky, Zemlianky, Hatyshche, Vovchansk, Ternova, Chuhunivka, Novomlynsk and Dvorichna in Kharkiv Oblast came under mortar and artillery fire.
On the Kupiansk front, the invaders shelled the areas of Petropavlivka, Kyslivka, Ivanivka, Krokhmalne, Synkivka, Berestove and Tabaivka in Kharkiv Oblast, as well as Stelmakhivka in Luhansk Oblast. --->READ MORE HERE
Follow links below to
+++++relevant+++++
and related stories:
+++++Russia-Ukraine News LATEST UPDATES: (REUTERS) (AP) (NY POST) and (WSJ)+++++
+++++WSJ: Are We Willing to See Russia as It Really Is?+++++
+++++How did Russian criminals become the elite of Russian society?+++++
Oleg Sukhov: What should be done to ensure Ukraine's victory in 2023
General Staff: Ukraine strikes 2 Russian control centers over past 24 hours
Zelenskyy glad that Kissinger changed his mind: NATO is the best guarantee for Ukraine
Canadian Defense Minister announces transfer of 200 Senator armored vehicles to Ukraine
NATO warns of Russia's long war in Ukraine, vows to be ready
Davos 2023: Ukraine's Zelenskiy says tank supplies should come quicker
Berlin Won't Allow Exports of German Tanks to Ukraine Unless U.S. Sends Its Own
Dnipro slaughter shows depths of Putin's depravity against Ukraine
Russian Spy or Ukrainian Hero? The Strange Death of Denys Kiryeyev
Kissinger does about-face, now backing Ukraine's NATO bid
Russia readying quiet mobilization of 700,000 troops for Ukraine war: report
US to help Ukraine repair power grid after Russian strikes
U.S. redirecting Israel-stored munitions to Ukraine - New York Times
Swedish government to consider transfer of Archer self-propelled guns to Ukraine on Thursday
Ukraine needs 'significantly' more weapons to prevail, NATO's Stoltenberg says
Explosions heard at Russian ammo dump in occupied Zaporizhzhya Oblast, says Melitopol mayor
If you like what you see, please "Like" and/or Follow us on FACEBOOK
here,
GETTR
here
, and TWITTER
here
.