WSJ: Ukraine Repels Russian Drone Attacks With Help From Western-Supplied Air Defenses
Kyiv is getting better at intercepting Iranian-made drones that Russia is using to strike Ukrainian infrastructure
Ukraine is improving its ability to intercept the Iranian-made Shahed drones that Russia has relied on to damage Ukrainian infrastructure, with Western-supplied air-defense systems increasingly helping Kyiv repel the attacks.
In the first days of the year, Russia has relied on Iranian-made Shahed drones to destroy and degrade Ukrainian energy and other infrastructure. All 39 drones that Russians launched into the country Sunday night and Monday were shot down, according to the Ukrainian air force. Kyiv, the target of most of the drones, had no scheduled blackouts on Tuesday morning, after its electric grid avoided additional damage.
In total, all 84 drones launched at Ukraine since the start of the year have been shot down, according to a spokesman for the air force; more than 500 drones have been shot down since September.
"We have information that Russia is planning a prolonged attack with 'Shaheds,'" Ukrainian President Volodymyr Zelensky said in his nightly address on Monday. "Its bet may be on exhaustion. On exhaustion of our people, our air defense, our energy sector. But we must ensure…that this goal of terrorists fails."
Meanwhile, Rybar, a Telegram channel with links to the Russian military, said Tuesday that "more than 100 Russian servicemen were killed" in a weekend strike on a facility housing Russian soldiers in eastern Ukraine, where Russia's Defense Ministry had said Monday that 63 service personnel were killed in a Ukrainian strike that destroyed a base housing mobilized Russian troops.
Russia's Defense Ministry didn't mention the incident during its daily briefing on Tuesday. The strike was the deadliest known assault in months.
Russia's state news agency RIA Novosti posted a video clip of residents in the Samara region lining up to lay flowers at what it said was a memorial to honor those killed in the weekend strike. Russian officials have acknowledged that several of those killed were mobilized men from the regions of Samara and Saratov. --->READ MORE HERE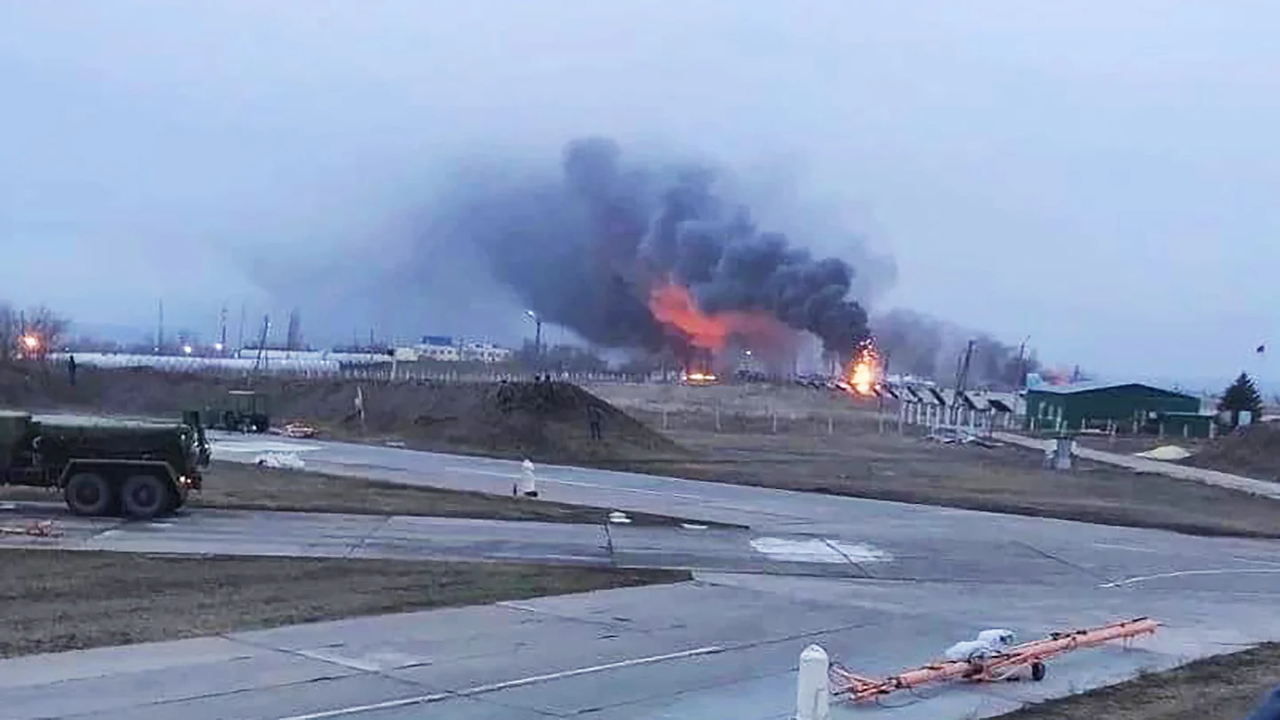 Strikes Inside Russia Will Go "Deeper & Deeper": Ukraine Intelligence Chi
Coming off of the Sunday attack on a barracks in Makiivka in Russian-controlled Donetsk, which marked what could be the biggest Russian troop loss of the war in a single attack to date, Ukraine is now vowing to strike "deeper and deeper" inside Russian territory.
The alarming words were issued from the head of Ukrainian military intelligence, Gen. Kyrylo Budanov, during a new interview with Australia's ABC...
Ukrainian Head of Military Intelligence Kyrylo Budanov in an interview with @ABC, said that there will be more strikes on Russian territory and they will be "deeper and deeper".

Video: ABC News pic.twitter.com/l0vaMVHrbW
— NEXTA (@nexta_tv) January 2, 2023
As the clip from the interview published Monday shows, the military intelligence chief was reluctant to directly confirm whether or not Ukraine recently struck a Russian airbase.
The ABC reporter wanted answers specifically in relation to the series of deadly drone attacks Engels military airfield in the Saratov region. In December, there were reports that the base was hit three times, the most recent instance of which came last week, and killed three Russian military technicians --->READ MORE HERE
Follow links below to
+++++relevant+++++
and related stories:
+++++Russia-Ukraine News LATEST UPDATES: (REUTERS) (AP) (NY POST) and (WSJ)+++++
+++++WSJ: Russia's Basic Errors Jeopardize Its Ukraine Forces, Military Analysts Say+++++
+++++WSJ: Ukraine Has Digitized Its Fighting Forces on a Shoestring+++++
General Staff: Ukrainian forces repel Russian attacks near 10 settlements in Donetsk, Luhansk oblasts
General Staff: 80 Russian soldiers killed, injured by Ukrainian strike on Russian-occupied Tokmak
With the world looking away, Russia quietly took control over Belarus
Intelligence: Partisans stop movement of military convoys on Russian railroad
Biden says Bradley Fighting Vehicles are on the table for Ukraine
Russian troops lashing out at civilians after military losses
Russian mercenary chief complains it takes 'weeks to capture a house' in Ukraine
Putin deploys frigate to Atlantic Ocean armed with hypersonic Zircon cruise missiles
Romanian president asks Zelensky to revise bill necessary for EU accession
Ukraine's Postal Workers Lead the Way in Reintegrating Reclaimed Lands
Putin calls for Christmas truce in move rejected by Ukraine
Intelligence chief: Ukraine planning major counter-offensive in spring
Russia raises death toll of massive Ukrainian strike, blames illicit cellphone usage by soldiers
US, Israel discussing ways to prevent Iran from supplying drones to Russia
Iranian suicide drones contain parts made by 13 US companies: report
Ukraine may strike nuclear ammo sites in occupied Crimea if they exist – NISS expert
If you like what you see, please "Like" and/or Follow us on FACEBOOK
here,
GETTR
here
, and TWITTER
here
.