Ukraine claims Russia has lost more troops than US did in World War I:
Ukraine claimed that Russia has lost close to 117,000 troops since the beginning of the full-scale invasion last February — which is more servicemen than the US lost during World War I.
There have been 116,950 enemy troops "eliminated" since Feb. 24, according to the latest tallies released by Ukraine's Armed Forces Tuesday, which The Post could not independently verify.
Kyiv reported that in the last 24 hours alone, 870 Russians had been killed in Ukraine.
For comparison, the US lost 116,516 soldiers during World War I, of whom more than 63,000 suffered non-combat deaths mostly related to illnesses.
The Russian Empire, which at the time encompassed the territory of Ukraine, lost a staggering 1.8 million combatants during the 20th century's first global conflict.
During World War II, the Soviet Union sustained more than 8.6 million military deaths, as calculated by the country's Ministry of Defense. --->READ MORE HERE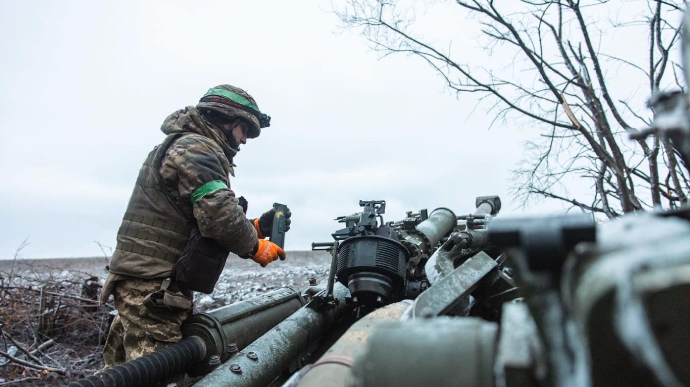 Battles near Soledar: Ukraine's Armed Forces kill 25 Wagner fighters in one trench:
The soldiers of Ukraine's Ground Forces have killed 25 Wagner militants with artillery fire on the Soledar front.
Source: video published by 45th Artillery Brigade of the Ukrainian Armed Forces
Quote: "Soledar front, 25 Wagner militants killed in one trench! An enemy attack on the positions of our soldiers was thwarted by artillery aimed fire. We thank Edelweiss [10th Mountain Assault Brigade – ed.] for the Eyes."
For reference: The 45th Artillery Brigade is a unit of the Rocket Forces and Artillery of the Ground Forces of the Armed Forces of Ukraine.
The 10th Mountain Assault Brigade is a military unit within the Ground Forces of the Ukrainian Armed Forces.
The symbol of the brigade is an emblem of the mountain infantry units (an edelweiss flower and crossed Hutsul hatchets) on a shield with the brigade number in Roman numeral X in the lower part.--->READ MORE HERE
Follow links below to
+++++relevant+++++
and related stories:
+++++Russia-Ukraine News LATEST UPDATES: (REUTERS) (AP) (NY POST) and (WSJ)+++++
+++++General Staff: Ukraine's military repels Russian attacks near 20 settlements in Donetsk, Luhansk oblasts+++++
+++++UK Defense Ministry: Russia struggles to identify targets, uses inaccurate missile in urban setting+++++
Tanks for Ukraine Are a No-Brainer
Over 9,000 civilians killed in Ukraine since Russia invaded - Kyiv
20,000 more Ukrainian troops to be trained in the UK in 2023
Netherlands says it will send Patriot assistance to Ukraine
Putin left feeling 'weak and dizzy' due to side effects from medical treatments: report
Ukrainian civilians vanish and languish in Russian-run jails
Russian TV Touts a Big Victory in Ukraine. On the Ground, It's More Complicated
US, Ukraine top military chiefs meet in person for 1st time
Poland's PM calls on Germany to send more weapons to Ukraine
Davos 2023: Russian bombing puts Kyiv's utilities under critical strain -Klitschko
Kazakhstan ends unlimited stay for Russians
Ukrainian Official Calls for Support for Peace Plan, More Arms to Repel Russia
Ukraine receives first 3-billion-euro tranche of 18-billion-euro EU support
Mayor Klitschko says situation with Kyiv's infrastructure is critical
Serbia calls on Russia to stop recruiting its citizens as mercenaries for war in Ukraine
Red Cross still has no access to Ukrainian prisoners in Russia, Lubynets says
If you like what you see, please "Like" and/or Follow us on FACEBOOK
here,
GETTR
here
, and TWITTER
here
.