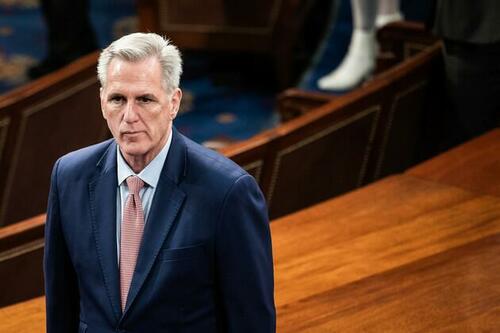 Here Are The Concessions McCarthy Had To Make For Speakership:
After four grueling days and 15 votes, Rep. Kevin McCarthy (R-CA) is finally Speaker of the House - but not without having made a pile of concessions to a group of hard-line Republicans who think he'll be too accommodating to uniparty interests.
The last vote came after a dramatic scene, where during the 14th vote Rep. Matt Gaetz (R-FL) threw a wrench in the gears - voting 'present,' which left McCarthy just one vote short of victory.
McCarthy - who clearly thought he had a deal, stormed up to Gaetz and exchanged words, during which a visibly angry Rep. Mike Rodgers bolted towards Gaetz and had to be muzzled and restrained.
Kevin McCarthy approaches Gaetz and Boebert because he needed 216 votes to win. pic.twitter.com/o6VBsbwVVV

— The Republican Accountability Project (@AccountableGOP) January 7, 2023

Rodgers lunged at Gaetz? pic.twitter.com/THHpZA4XjQ

— Elizabeth Wachsberg (@EWachsberg) January 7, 2023
During the final, 15th ballot, enough holdouts voted 'present' to bring the total required number of votes low enough for McCarthy to finally win around midnight.
Here's what McCarthy had to give up for the votes, according to The Epoch Times' Roger L. Simon, who interviewed first-year Congressman Andrew Ogles (R-TN), who has yet to be sworn in;
I spoke with Ogles by phone the night of Jan. 6, 2023, before the roll call vote during which, it was said, two of the remaining rejectionists who couldn't accept McCarthy personally would absent themselves so that the magic number would be lowered and the new Speaker could go over the top. --->READ MORE HERE
Freedom Caucus earns major concessions from Kevin McCarthy after speaker vote:
Members of the House Freedom Caucus drove a hard bargain before allowing new Speaker Kevin McCarthy to gain the gavel and launch his ambitious agenda early Saturday morning — cutting a deal that gave the California Republican a slender victory and drastically increased the power of the conservative faction.
Florida Rep. Matt Gaetz, who led the anti-McCarthy forces, said he felt triumphant about the four-day, 15-vote brawl that could hamstring the new Speaker on the federal budget, committee assignments, and more.
"I feel like the American people won. I feel that the House of Representatives will be a healthier institution," Gaetz crowed to The Post in a Saturday morning interview from Washington, DC. "Many of these things had been resisted by Kevin McCarthy as early as Monday and now we have an exquisite rules package."
President Biden spoke with McCarthy Saturday afternoon in a congratulatory phone call, the White House press office said.
The new Speaker pledged to "hold the swamp accountable" in his first remarks to the chamber early Saturday morning, vowing to "be the check and provide some balance" to Biden's policies.
"Our very first bill will repeal the funding for 87,000 new IRS agents," McCarthy promised, adding that Republicans will hold oversight hearings on such topics as the US withdrawal from Afghanistan, the origins of COVID, and "the weaponization of the FBI."
"We will use the power of the purse and the power of the subpoena to get the job done," he said.
McCarthy's deal with Freedom Caucus members will give them several seats on the crucial House Rules Committee and House Appropriations Committee — a "very important" concession, Gaetz said. He declined to say who he was pushing for those roles. --->READ MORE HERE
Follow link below to a relevant story:
+++++McCarthy concessions to win Speakership raise eyebrows+++++
If you like what you see, please "Like" and/or Follow us on FACEBOOK
here,
GETTR
here
, and TWITTER
here
.