'We pushed and they collapsed': How Ukraine liberated Kharkiv Oblast:
Three months after its liberation, Vovchansk still bears the scars of Russia's seven-month-long occupation.
A small partly-destroyed concrete bridge leads into a town whose main road is now littered with charred vehicles turned upside down. The local police station, used by Russians as a torture chamber, is riddled with bullet holes.
The town, home to 20,000 people before the war, is now draped in a tense silence, broken only by the deadly hiss of incoming shells.
Vovchansk was one of the last Russian bastions to be liberated during Ukraine's sweeping September counteroffensive. Andrii Nesmiyan, press officer of the 113th brigade who helped liberate the region, says Russians didn't put up much of a fight.
"We pushed, and they collapsed," Nesmiyan told the Kyiv Independent.
But three months after liberation, Vovchansk is still a battle zone.
And the Ukrainian flag on top of the town's administrative building is no talisman against Russia's artillery, constantly pounding the town from across the state border, located just three kilometers to the north.
Breaking Russia's lines of defense
Russia's military, still largely based on the old Soviet model, made several missteps in the region, including stretching the front line over hundreds of kilometers, according to Nesmiyan. --->READ MORE HERE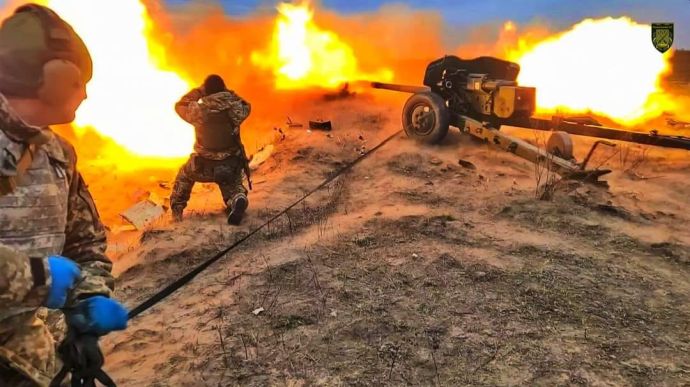 Ukrainian Armed Forces hit two areas of concentration of occupiers and their equipment – General Staff:
On day 289 of the full-scale war, the Russians advanced on the Bakhmut front and improved their position on the Lyman and Avdiivka fronts, conducted four missile and nine air strikes; the Armed Forces of Ukraine hit two clusters of Russian military personnel.
Source: Operational information of the General Staff of the Armed Forces of Ukraine as of 18:00 on Friday, 9 December
Quote from the General Staff: "The enemy continues to focus its efforts on conducting an offensive on the Bakhmut front. The Russians are trying to improve their tactical position on the Lyman and Avdiivka fronts. On the other fronts, the enemy is concentrating its efforts on restraining the actions of units of the Armed Forces of Ukraine, shelling the positions of our troops and civilian objects. They equip defensive lines and positions."
Details: During the last 24 hours, the Russian occupiers launched four missiles and nine air strikes. Twenty five shelling from multiple-launch rocket systems carried out by Russians have been recorded.
Peaceful settlements of Zaporizhzhia Oblast were hit by missiles: urban-type settlement of Komyshuvakha, the villages of Hryhorivske and Yulivka.
The threat of Russian missile attacks on the energy system and critical infrastructure targets throughout Ukraine remains.
During the current day, Rocket Forces and Artillery units of the Armed Forces of Ukraine hit two clusters of occupiers' personnel, weapons and military equipment.
Overall, the situation on various fronts is as follows: --->READ MORE HERE
Follow links below to
+++++relevant+++++
and related stories:
+++++Russia-Ukraine News LATEST UPDATES: (REUTERS) (AP) (NY POST) and (WSJ)+++++
+++++Fire rages through shopping mall in Moscow suburbs+++++
+++++U.S. to send Ukraine anti-drone, air defense aid worth $275 million+++++
Ukraine Gains U.S. Support Tackling Vast Task of Removing Landmines
Explosions reported in occupied Donetsk on Dec. 9
50 mercenaries from Russian private military company wounded in Luhansk Oblast
Germany to supply Ukraine with 18 howitzers, other military equipment
International team of 1,000 sappers helping to demine Ukrainian territory
General Staff: Ukrainian military strikes 8 Russian control points, 2 ammunition depots
Putin: Russia ready for Ukraine deal, but partners cheated in the past
Helping Ukraine is 'self-preservation,' finance chief says
Russia pardoned Zambian student to fight in Ukraine, where he was killed: foreign minister
Russia trying to get ballistic missiles from Iran, says Britain
Russia and Iran building 'full-fledged' military alliance, US says
The little victims: Russia's war killed these children
European Electricity Sector Lacks Cyber Experts as Ukraine War Raises Hacking Risks
Suspicious thugs, weapons and propaganda found at Moscow-linked Orthodox Church premises
Defense Aid To Ukraine Tops $20 Billion As New $275M Package Announced
If you like what you see, please "Like" and/or Follow us on FACEBOOK
here,
GETTR
here
, and TWITTER
here
.