WSJ: Ukrainian Drone Attack on Russian Air Base Kills Three, Moscow Says
Strike on military target deep inside Russia is a reminder to the Kremlin that it must devote resources to protecting its home front
Three Russian service members were killed during a Ukrainian drone attack on a Russian military air base, Moscow said, the latest apparent demonstration of Kyiv's ability to strike military targets inside Russia.
The strike at the Engels air base in Saratov region, a hub for Russia's strategic bombers, is the second this month. Although small, it still offered a reminder to Moscow that even forces deep inside its territory can be hit, forcing the Kremlin to redirect resources and leaders' attention.
The attack also reflects a battle raging far from the war's front lines. Russia is launching missiles and drones to try to degrade Ukraine's infrastructure, particularly its power grid, to sap the morale of Ukrainian civilians. At the same time, apparent Ukrainian attacks are targeting Russia's ability to carry out those strikes.
Kyiv didn't immediately comment on the incident. Ukraine typically doesn't publicly claim responsibility for attacks in Russia.
But Kyiv has repeatedly worked to show the Kremlin that although its forces occupy large parts of Ukraine and have been wreaking havoc on people's lives nationwide, Russia too must remain on guard. The sinking in April of the Russian warship Moskva, the flagship of its Black Sea fleet, and the October attack on Russia's bridge across the Kerch Strait were among the most significant reminders, but Ukraine has maintained a drumbeat of many smaller strikes and incursions.
Russia's Defense Ministry said a Ukrainian aerial drone was shot down overnight by Russian air defenses as it approached the base. Falling debris from the craft killed three service members, but no warplanes were damaged, the ministry said.
Russian social-media channels reported that locals heard an explosion and saw a fire at the base, located some 350 miles from the Ukrainian border. Russia has in the past claimed that no aircraft were damaged in Ukrainian attacks, only for satellite images to prove them wrong. --->READ MORE HERE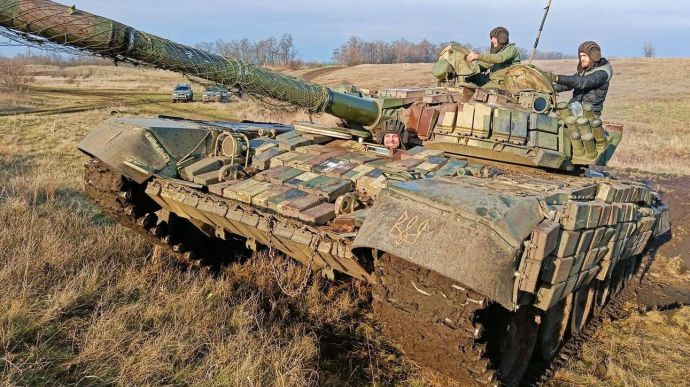 Armed Forces of Ukraine strike Russian HQ in Kherson where officer meeting was held:
On 24 December, the Armed Forces of Ukraine hit the Russian headquarters in the area of Zabaryne, Kherson Oblast, where an officers' meeting was held; up to 70 invaders were wounded.
Source: General Staff report
Quote: "It has been confirmed that the invaders' manpower and equipment were destroyed in the previous days. For example, 4 self-propelled 2C7 Pion guns were destroyed in Donetsk Oblast.
In addition, Russian headquarters were attacked in the settlement of Zabaryne of Kherson Oblast, where a meeting of officers of the Southern military district of the Russian Armed Forces was held.
As a result, up to 70 servicemen were injured. The number of the dead is still being determined." --->READ MORE HERE
Follow links below to
+++++relevant+++++
and related stories:
+++++Russia-Ukraine News LATEST UPDATES: (REUTERS) (AP) (NY POST) and (WSJ)+++++
+++++NY POST: Putin being kept alive on Western cancer drugs to continue waging war in Ukraine: report+++++
+++++General Staff: Ukraine's forces repel Russia's attacks near 15 settlements in Kharkiv, Donetsk, Luhansk oblasts+++++
General Staff: Ukrainian forces hit Russian personnel concentration areas
Christmas miracle: Russian MiG on fire in Belarus
Explosions heard near airfield in Kursk at night
Three emergency services workers killed while demining Ukraine's Kherson
Zelensky Urges Ukrainians to Persevere as Putin Says Moscow Ready for Long War
Ukraine war latest: Russia kills 16 civilians in Kherson Oblast on Christmas Eve, as Putin claims to be ready for negotiations
This Christmas, Many Christians in Ukraine Turn Away From Russia
Foreign leaders voice support for Ukrainians as they celebrate Christmas despite Russia's war
Pope Francis says world is suffering from 'famine of peace,' calls for end to Ukraine war
EU countries deliver more than 1,000 power generators to Ukraine
Sanctioned oil refinery on fire in Belarus
Russians deliberately hit two medical institutions in Kherson in last 24 hours – Oblast Military Administration
Former Russian ground forces chief dies suddenly in Moscow
If you like what you see, please "Like" and/or Follow us on FACEBOOK
here,
GETTR
here
, and TWITTER
here
.