Ukraine's Christmas wish list: What is needed to end the war quickly:
This holiday season, as people celebrate with their families and stroll brightly-decorated streets across the world, Russia's war against Ukraine has reached a crucial point.
Ukraine's autumn campaign has been a resounding success, with counteroffensives in Kharkiv, Donetsk, and Kherson oblasts liberating thousands of square kilometers of territory.
More importantly, these victories have proven to Ukraine's partners that the Ukrainian military has not only the will to win, but the ability to conduct effective combined arms offensives on the ground.
Russia, however, is still a very long way from being out of the fight.
Moscow's withdrawal from its untenable position on the west bank of the Dnipro River around Kherson freed up some of its most capable units to defend a much shorter front line.
Strategically, new counteroffensives along the front lines in Luhansk and Zaporizhzhia oblasts are the obvious next steps for Ukraine, cutting off logistics routes and bringing new territories into fires range.
Knowing this, Russia is digging in, building new lines of defense intended to make new Ukrainian advances as difficult and costly as possible.
Around the key front-line cities of Bakhmut and Avdiivka in Donetsk Oblast, Russia remains on the offensive – hardly a sign of a military on its last legs.
Here, Ukrainian forces are defending fiercely, and the result of these battles is far from preordained. Backed by relentless artillery and mortar fire, Russian forces are nonetheless making incremental gains on the flanks of both cities.
Meanwhile, Ukrainian Сommander-in-Сhief Valerii Zaluzhnyi warned on Dec. 16 of the likelihood of fresh Russian large-scale offensives in January-March 2023, including a possible repeat attack on Kyiv from Belarus.
It is no secret that Ukraine's battlefield successes would not have been possible without Western weapons.
The arrival of key weapons has turned the tide of the war more than once, but in this new equilibrium, much more is needed for Ukraine to break through and push for the final victory.
In this rather unique Christmas wish list, the Kyiv Independent compiles Ukraine's top five requirements for a quicker end to Russia's war of aggression, the liberation of all occupied territories, and the preservation of thousands of Ukrainian lives. --->READ MORE HERE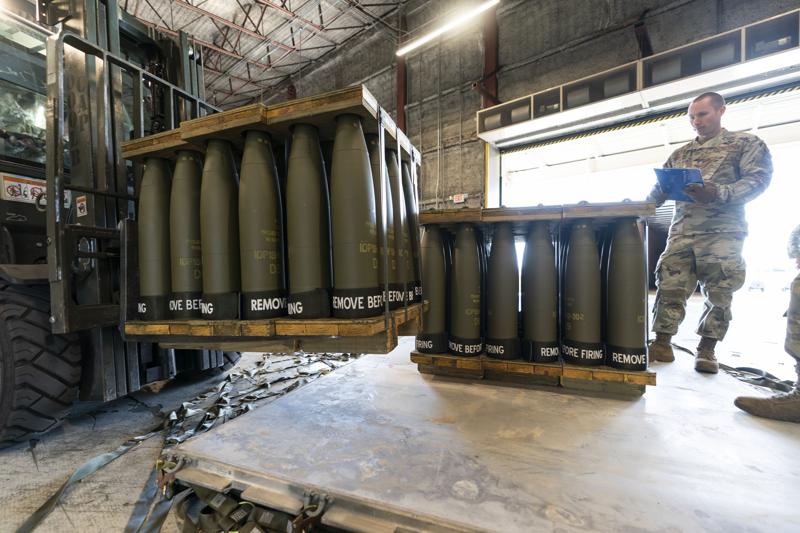 AP Photo/Alex Brandon, File
US sending Patriots to Ukraine under $1.85B aid package:
The Biden administration announced Wednesday that it will provide $1.85 billion in military aid to Ukraine, rolling out funding for a Patriot missile battery as Ukrainian President Volodymyr Zelenskyy arrived in Washington for his first known trip out of his country since Russia invaded in February.
The White House announcement came just hours before Zelenskyy landed at Joint Base Andrews, just outside the capital. The package includes $1 billion in weapons and equipment from Pentagon stocks, including the Patriot battery for the first time, and $850 million in funding through the Ukraine Security Assistance Initiative. Part of the USAI will be used to fund a satellite communications system, which likely will include the crucial SpaceX Starlink satellite network system owned by Elon Musk.
"As Russia continues its brutal attacks against critical infrastructure in Ukraine, the United States welcomes President Volodymyr Zelenskyy to Washington, D.C. today to underscore our enduring commitment to the people of Ukraine," Secretary of State Antony Blinken said in a statement, adding that the U.S. will be providing "critical new and additional military capabilities to help Ukraine defend itself from Russia's ongoing brutal and unprovoked assault."
Zelenskyy and other Ukrainian officials have pressed Western leaders to provide more advanced weapons, including the Patriots, to help their country in its war with Russia. The Patriot would be the most advanced surface-to-air missile system the West has provided to Ukraine to help repel Russian aerial attacks.
Also included in the package are two other key items. The Pentagon will send an undisclosed number of Joint Direct Attack Munitions kits, or JDAMs, to Ukraine. The U.S. also will fund satellite communications terminals and services, to shore up a potential vulnerability for Ukraine after Musk said his company could no longer afford to provide the services for free. --->READ MORE HERE
Follow links below to
+++++relevant+++++
and related stories:
+++++Russia-Ukraine News LATEST UPDATES: (REUTERS) (AP) (NY POST) and (WSJ)+++++
+++++General Staff: Ukraine repels Russian attacks near 25 settlements in Kharkiv, Donetsk, Luhansk oblasts+++++
+++++Russian ammunition storage points in Kadiivka detonate for more than 20 hours+++++
Fighting in Ukraine's east continues as Belarus militarization stokes fears
Zelenskyy delivers urgent appeal to Congress for more military aid
Almost 100,000 Russian troops killed in Ukraine
Russian helicopter downed by friendly fire
'Your money is not charity': Zelensky tells Congress war aid can secure victory for Ukraine
Germany sends another military aid package to Ukraine
Zelenskyy confident Republican House won't cut back U.S. aid to Ukraine
Putin to Boost Russian Military, Signaling Protracted War in Ukraine
Navalny: mercenary boss visited his jail to recruit for Ukraine war
Ukraine's Cyber Units Aim to Retain Staff, Keep Services Stable as War Enters Year Two
Denmark donates $43 mln in military aid to Ukraine
CNN: US investigates how its technology ended up in Iranian drones used by Russia to attack Ukraine
Putin crony says he's planning to send female prison inmates to fight in Ukraine
"Come on, rape Ukrainian women": wife of Russian soldier added to international wanted list
If you like what you see, please "Like" and/or Follow us on FACEBOOK
here,
GETTR
here
, and TWITTER
here
.