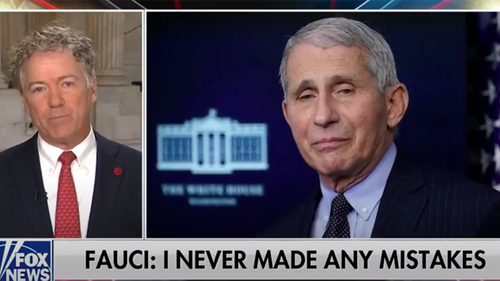 Rand Paul: Fauci Caused 7 Million People To Die; "We've Caught Him Red-Handed, He Won't Get Away":
Senator Rand Paul asserted Thursday that Anthony Fauci is directly responsible for funding dangerous research that likely killed millions of people, and that he "won't get away."
Fauci funded "research that allowed them to create super viruses, that in all likelihood leaked into the public and caused seven million people to die," Paul declared.
"This is right up there with decisions, some of them malevolent or military to kill millions of people," The Senator further urged.
The Senator made the comments after Fauci appeared in a fawning Washington Post interview, where he was labeled a "hero," complained about being a victim, and couldn't think of anything he did wrong. --->WATCH and READ MORE HERE
Third lawsuit filed against California law that restricts doctors' COVID advice to patients:
A group of California doctors opposed to vaccination has joined the fight against a new state law restricting the advice doctors can give patients about COVID-19, filing the third federal lawsuit against the measure in three months.
The new law authorizes the Medical Board of California to sanction and revoke the licenses of doctors who spread information that challenges the "contemporary scientific consensus" about COVID-19. The law is due to take effect Jan. 1.
Filed Thursday in the U.S. District Court for the Eastern District of California, the latest lawsuit takes issue with the law for amending state code to target doctors who question "the development, safety and effectiveness of COVID-19 vaccines."
The lawsuit says the "constitutionally vague" language threatens the free speech right of the plaintiffs, including Los Angeles County osteopathic physician Dr. LeTrinh Hoang, to warn patients about vaccination risks.
"Dr. Hoang would like to provide information to her male patients between ages 17-39 of the increased risks of cardiomyopathy and other cardiac serious adverse events of the mRNA shots to this patient subset," the complaint states. "This information is evidence based and widely reported in the medical literature." --->READ MORE HERE
Follow links below to relevant/related stories and resources:
Israeli diplomat in China hospitalized in 'prison conditions' for COVID
Not Even N95 Masks Work To Stop Covid
USA TODAY: Coronavirus Updates
WSJ: Coronavirus Live Updates
YAHOO NEWS: Coronavirus Live Updates
NEW YORK POST: Coronavirus The Latest
If you like what you see, please "Like" and/or Follow us on FACEBOOK
here,
GETTR
here
, and TWITTER
here
.