Mayorkas receives icy welcome from 'lifeless' Border Patrol agents:
Homeland Security Secretary Alejandro Mayorkas was confronted by at least one Border Patrol agent during his visit to El Paso, Texas, this week about his response to the millions of illegal immigration attempts at the U.S.-Mexico border since President Joe Biden took office, according to three government officials.
Mayorkas traveled to West Texas on Monday and Tuesday to meet with U.S. Customs and Border Protection's Border Patrol, Air and Marine Operations, and Office of Field Operations personnel.
He focused his comments on smaller groups of management and rank-and-file agents and officers on suicide prevention, which those familiar with the discussions said fell on deaf ears.
"When he stated he was here to bring light to suicide prevention and nothing [about] the migrant crisis, our staff couldn't believe it and made it known to him," a senior Border Patrol agent in El Paso told the Washington Examiner.
One federal law enforcement agent present at the discussion asked Mayorkas why he has continued to state that the border is "secure" when agents feel that is an inaccurate assessment given the hundreds of thousands of noncitizens they have observed on camera illegally entering and absconding.
"They asked him why he's saying that the border is secure when we have no agents in the field," the same agent said. "He had the nerve to respond that he never said the border was secure."
"I wish you could see into our agents' eyes. They're lifeless," the same person said. --->READ MORE HERE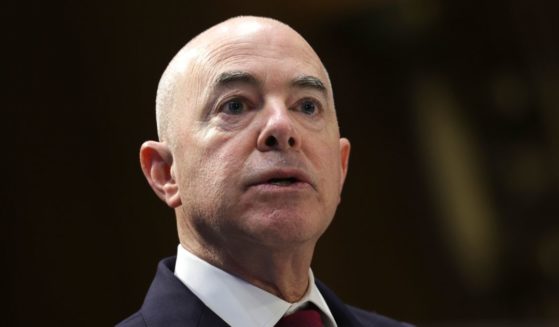 Border Patrol Agents Confront DHS Chief Mayorkas to His Face in Heated Clash: 'You're Not Gonna Get Away with Pandering':
Border Patrol agents confronted Homeland Security Secretary Alejandro Mayorkas during a recent visit to El Paso, Texas, according to an agent in the room during the meeting who spoke with the Daily Caller News Foundation.
The agent, who requested anonymity because the individual was not authorized to speak, said a colleague confronted Mayorkas and accused him of making empty promises about helping with the surge in illegal immigration, falsely asserting that the border is "secure" and lambasting the force.
Mayorkas made the visit to El Paso on Tuesday as the area is overwhelmed by a recent surge in illegal immigrants reaching the U.S.-Mexican border and as the expected end of Title 42, the public health expulsion order, threatens to make matters even worse.
The Washington Examiner first reported the confrontation, which occurred during a meeting with a limited group of senior and rank-and-file agents to discuss the rise in suicides in the agency. The outlet cited three government officials.
During the meeting, at least one agent asked Mayorkas why he hasn't fulfilled their requests for additional border security equipment and instead has chosen to publicly slander them, according to the agent in the room who spoke with the DCNF. --->READ MORE HERE
If you like what you see, please "Like" and/or Follow us on FACEBOOK
here,
GETTR
here
, and TWITTER
here
.