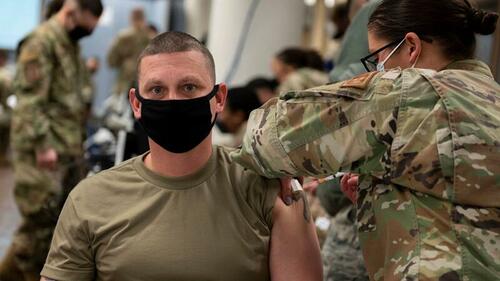 GOP Senators Say They Will Block Military Funding Unless Vaccine Mandate Scrapped
Republicans in the Senate have threatened to block the National Defense Authorization Act unless a vote is held on the current COVID vaccine mandate for military personnel.
The effort is being headed up by Florida Senator Rick Scott and Kentucky Senator Rand Paul, along with 11 other senators, including Ted Cruz and Mike Lee.
As a veteran & member of @SASCGOP, I fully support our military & have fought hard for big nat'l security wins in the NDAA. But, before this bill moves forward, we must stand with our military members & reverse the @DeptofDefense's COVID vax mandate. U.S. readiness depends on it. pic.twitter.com/DoRgn5cJZh

— Rick Scott (@SenRickScott) November 30, 2022
Scott told Fox News "I think on the NDAA one thing that's going to be important is that we don't give cloture unless they agree that we're not going to keep kicking people out of the service for their – if they're unvaccinated," adding "I think that we've got to start standing up for people."
In a letter to Senate Minority Leader Mitch McConnell, the Senators state "The Department of Defense COVID-19 vaccine mandate has ruined the livelihoods of men and women who have honorably served our country." --->READ MORE HERE
Defense bill could roll back Covid vaccine policy, top Dem says:
Final defense legislation set to be unveiled next week could undo the Pentagon's policy of kicking out troops for not taking the Covid vaccine, the Democratic chair of the House Armed Services Committee said Saturday.
Rep. Adam Smith (D-Wash.) said a rollback of the policy is on the table for a compromise version of the National Defense Authorization Act, but hasn't been decided yet.
"We haven't resolved it, but it is very fair to say that it's in discussion," Smith told POLITICO on the sidelines of the Reagan National Defense Forum. He noted that the mandate may not be logical anymore.
"I was a very strong supporter of the vaccine mandate when we did it, a very strong supporter of the Covid restrictions put in place by DoD and others," he added. "But at this point in time, does it make sense to have that policy from August 2021? That is a discussion that I am open to and that we're having."
The defense bill is set to be unveiled Monday and House leaders plan to hold a vote on the $847 billion policy measure sometime next week. Negotiators had hoped to file the legislation on Friday, but congressional leaders were still ironing out several outstanding issues, apparently including the vaccine policy.
Undoing the policy — a measure that neither the House nor Senate included in their versions of the defense bill — would be a win for Republicans who argue forcing troops to get the shot or leave the military is exacerbating a recruiting and retention crisis. Thousands of troops have been kicked out for refusing the vaccine.
GOP leaders are planning to focus on the policy when they take control of the House, if it isn't rolled back before then. --->READ MORE HERE
Follow links below to relevant/related stories and resources:
Senate Republicans threaten to derail crucial defense policy bill over Biden's vaccine mandate
Republicans demand Naval Academy transparency after unvaxxed midshipmen allegedly denied diplomas
USA TODAY: Coronavirus Updates
WSJ: Coronavirus Live Updates
YAHOO NEWS: Coronavirus Live Updates
NEW YORK POST: Coronavirus The Latest
If you like what you see, please "Like" and/or Follow us on FACEBOOK
here,
GETTR
here
, and TWITTER
here
.