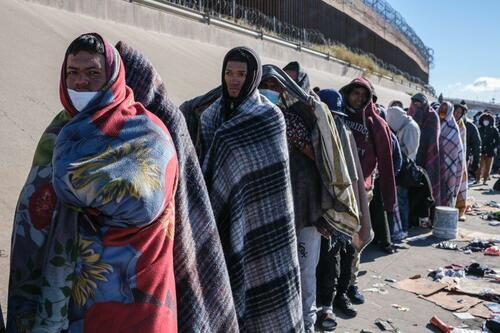 El Paso Mayor Finally Declares State Of Emergency After Mass Invasion Of Migrants:
Better late than never? Democrat Mayor of El Paso, Oscar Leeser, has been refusing to declare a state of emergency in El Paso for weeks as illegal migrant caravans flood into the city across the southern border, but it would seem that he has finally seen the light. Leeser's announcement comes at the same time as a declaration of emergency from Denver Mayor (and Democrat) Michael Hancock, who now admits that the city cannot continue to support migrants transported there from El Paso.
El Paso has run out of funding to accommodate the 2400+ people entering the city every day from Mexico and is asking for outside assistance to deal with the influx of "asylum seekers." While the Biden Administration continues to ignore and even obscure the crisis on the southern border, leaked videos of enormous migrant groups lining up for entry at El Paso gates are beginning to circulate, debunking the claim that the White House is taking action.
Biden's Press Secretary, Karen Jean-Pierre, was recently mocked for her assertion that Biden has been "doing the work from day one" to secure the border. Clearly, the evidence shows that she is lying:
The refusal of the White House and Democrat run cities to act honestly when it comes to the migrant crisis suggests a desire to avoid political accountability (either that, or an agenda to deliberately destabilize the country). If they admit to the crisis, they then have to admit that their immigration policies are a failure. So, they attempt to gaslight the American public and hide the truth. Karen Jean-Pierre even attempted to blame Republicans for the situation instead of taking responsibility.
The unprecedented wave of illegal immigrants has resulted in a historic number of apprehensions (at least 2.4 million in the past year) as well as fiscal disaster in the cities that accommodate migrants instead of arresting them and sending them back across the border. The impending end of Title 42 this month has accelerated the threat. The law requires migrants to be transported back to Mexico immediately after being stopped by Border Patrol, instead of allowing them to remain in the US for months or even years while waiting for courts to decide their citizenship status. --->READ MORE HERE
El Paso Mayor Declares a State of Emergency as Illegal Aliens Literally Flood Up From the Sewers:
El Paso Mayor Oscar Leeser declared a state of emergency after conferring with federal officials about the thousands of illegal aliens who are in El Paso, waiting to be released into the United States.
There is no room for them in the overflowing shelters, so thousands of them are sleeping in the streets. Or, sleeping in the sewers.


"Talking to some of our federal partners they really believe that on Wednesday our numbers will go to 4-, 5- or 6,000, and when I asked them, I said do you believe that you guys can handle it today, the answer was no. And when I heard the answer was no, I knew we had to do something right away," Leeser said. (emphasis added)
Why can't they handle it? The Biden administration has known since the summer that Title 42 was going to end. They have known since the beginning of May that they were facing an unprecedented crisis — up to 18,000 illegal aliens a day showing up at the border.
DHS Secretary Alejandro Mayorkas told America back in May, no worries, we're on it. --->READ MORE HERE
If you like what you see, please "Like" and/or Follow us on FACEBOOK
here,
GETTR
here
, and TWITTER
here
.