WSJ: Battle for Bakhmut Is Critical Test of Russia's Prospects in Ukraine:
Russian shells slammed closer and closer as Ludmyla Bondarenko and Zoya Shilkova, clad in fur coats atop layers of clothing, sat on a bench outside their apartment block, chatting and getting some fresh air on a frigid afternoon in what remains of this eastern Ukrainian city.
At an intersection nearby, Ukrainian troops used a crane to emplace concrete slabs, fortifying the neighborhood. Three freshly arrived tanks roared by, blue-and-yellow flags fluttering from their turrets. A distant staccato of machine-gun fire could be heard amid the thumps of artillery.
"We're so used to it by now, we no longer pay much attention," Ms. Bondarenko, 76, said as she pointed to a nearby crater left by a Russian shell in the morning. "It's been going on for months. When is it going to end?"
"It's probably never going to end," replied Ms. Shilkova, 75.
Their apartments have had no heating, power or running water for months. The only available food comes from volunteers. "It's a humanitarian catastrophe. That's how we live," Ms. Bondarenko said.
Russian soldiers and fighters from the Wagner private military company have been fighting to capture Bakhmut, a town of 70,000 people that was best known for its sparkling wines before the war, for nearly six months now.
Daily Russian pounding has turned the once-elegant city center into a succession of obliterated facades, with debris strewn on the streets amid freshly dug-out trenches and antitank barriers.
The Russians reached the eastern outskirts of Bakhmut in early July, in the wake of their last successful offensive, the seizure of nearby Lysychansk and Severodonetsk. The tide of war has dramatically turned in Kyiv's favor elsewhere in the country since then, as Ukrainian forces ousted Russian troops from vast areas of the Kharkiv, Donetsk and, last month, Kherson regions. --->READ MORE HERE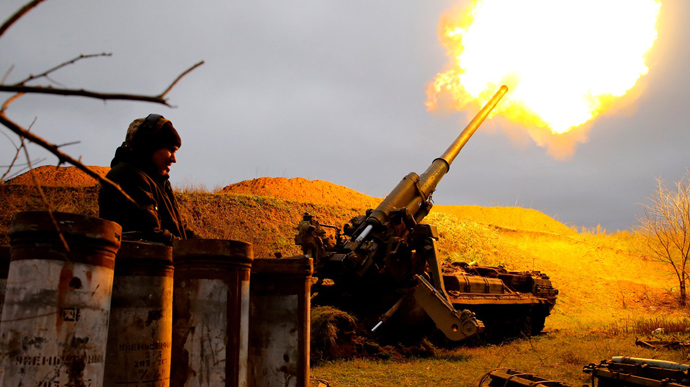 Ukraine's Armed Forces hit headquarters of invaders in Shchastia, Luhansk Oblast: 16 Russians killed, many wounded
Ukrainian defenders, with the help of the underground resistance, have hit the headquarters of the Russian invaders in the town of Shchastia, Luhansk Oblast. At least 16 invaders have been killed, and about 40 more have been wounded as a result of the attack.
Source: National Resistance Center (NRC)
Quote from Resistance: "Thanks to the high-precision strike, 16 invaders and 12 units of military equipment were destroyed. About 40 more Russians were hospitalised with injuries of varying severity. The strike became possible due to the coordination of the underground resistance and the Armed Forces of Ukraine."
Details: The National Resistance Centre noted that the invaders spent only two days in Shchastia; on 14 December, the Russians entered the premises of one of the vocational schools in the city, and on 16 December, they were killed.
The NRC emphasises that every resident of the temporarily occupied territories can bring the liberation of their settlement closer. People can anonymously report the location of the Russians by following the link. --->READ MORE HERE
Follow links below to
+++++relevant+++++
and related stories:
+++++Russia-Ukraine News LATEST UPDATES: (REUTERS) (AP) (NY POST) and (WSJ)+++++
+++++Armed Forces repel enemy attacks near 15 settlements, hit 8 areas of troop concentration+++++
+++++A large-scale fire at an oil and gas field in Russia+++++
ISW: NYT investigation of Russian military documents proves how flawed planning assumptions plagued Russia's invasion of Ukraine
Explosions ring out in Belgorod, Russia: 1 person dead, 8 wounded
General Staff: Ukraine repels Russian attacks near 15 settlements in Donetsk, Luhansk oblasts
Putin's Belarus Visit Stokes Fears It Could Be Drawn Into Ukraine War
General: Putin will push for Belarus' broader involvement in war against Ukraine
ICC 'may start investigation' into Putin's campaign to wreck Ukraine's civilian infrastructure
Jewish festival of lights begins in Ukraine as battles rage
Russia to entertain front-line soldiers with opera singers, circus performers
Russia denounces Moldova's ban of TV channels as 'political censorship'
Dead boy pulled from rubble of latest Russian hit on Ukraine
Russian 'kamikaze' drones hit Kyiv, Putin arrives in ally Belarus
Watchdog: Russia transfers more military equipment to Belarus
Heating restored in freezing Kyiv, Mayor Klitschko says
European Parliament chief calls for more weapons, aid for Ukraine
If you like what you see, please "Like" and/or Follow us on FACEBOOK
here,
GETTR
here
, and TWITTER
here
.