With Western Weapons, Ukraine Is Turning the Tables in an Artillery War:
On the screen of a thermal imaging camera, the Russian armored personnel carrier disappeared in a silent puff of smoke.
"What a beautiful explosion," said 1st Lt. Serhiy, a Ukrainian drone pilot who watched as his weapon buzzed into a Russian-controlled village and picked off the armored vehicle, a blast that was audible seconds later at his position about 4 miles away.
"We used to cheer, we used to shout, 'Hurray!' but we're used to it now," he said. The war in Ukraine has been fought primarily through the air, with artillery, rockets, missiles and drones. And for months, Russia had the upper hand, able to lob munitions at Ukrainian cities, towns and military targets from positions well beyond the reach of Ukrainian weapons.
But in recent months, the tide has turned along the front lines in southern Ukraine. With powerful Western weapons and deadly homemade drones, Ukraine now has artillery superiority in the area, commanders and military analysts say.
Ukraine now has an edge in range and in precision-guided rockets and artillery shells, a class of weapons largely lacking in Russia's arsenal. Ukrainian soldiers are taking out armored vehicles worth millions of dollars with cheap homemade drones, as well as with more advanced drones and other weapons provided by the United States and allies.
The Russian military remains a formidable force, with cruise missiles, a sizable army and millions of rounds of artillery shells, albeit imprecise ones. It has just completed a mobilization effort that will add 300,000 troops to the battlefield, Russian commanders say, although many of those will be ill-trained and ill-equipped. And President Vladimir Putin has made clear his determination to win the war at almost any cost.
Still, there is no mistaking the shifting fortunes on the southern front.
Ukraine's growing advantage in artillery, a stark contrast to fighting throughout the country over the summer when Russia pummeled Ukrainian positions with mortar and artillery fire, has allowed slow if costly progress in the south toward the strategic port city of Kherson, the only provincial capital that Russia managed to occupy after invading in February.
The new capabilities were on display in the predawn hours Saturday when Ukrainian drones hit a Russian vessel docked in the Black Sea Fleet's home port of Sevastopol, deep in the occupied territory of Crimea, once thought an impregnable bastion. --->READ MORE HERE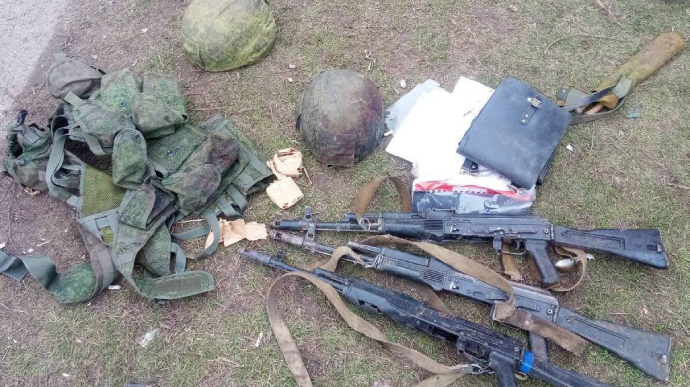 "It was a good 24 hours": Ukrainian Armed Forces kill almost 1,000 Russian occupiers in one day:
The General Staff of the Armed Forces of Ukraine reported that on 29-30 October, Ukrainian units killed 950 Russian occupiers.
Source: General Staff of the Armed Forces of Ukraine, on Facebook
Quote: "It was a good 24 hours. The occupiers suffered their heaviest losses on the Donetsk and Lyman fronts."
Details: Total combat losses of the Russian forces between 24 February and 30 October 2022 are estimated to be as follows [figures in parentheses represent the latest losses - ed.]:
71,200 (+950) military personnel;
5,453 (+52) armoured combat vehicles;
1,724 (+16) artillery systems;
--->READ MORE HERE
Follow links below to
+++++relevant+++++
and related stories:
+++++Russia-Ukraine News LATEST UPDATES: (REUTERS) (AP) (NY POST) and (WSJ)+++++
+++++Russians blow up bridges as Ukraine's Armed Forces approach+++++
+++++Zelensky: 'It is important for whole world to see that Russia loses'+++++
Russian forces prepare to withdraw artillery from Dnipro's right bank in Kherson Oblast – General Staff report
Defense Companies Still Await Boost From Pentagon's Arming of Ukraine
Turkish drone company Baykar to develop air-to-air missiles to counter kamikaze drone attacks in Ukraine
Russian officials massively flee abroad to avoid mobilisation
Ukraine's Patchwork Air Defense Faces New Threat From Cheap Iranian Drones
Putin not expected to survive Ukraine conflict, Ukraine intelligence chief claims
Where Are the Air Bags? Russia's Hobbled Auto Industry Struggles to Reboot
Ukraine electricity supplies recovering after Russia attacks, Zelenskiy says
Russia and Ukraine swap around 50 prisoners of war
Ukraine says 218 vessels blocked after Russia suspends grain deal
If you like what you see, please "Like" and/or Follow us on FACEBOOK
here,
GETTR
here
, and TWITTER
here
.