WSJ: Ukraine's Kherson Win Shifts Dynamics Across Whole Front With Russia:
Recapturing southern city puts Kyiv's forces in range to endanger Crimea's supplies
Ukraine's retaking of Kherson is rippling across battle fronts far afield, as Moscow redeploys troops to regain the initiative and Kyiv seeks to expand its recent advantage over invading Russian forces.
Russia's retreat from Kherson, the only regional capital it gained in almost nine months of fighting, was an embarrassing setback, but Moscow appears to have safely withdrawn many of its best troops, enabling them to shift elsewhere, say military analysts.
Ukrainian troops, energized by recapturing the southern city with less bloodshed than many had predicted, have remained on the move by shelling Russian forces who left the city, while fending off a Russian offensive to the far northeast around the city of Bakhmut.
Ukrainian President Volodymyr Zelensky said Saturday that he had discussed fighting in that region with his top officials. "We are doing everything to help our heroes withstand Russian attacks," he said on Telegram.
Even if Kyiv's forces don't quickly gain more ground near Kherson, their recent advance there enables them to target Russian supply lines running to the Crimean Peninsula, which Moscow seized from Ukraine in 2014. Russian military bases and civilians in Crimea rely on supplies and fresh water from the Ukrainian mainland running through territory now controlled by either Moscow or Kyiv.
Ukraine last month degraded Moscow's ability to supply the peninsula when its forces damaged the Kerch Bridge with a fiery explosion. Moscow built the bridge in 2016 to connect Crimea directly to Russia. Now, most supplies must be delivered slowly by ship or via a single rail line snaking through southeast Ukraine, in Russian-controlled territory that could be in range of Kyiv's artillery and drones.
The developments offer Ukraine a variety of options, allow it to press on several fronts and give it chances to capitalize on opportunities, say military strategists. Russian troops, in contrast, show signs of being disorganized and demoralized, based on social-media postings and other open-source intelligence. --->READ MORE HERE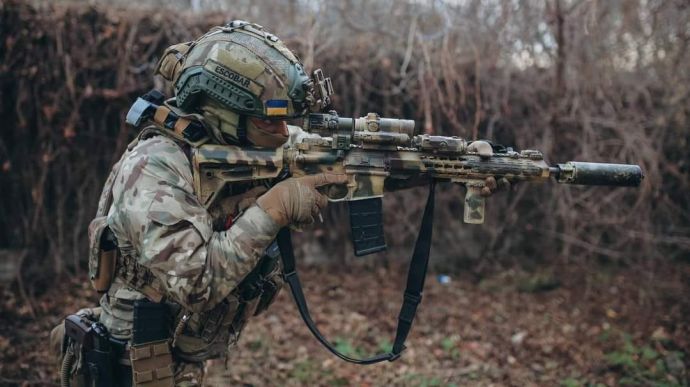 The Armed Forces of Ukraine repelled Russian attacks in Luhansk and Donetsk regions – General Staff report
On Sunday, the Defence Forces of Ukraine repelled Russian attacks near seven settlements.
Source: report of the General Staff of the Armed Forces of Ukraine as of 18:00
Quote: "Today the units of the Defence Forces of Ukraine repelled the occupiers' attacks near the settlements of Bilohorivka in Luhansk Oblast and Spirne, Yakovlivka, Bakhmutske, Bakhmut, Opytne and Klishchiivka in Donetsk Oblast."
Details: On 20 November Russians launched two missile attacks on the civil infrastructure on the city of Kupiansk and launched nearly ten series of attacks on Ukrainian positions along the frontline using multiple launch rocket systems.
On the Slobozhanshchyna front Russians launched attacks on the districts of the settlements of Dvorichna, Ohirtseve, Strilecha, Starytsia and Chaikivka in Kharkiv Oblast.
On the Kupiansk and Lyman fronts the occupiers are holding defence on the captured frontiers and launching attacks using mortars, tubed and rocket artillery specifically near the settlements of Krokhmalne and Tabaiivka in Kharkiv Oblast as well as Novoselivske, Makiivka, Ploshchanka and Nevske in Luhansk Oblast and Berestove in Donetsk Oblast. --->READ MORE HERE
Follow links below to
+++++relevant+++++
and related stories:
+++++Russia-Ukraine News LATEST UPDATES: (REUTERS) (AP) (NY POST) and (WSJ)+++++
+++++Ukraine says around 60 Russians killed in long-range shelling attack+++++
+++++Ukraine repels Russian attacks near 7 settlements in east+++++
Watch: What Just Happened in Russia? Massive Fireball Erupts Outside Russia's Second Largest City
Russia trying to exhaust Ukraine's air defenses, Pentagon official says
Russia Redoubles Attacks in Ukraine's East After Retreat From Kherson
What Videos of Russia's Destroyed Weapons Tell Us About Its Strategy
Shells hit near nuclear plant; Blackouts roll across Ukraine
Ukraine says will look into alleged prisoner shooting video
UK PM Sunak makes surprise trip to Kyiv, boosts defense aid
Families reunite through tears and smiles at Kherson central station
What it's like to know your loved ones are in Russian captivity
Economy Ministry: At least 5 million people lost their jobs in Ukraine due to Russia's war
Podolyak says negotiations 'make no sense' now, asks for more weapons
ISW: Russia working to control information space in occupied territories
France sends Crotale air defense systems, MLRS to Ukraine
Deputy Prime Minister believes that joining the EU is possible even without the end of the war
Ukrainian marines escape from Russian captivity
If you like what you see, please "Like" and/or Follow us on FACEBOOK
here,
GETTR
here
, and TWITTER
here
.