WSJ: Signs of Russian Retreat Don't Mean Ukraine's Fight for Kherson Will Be Easy:
Russian forces in the occupied southern Ukrainian city of Kherson appear to be laying the groundwork for a withdrawal, but Ukrainian officials warn that their enemy could be seeking to suck precious armored units into debilitating urban combat.
As Ukraine's forces press toward Kherson, one of the biggest prizes Russia seized after invading in February, Moscow's military wants to sap their strength while avoiding the kind of chaotic withdrawal it recently carried out in the northeast.
The question is how long Moscow will seek to hold Kherson. There are signs Russian forces are preparing to leave the city, moving residents and personnel onto the far bank of the Dnipro River, replacing elite forces with mobilized troops, and abandoning some checkpoints around the city and its airport while digging in elsewhere.
Signaling that heavy fighting might lie ahead, Russian President Vladimir Putin called Friday for civilians to be evacuated from Kherson.
"They're building fortifications in a hurry," said Natalia Humenyuk, spokeswoman for the Ukrainian military's southern command. "We're sure they're going to fight for Kherson."
A Western official said Russian planning for a withdrawal was well advanced and that Moscow had likely given priority to a temporary bolstering of forces in the area to cover the retreat. The bulk of Russian commanders had already withdrawn across the Dnipro, the official said, and Russia was seeking to reinforce a new defensive line on the eastern bank.
"They've probably made a strategic decision to withdraw over time," said Michael Kofman, an expert on the Russian military at defense-research organization CNA. "They're likely trying to make the seizure of Kherson costly for the Ukrainian armed forces." --->READ MORE HERE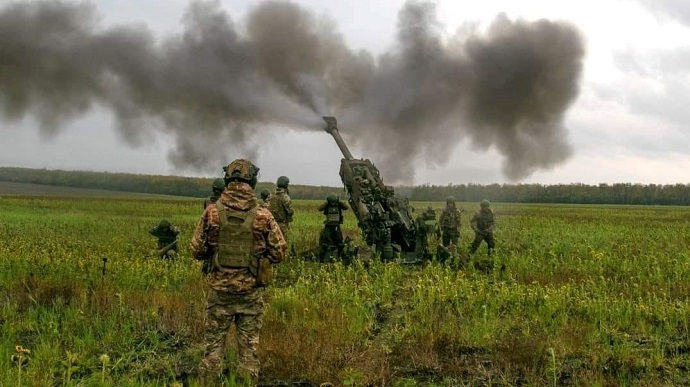 Ukrainian Armed Forces carry out 170 firing missions in southern Ukraine:
Ukraine's defence forces have carried out nearly 170 firing missions in southern Ukraine over the course of the past 24 hours, destroying Russian military equipment and killing Russian soldiers.
Source: Operational Command Pivden (South) on Facebook
Quote: "The occupiers are continuing to detonate or shell all vessels that could be used [to cross the River Dnipro - ed.] in Kherson Oblast, thus inflicting environmental damage on the region.
More than 50 vessels they had blown up are now leaking fuel directly into various bodies of water, damaging the ecosystem.
The enemy forces are deploying UAVs to conduct aerial reconnaissance in an attempt to establish the composition and movements of our units."
Details: On the afternoon of 4 November, Russian forces deployed a Lancet-3 UAV to attack the positions of Ukrainian forces in the Beryslav district.
The Russians are also continuing to attack the Bereznehuvate hromada in Mykolaiv Oblast, especially the areas located along the line of contact. On Friday, 4 November, they launched naval-based Kalibr cruise missiles on the hromada [hromada - an administrative unit designating a town, village or several villages and their adjacent territories - ed.]. --->READ MORE HERE
Follow links below to
+++++relevant+++++
and related stories:
+++++Russia-Ukraine News LATEST UPDATES: (REUTERS) (AP) (NY POST) and (WSJ)+++++
+++++General Staff: Ukrainian troops strike Russian positions 21 times+++++
+++++Explainer: Why Ukraine's southern Kherson region is a strategic prize+++++
The only answer to Putin's war of terror is to keep backing Ukraine to the hilt
Reznikov believes that the Russians are potentially ready for an "act of goodwill" in Kherson
US to send $400 million more to Ukraine in military aid
China Rebukes Russia's Nuclear Threats in Ukraine for First Time
Zelenskyy about the situation at the front: The boys move forward and the occupiers go the way of the warships
Russian shelling cuts power to Ukraine's nuclear plant, the largest one in Europe
Putin says civilians must leave Kherson as 24-hour curfew takes effect
Ukraine's Zelenskiy expects to "open new page in cooperation" with Israel
G-7 Diplomats Warn Iran Against Providing Weapons to Russia
Putin: 318,000 men drafted in Russia for its war against Ukraine
Turkey Under Pressure to Ratify NATO Membership for Sweden and Finland
Belarus Weekly: Russia deploys ballistic missiles to Belarus
Russian Attacks in Ukraine Leave Almost Half a Million Homes Without Power in Kyiv
US has 'no objection' to Germany sending tanks to Ukraine
Ukrainians face nuclear threat with grit and dark humor
Russian soldiers enter Kherson homes, dig in for urban war
If you like what you see, please "Like" and/or Follow us on FACEBOOK
here,
GETTR
here
, and TWITTER
here
.