Russia blames Ukraine for 'massive' drone attack on navy in Crimea:
Ukrainian forces launched the most "massive" drone attack "in the history of the conflict" at the headquarters of the Kremlin's Black Sea fleet in Crimea, according to Russian officials, who said Saturday they would no longer participate in a United Nations-brokered deal to ship grain and other products from Ukrainian ports in retaliation.
Russia's 410-foot naval flagship, The Admiral Makarov, appeared to be damaged in the late Friday attack at Sevastopol Bay, in which explosions rocked the heavily fortified navy ship yard, according to the Sunday Times of London. A minesweeper was also slightly damaged, the outlet reported.
"Today at night, the most massive attack by UAVs (unmanned aerial vehicles) and remote-controlled surface vehicles in the waters of the Sevastopol bay was undertaken," said Russia-installed Crimea governor Mikhael Razojaev in an interview with Russia's TASS news agency.
The extent of the damage — some captured on video footage showing fires and smoke at several locations around the naval base– could not be verified.
The Russian navy had earlier repelled a drone attack in which all of the devices had been "shot down," Razojaev said on Telegram.
The late Friday attack — part of a major counteroffensive by Ukraine to regain territory annexed by Russia in the southern part of the country — caused minor damage to the Black Sea port fleet, which was involved in protecting convoys exporting grain from Ukraine, Razojaev said. --->READ MORE HERE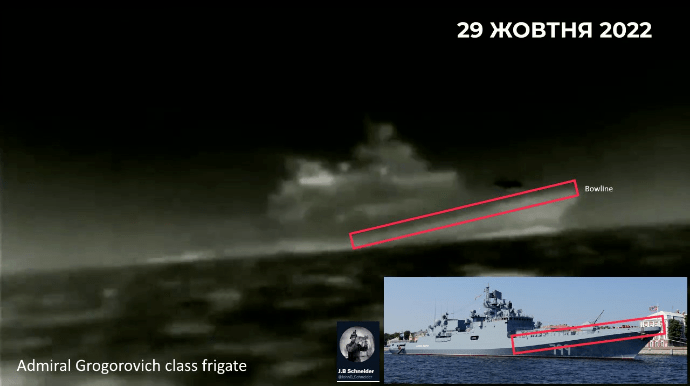 Sevastopol: Unmanned surface vehicles hit Admiral Makarov, flagship of Russian Black Sea Fleet
At least three ships of the Russian Black Sea Fleet, including the Admiral Makarov flagship, were damaged as a result of the unmanned surface vessel [USV] attack on 29 October.
Source: GeoConfirmed, a volunteer-managed outlet mapping the war in Ukraine based on geolocations, on Twitter
Details: GeoConfirmed investigators have analysed footage from the unmanned surface vessels [USVs are speedboat-size vessels that can pack hundreds of pounds of explosives – ed.], which roamed the harbour and the sea near Sevastopol.
The investigators released footage of an attack on an Admiral Grigorovich-class frigate. They concluded that the Admiral Makarov is the only one that matches this description in the Black Sea. The footage stops when the USV hits the vessel and explodes.
In this video you see the attack on an Admiral Grigorovich-class frigate. According to @CovertShores (9 May 22) only the Admiral Makarov matches this class for the Black Sea fleet.

The footage stops when the USV seems to impact on the vessel, it likely exploded.

Video 08

19/ pic.twitter.com/vIlHCl4aOF

— GeoConfirmed (@GeoConfirmed) October 29, 2022
--->READ MORE HERE
Follow links below to
+++++relevant+++++
and related stories:
+++++Russia-Ukraine News LATEST UPDATES: (REUTERS) (AP) (NY POST) and (WSJ)+++++
+++++Ukrainian Armed Forces eliminate group of 300 Russians preparing an assault near Maiorsk – General Staff report+++++
+++++Zelenskyy: Russian conscripts are so poorly prepared that Russia will soon need another wave of mobilisation+++++
Explosions in Sevastopol: Russians allege "UAV attack" by Ukraine that damaged ship
Russia suspends Ukraine grain deal over ship attack claim
Southern defence forces on explosions in Sevastopol: There are consequences if you shoot "combat mosquitoes" with S-300 missiles
ISW: Russian forces not making significant progress anywhere along front lines
EU freezes 300 billion euros from Russian Central Bank
Ukrainian Air Force selects pilots ready to train on foreign fighter jets
Vasiliy Lomachenko returns from Ukraine war to continue ultimate title quest
Ukraine's air defence shoots down Iskander cruise missile targeting Zaporizhzhia
Russia blames British navy for attacks on Nord Stream gas pipeline
Russian occupation forces plant twice as many mines now as they did in Kyiv Oblast
WSJ Opinion: Putin's 'Dirty Bomb' Claims and the Escalating Nuclear Threat
Kremlin propaganda more aggressive as Russia steps up attacks
Volkswagen Profit Falls on Hit From Ukraine, Software Woes
Lithuania to repair at least 12 Ukrainian PzH2000 howitzers
Ukrainian mortar crew wrestles with ammo shortage, dud shells
If you like what you see, please "Like" and/or Follow us on FACEBOOK
here,
GETTR
here
, and TWITTER
here
.