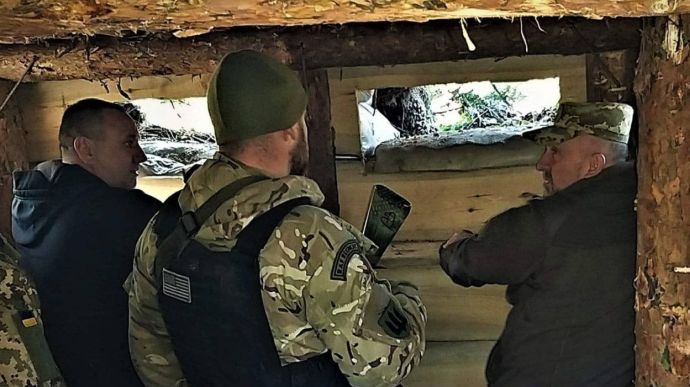 Build-up of Kyiv's defence lines continues:
The Ground Forces of the Armed Forces of Ukraine report further improvements to the system of engineering equipment and the construction of fortifications around Kyiv.
Source: Ground Forces of the Armed Forces of Ukraine on Telegram
Quote: "The build-up of the defence lines of Kyiv continues! The system of engineering equipment and the construction of fortifications around the capital continue to be improved. Proper engineering preparation of positions is one of the most important factors for defence and successful destruction of the enemy."
Quote from the Commander of Kyiv defence forces, Lieutenant General Oleksandr Pavliuk: "Based on the conclusions of the analysis of the defence of the capital in February-April, additional measures are being taken to strengthen the defence. First of all, we equip firing positions and shelters for personnel.
In addition, we are building up the fortification equipment of the defence lines by installing long-term fire structures of various types. We are also installing explosive and non-explosive engineering barriers in front of the positions of our troops." --->READ MORE HERE
NY POST: Terrified, untrained Russian draftees play dead on battlefield:
Horrified Russian conscripts sent to the frontlines with minimal training and abysmal equipment have resorted to playing dead on the battlefield, their wives have claimed.
The wives of three men mobilized into the 423rd Guards Motor Rifle Regiment in September said their husbands are now facing court martial after abandoning their assignment, independent Russian outlet Novaya Gazeta Europe reported.
The women, whose names have been changed, alleged that their husbands were sent into battle after barely two weeks of training, which mostly involved digging trenches.
"They built a campsite in a forest. They had no training out there, they were only taken to a shooting range twice, and that's it," one wife, Yelena, told the outlet.
After the men were deployed to the Luhansk region of Ukraine on Oct. 14, their families did not hear from them for about two weeks. Then, around Oct. 26, many of the wives reported getting calls from their husbands, who were begging for help.
"My husband called me on [Oct. 27], said it was total chaos out there, told me they were being used as a living shield," Yelena said. "Lacking any equipment, they were sent there escorted by two guys, also draftees, who had zero combat experience. --->READ MORE HERE
Follow links below to
+++++relevant+++++
and related stories:
+++++Russia-Ukraine News LATEST UPDATES: (REUTERS) (AP) (NY POST) and (WSJ)+++++
+++++General Staff: Ukraine launches 33 strikes against Russian forces over past 24 hours+++++
+++++Konrad Muzyka: 'Russian military in Belarus within range of Ukrainian artillery systems'+++++
Air Force: Ukraine downs 12 kamikaze drones overnight
Kremlin ends conscription order as Russia braces for more fighting in Ukraine
Kyiv wary as Russian official signals new retreat in southern Ukraine
Ukraine conflict, sanctions set to blow hole in Russia's finances
North Korea sends Russia artillery shells for Ukraine war: White House
Russians increase looting in occupied territories
Russia Says It Will Rejoin Ukraine Grain-Export Deal
Poland Begins Building Wall to Prevent Russia From Pushing Migrants Into Europe
Poland lays razor wire on border with Russia's Kaliningrad
Cambodia to send deminers to help train Ukrainians
Ukraine vows to repair shattered rail network to reconnect retaken towns
Spain is handing Ukraine a battery of air defense systems, four Hawk air defense systems, guns and shells
425 shelters being prepared in Kyiv in case of a possible nuclear strike
Sevastopol "drone attack": first satellite images are published
If you like what you see, please "Like" and/or Follow us on FACEBOOK
here,
GETTR
here
, and TWITTER
here
.