WSJ: Why Russia Lacks 'Smart' Weapons:
Precision-guided munitions require sophisticated microchips, and Russia has long depended on copying or smuggling them from the West rather than developing them on its own.
The Russian military has blundered repeatedly during the seven months since its armies stormed into Ukraine, but if Kyiv's successful counteroffensives had to be explained with just one word, that word would be an acronym: "Himars."
A High Mobility Artillery Rocket System is a truck-mounted canister of six missiles capable of launching pinpoint strikes against targets far behind Russian lines. Provided by the U.S., the systems are "turning the course of war," Ukrainian President Volodymyr Zelensky said. Himars rockets have struck more than 400 targets with "devastating effect," confirmed Mark Milley, chairman of the U.S. Joint Chiefs of Staff. Or, from Moscow's point of view, as one Russian journalist put it upon surveying the scene of an ammunition dump hit by Himars rockets, "The situation is horrible."
Russia uses precision munitions when they are available, but it has also relied heavily on simply saturating Ukrainian positions with unguided artillery fire. These tactics have decimated cities such as Mariupol and allowed Russia to eke out slow gains in the heavily contested eastern region known as the Donbas. But since receiving Himars from the U.S., Ukraine has been able to carry out targeted strikes that are far more effective than Russia's indiscriminate artillery volleys.
Why should a country with Russia's resources and scientific pride be so reliant on brawn over brains in its weapons systems? The problem isn't new. Leading U.S. defense analysts estimate that only 5% of the munitions Russia has used in the war in Syria were smart weapons. Moscow has numerous precision systems in its arsenal, but stockpiles are low, targeting intelligence is poor, and forces regularly deploy unguided munitions for tasks that Western militaries would accomplish using more advanced technology.
It isn't that the Kremlin has failed to see the need. Back in the 1980s, during the final years of the USSR's long decline, a Russian general was the first to understand that computing, sensor and communications technologies were revolutionizing warfare. Nikolai Ogarkov, chief of the Soviet General Staff, predicted "long-range, highly accurate, terminally guided combat systems, unmanned flying machines and qualitatively new electronic control systems." America's Tomahawk cruise missiles and other long-range precision strike capabilities terrified Soviet defense planners, the most pessimistic of whom worried that conventional strikes against command and control nodes might even threaten the usability of Soviet nuclear forces. --->READ MORE HERE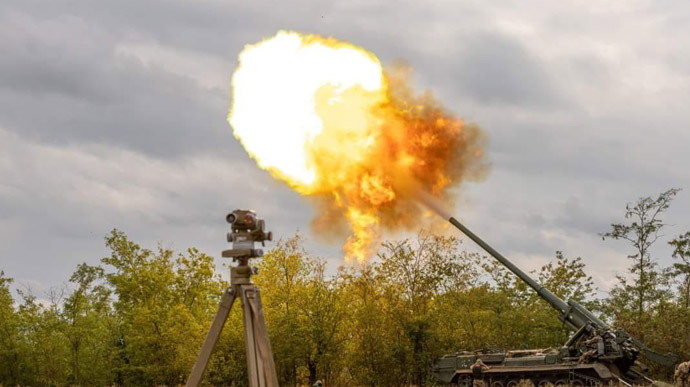 Ukrainian defenders repel 11 Russian attacks and destroy occupiers' command post – General Staff
Ukrainian defenders have repelled 11 Russian attacks and hit a Russian occupiers' command post.
Source: General Staff report of the Armed Forces of Ukraine as of 18.00 on 28 September
Quote: "During the current day, units of the Ukrainian Defence Forces have repelled enemy attacks in the areas of Zaitseve, Maiorsk, Zalizne, Odradivka, Mykolaivka Druha, Ozerianivka, Pervomaiske, Pobieda, Novomykhailivka, Pavlivka and Bezimenne.
Air Defence Forces struck two Russian strong points during the day in order to support ground force actions.
Rocket Forces and Artillery hit a command post, 4 areas where Russian personnel and equipment were concentrated, and one relay station."
Details: It is noted that the Russian army continues to carry out the task of fully occupying Donetsk Oblast and maintaining the temporarily captured territories.
Over the current day, the occupiers carried out 2 missile and 3 air strikes, and carried out more than 6 attacks from MLRSs. --->READ MORE HERE
Follow links below to
+++++relevant+++++
and related stories:
+++++Russia-Ukraine News LATEST UPDATES: (REUTERS) (AP) (NY POST) and (WSJ)+++++
+++++Retired US general: Ukrainian army could enter Crimea by mid-2023+++++
+++++Russia's professional soldiers about those mobilised in Ukraine: "To be honest, they will all die there"+++++
Stopgap Funding Bill Includes $12.3 Billion in New Ukraine Aid
AP says US will give Ukraine 18 more HIMARS
Russian missile strikes school in Donetsk Oblast
Israel starts medical rehab program for wounded Ukrainians
Putin's nuke threats reveal his weakness — not his strength
Russia Prepares to Annex Parts of Ukraine as Staged Votes End
Ukraine's president: No talks with Putin if its land annexed
US announces $1.1 billion more in military aid for Ukraine
EU plans Russia trade sanctions over 'sham' Ukraine votes
Meta disables Russian propaganda network targeting Europe
UK tells Ukraine it will never recognise Russian attempts to annex territory
Civilian cars in Hostomel have been shot at for six hours: security forces post footage of Russian war crime
'Truly a Nuremberg moment': More atrocities expected to be discovered in Ukraine
Russia tries to recruit men looking to flee at border crossings
If you like what you see, please "Like" and/or Follow us on FACEBOOK
here,
GETTR
here
, and TWITTER
here
.