Ukraine attacks Russia's hold on southern city of Kherson:
Ukrainian forces attacked Russia's hold on the southern city of Kherson on Thursday while fighting intensified in the country's east. The battles came amid reports that Moscow-appointed authorities have abandoned the city, joining tens of thousands of residents who fled to other Russia-held areas.
Ukrainian forces were surrounding Kherson from the west and attacking Russia's foothold on the west bank of the Dnieper River, which divides the region and the country.
As the battles unfolded, Russian President Vladimir Putin said that Moscow has no intention to use nuclear weapons in Ukraine, despite issuing repeated warnings in the past that he was prepared to use all available means to defend Russia, including its nuclear arsenal.
"We see no need for that," Putin said at a conference of international foreign policy experts outside Moscow. "There is no point in that, neither political nor military."
The Russian leader, who insisted for weeks before the invasion that he did not intend to attack Ukraine, also sought to cast the conflict as part of efforts by the West to secure global domination. He accused the U.S. and its allies of trying to dictate their terms to other nations in a "dangerous and bloody" domination game.
Putin, whose troops invaded on Feb. 24, has described Western support for Ukraine as part of broad efforts by Washington and its allies to enforce what they call a rules-based world order that only foments chaos.
Meanwhile, Russia warned that Moscow could target Western commercial satellites used for military purposes in support of Ukraine, and a Foreign Ministry spokeswoman accused the United States of pursuing "thoughtless and mad" escalation. --->READ MORE HERE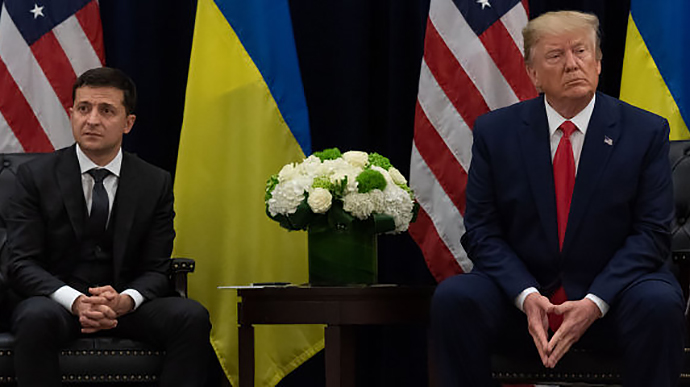 Zelenskyy on Trump: Russia did not invade Ukraine then, who knows how Trump would have responded:
President Volodymyr Zelenskyy said he cannot blame former US President Donald Trump for not supporting Ukraine enough because Russia has not yet carried out a full-scale invasion in Ukraine during his presidency.
Source: President Zelenskyy in an interview with Corriere della Sera, an Italian media outlet
Quote from Zelenskyy: "Biden is helping us more than the previous administration. However, I cannot blame Trump, because there was no full-scale invasion during his presidency and so I don't know how he would have responded."
Details: When asked whether he is concerned about Trump's possible return to power Zelenskyy said that this is a matter for the American people, and he has no influence on it.
However, he also said that Ukraine was alarmed by some of the messages expressed during the electoral campaign in the US.
Quote from Zelenskyy: "Some messages worry us. I think these messages about cutting support for Ukraine and so on are political because they are being expressed as part of the electoral process in the US. I believe that these are part of the election efforts. At least that's what we hope for. --->READ MORE HERE
Follow links below to
+++++relevant+++++
and related stories:
+++++Russia-Ukraine News LATEST UPDATES: (REUTERS) (AP) (NY POST) and (WSJ)+++++
+++++Ukraine downs 19 kamikaze drones in Odesa, Mykolaiv, Vinnytsia oblasts+++++
+++++Ukraine has boosted its forces near Belarus in case of attack - General Staff+++++
Russian occupiers damage more than 500 cultural heritage objects
Putin: 'New world order' will compensate for Russia's losses in Ukraine war
Governor: Ukraine destroys Russian barracks in Luhansk Oblast, at least 10 officers killed
Putin brags about where lies about "Kyiv's dirty bomb" came from: I told the Defence Minister to call everyone
Russian army lacks warm clothes, training and combat-ready equipment – General Staff of Armed Forces of Ukraine
Defense Ministry: Ukraine conducts 28 prisoner swaps with Russia since February
Russia threatens to shoot down Western satellites for helping Ukraine
Putin's reported goddaughter Ksenia Sobchak flees Russia as extortion case looms
Vladimir Putin's Chechen warlord Ramzan Kadyrov declares Ukraine war a 'Big Jihad'
UK intelligence: Russia faces difficulties in isolating its citizens from effects of war
Russia recruits raped, abused prisoners to the Ukraine front lines
Kyiv Faces Lengthier Blackouts as Russia Assaults Ukraine's Electric Grid
'Kill everyone' Russian violence in Ukraine was strategic
New UK PM Sunak, Canada's Trudeau agree on continued support for Ukraine
If you like what you see, please "Like" and/or Follow us on FACEBOOK
here,
GETTR
here
, and TWITTER
here
.