Public Sentiment in Russia Darkens Over Ukraine War:
President Vladimir Putin's massive military mobilization and escalating talk of nuclear weapons in the protracted Ukraine conflict are rattling many Russians, including urban elites for whom the war had seemed far in the background.
The WhatsApp messaging group for residents of a stately post-World War II apartment building on a major thoroughfare in downtown Moscow, viewed by The Wall Street Journal, is peppered with messages of concern: "Is the bomb shelter in the basement still habitable?"; "Who do we need to contact to get it inspected?"; "Where are the entrances located?"
In some urban centers, apartments are being put up for sale or rent at fire-sale rates, say real-estate experts, as hundreds of thousands of Russian men have left the country since Mr. Putin ordered the call-up of reservists to generate new troops to fight in Ukraine.
Nearly half of Russians said they were alarmed and felt fearful following Mr. Putin's announcement of the draft, while another 13% said they felt anger, according to a poll last month by Levada Center, a nongovernmental sociological research organization, of 1,631 people over the age of 18 in urban and rural areas of 50 regions.
A poll by the state Public Opinion Foundation published around the same time as the Levada survey also showed that the prevailing mood among Russians was now one of unease, according to 70% of 1,500 respondents.
"Now is a really unusual situation for our country and a new collective psychotrauma," Ekaterina Kolesnikova, director of North-West, a private research center for the study of management practices and the social-political mood, wrote on the group's Telegram page earlier this month. --->READ MORE HERE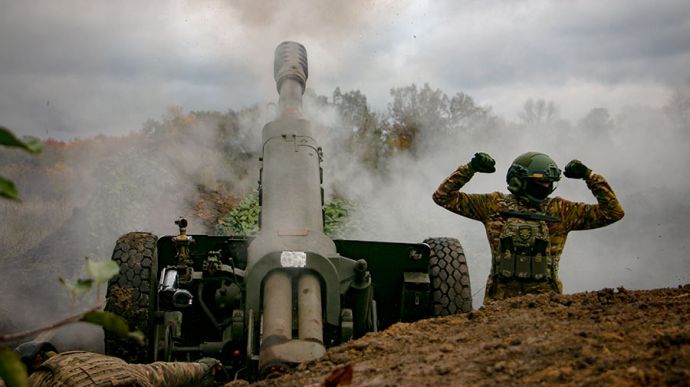 Armed Forces of Ukraine repelled attacks in three directions, aircraft struck the invaders with 30 strikes – General Staff:
The Ukrainian military repelled Russian attacks on the Kramatorsk, Bakhmut and Avdiivka fronts on Saturday.
Source: Summary by the General Staff of the Armed Forces of Ukraine as of 18:00
Quote: "Units of the Defence Forces of Ukraine repelled enemy attacks in the districts of the settlements of Novosadove on the Kramatorsk front, Yakovlivka, Berestove, Bakhmut, Bakhmutske and Opytne on the Bakhmut front, Krasnohorivka, Nevelske, Pervomaiske, Mariinka and Pobeda on the Avdiivka front.
Details: Air Defence Forces of Ukraine inflicted 30 strikes throughout the day. The destruction of 23 areas of concentration of weapons and military equipment, as well as seven positions of enemy anti-aircraft missile systems was confirmed. In addition, Ukrainian air defence units shot down six UAVs and one enemy helicopter.
Missile forces and artillery over the past day hit five control points, seven areas of concentration of manpower, weapons and military equipment, and three ammunition depots. Russian artillery positions and other important military targets also fell into the zone of fire damage.
During the day, the invaders inflicted four missile and 17 air strikes, and carried out up to 10 MLRS attacks. --->READ MORE HERE
Follow links below to
+++++relevant+++++
and related stories:
+++++Russia-Ukraine News LATEST UPDATES: (REUTERS) (AP) (NY POST) and (WSJ)+++++
+++++Ukrainian Armed Forces hit occupiers' base in Melitopol+++++
+++++Russians destroy two schools in one hour in Zaporizhzhia Oblast+++++
Ukraine's military intercepts 5 kamikaze drones over Dnipropetrovsk Oblast overnight
Residents urged to leave annexed region as Ukraine advances
Forecast by the Armed Forces of Ukraine: the occupiers will be hit with Burevii
Russians lose another 400 Russian soldiers and 11 UAVs
Russia has launched 'hundreds' of missiles this week, 'most' at civilian targets: Pentagon
Germany handed over 16 tank bridge-layers to Ukraine
Ukrainian deminers remove deadly threats to civilians
Russia military range shooting near Ukraine leaves 11 dead, 15 wounded
Nearly 65,000 Russian troops killed in Ukraine war, Zelensky says
General Staff: Mortality rate of seriously wounded Russian soldiers more than 50 percent
U.S. Has Made 'Dramatic Change' in Technology Used for Nuclear Code System
Russian Strikes on Ukraine Knock Out Power in Kyiv
Ukraine completes exhumation of soldiers at Lyman mass grave
Russia kidnaps thousands of Ukrainian children from occupied Kherson Oblast
Russian "military uniform" for children found in liberated Kherson Oblast
Mobilised Russian reservists arrive in Ukraine wearing civilian clothes – General Staff
If you like what you see, please "Like" and/or Follow us on FACEBOOK
here,
GETTR
here
, and TWITTER
here
.