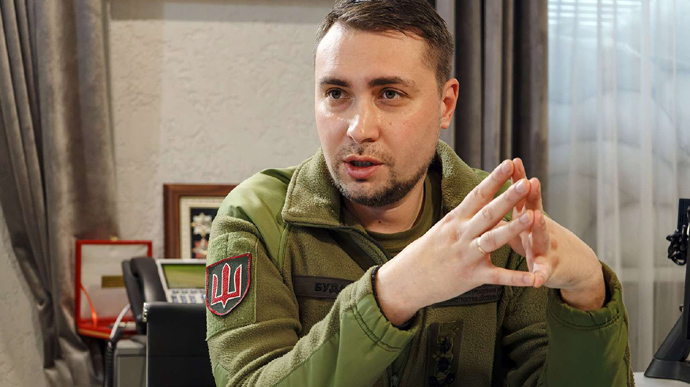 1,750 Iranian-made drones ordered by Russia, but Ukrainian anti-aircraft gunners shoot down 70% of everything that flies:
The first batch of Iranian-made drones for Russia consisted of 1,750 pieces; however, the Ukrainian anti-air gunners have shot down an estimated 70% of the drones that the Russian occupiers launched over Ukraine.
Source: Kyrylo Budanov, Head of the Main Intelligence Directorate of the Ministry of Defence of Ukraine, in an interview to Obozrevatel [Ukrainian independent news outlet]
Quote: "The first batch ordered consisted of 1,750 drones, followed by new orders; however, their production and delivery to Russia, you must understand, is not an instant process.
They are gradually running out of them, the Iranians are making new ones, but there is another side to this issue: we consistently shoot down an estimated 70% of all drones."
Details: According to Budanov, the Kremlin is facing missile shortages. As the Head of Ukrainian Intelligence says regarding Iskander missiles, the stock of Russian missiles available is now down to 13%.
He noted that policy prohibits dropping below 30%, but war makes its own adjustments. --->READ MORE HERE
Ukraine to Get Anti-Drone Systems in Coming Days, NATO's Stoltenberg Says:
NATO will deliver air defence systems to Ukraine in coming days to help the country defend itself against the drones, including those from Iran, that Russia is using to target critical infrastructure, the alliance's secretary-general said on Tuesday.
Ukraine said attacks by swarms of drones had destroyed almost a third of its power stations over the past week after Russia stepped up its attacks on infrastructure far from the front line after suffering a string of military setbacks at the hands of Ukrainian troops.
Addressing a security conference in Berlin, NATO chief Jens Stoltenberg said the answer to the attacks was for the allies to step up their deliveries of air defence systems.
"The most important thing we can do is deliver on what allies have promised, to step up and deliver even more air defence systems," he said.
"NATO will in the coming days deliver counter-drone systems to counter the specific threat of drones, including those from Iran." --->READ MORE HERE
Follow links below to
+++++relevant+++++
and related stories:
+++++Russia-Ukraine News LATEST UPDATES: (REUTERS) (AP) (NY POST) and (WSJ)+++++
+++++Air defences shoot down several Russian missiles over Kyiv, danger persists+++++
+++++Armed Forces of Ukraine destroy three Russian ammunition storage points+++++
Russia's Top Ukraine Commander Sees Invasion Faltering in South, but Missile Strikes Take Toll on Ukraine
Russia targets Ukrainian power plants in second week of intense bombardment
NATO chief hints allies would intervene in war if Russia uses nuclear weapons in Ukraine
Ukraine's 'Joan of Arc' sniper Evgenia Emerald weds soldier she met on front lines
Ukraine moves to cut diplomatic ties with Iran after drone attacks
War Drives a Rift Between Two Ukrainian Brothers
Russia Wipes Out Exxon's Stake in Sakhalin Oil-and-Gas Project
Watch: Ukrainian Police Shoot at Kamikaze Drone as Strikes Hit Kyiv
Finland PM: Wide political support for Russia border fence
UN finds Russia responsible for 'vast majority' of potential war crimes in Ukraine
Vladimir Putin's Cannon Fodder
U.S. says Iran supplying drones to Russia violates U.N. resolution
U.S. condemns 'war crimes' after Russia drone attack hits Kyiv apartment block
Estonian parliament declares Russia terrorist regime
Half of Wagner PMC consists of prisoners – General Staff report
EU's Foreign Affairs Chief: "Don't Worry About Money" For Ukraine
If you like what you see, please "Like" and/or Follow us on FACEBOOK
here,
GETTR
here
, and TWITTER
here
.