Ukraine Forces Take Control of Key River Bank, Extending Advance in East:
The bridgehead on the eastern bank of the Oskil River brings Kyiv's forces closer to the occupied Luhansk region
Ukrainian forces said they now control the eastern bank of the Oskil River in the Kharkiv region, cementing strategic gains as part of a rapid counteroffensive and putting them closer to the Russian-held cities of Donetsk and Luhansk, while Moscow continues to launch attacks against civilian infrastructure in Ukraine following its military setbacks in the country's east.
Strategic Command of the Ukrainian Armed Forces posted a video on social media on Sunday that appeared to show an armored vehicle crossing the river, along with the message, "Ukraine controls the left bank."
The claim suggests Ukraine's push east is continuing after its forces seized about 3,500 square miles of territory in the northeastern Kharkiv region in a lightning offensive earlier this month that put Moscow on the back foot.
Ukrainian troops are now within about 20 miles of the Luhansk region, which Moscow captured months ago and whose seizure the Kremlin has repeatedly called one of its priorities for the war in Ukraine.
Ukrainian President Volodymyr Zelensky said in a video address late on Monday that Ukrainian forces were holding their positions in the Kharkiv region. On Sunday night, Mr. Zelensky vowed to continue fighting until all Ukrainian territory had been retaken, including areas of the eastern Donbas area, which includes Luhansk, and Crimea that Russia seized in 2014.
"Ukraine must be free—the whole of it," Mr. Zelensky said Sunday, naming a list of cities currently under Russian occupation that he vowed to win back.
Russian-installed local authorities accused Ukrainian forces of launching a strike Monday on the city of Donetsk that killed 13 civilians, including two children. Eight people were injured. The strike targeted a public-transportation stop, a store and a bank, according to Denis Pushilin, head of the self-proclaimed Donetsk People's Republic. Bloodied bodies on a shopping street were seen in video clips posted on Russian Telegram channels. --->READ MORE HERE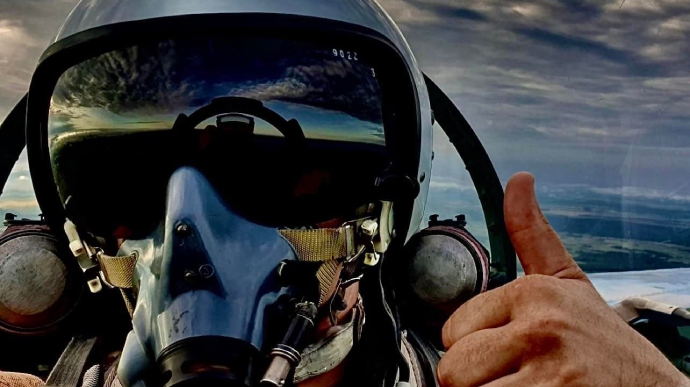 No such thing as bad weather for Ukraine's Air Force: 10 planes and helicopters downed in a week:
The Air Force of Ukraine has destroyed 8 Russian planes and 2 helicopters in a week.
Source: Yurii Ihnat, spokesman of the Air Force Command of the Armed Forces of Ukraine, on air during the national joint 24/7 newscast; Air Command Skhid (East)
Quote from Ihnat: "The Air Force has destroyed 8 enemy aircraft, 2 helicopters, 4 cruise missiles and more than 10 UAVs [unmanned aerial vehicles] within 6 days."
Details: Ihnat noted that the air defence troops of Ukraine's Air Force shot down a Russian Su-25 plane in the skies over Kherson Oblast on 19 September, as well as an X-59 guided aircraft missile.
Ukrainian aircraft continue to destroy the occupying forces on the front line in spite of the seasonal deterioration in the weather.
Update: Air Command Skhid (East) reported after the broadcast that Ukrainian forces had downed a Russian UAV in the area of Kamianske in Dnipropetrovsk Oblast at around 14:00 on Monday 19 September. --->READ MORE HERE
Follow links below to
+++++relevant+++++
and related stories:
+++++Russia-Ukraine News LATEST UPDATES: (REUTERS) (AP) (NY POST) and (WSJ)+++++
+++++Belogorivka, Luhansk Region, is completely under the control of the Armed Forces of Ukraine — Haydai+++++
+++++Russian soldiers caught between Ukraine's Armed Forces and right bank of Dnipro River seek ways to surrender+++++
Russia may have lost four combat jets in Ukraine in last 10 days, UK says
Fears Russia could target civilians after Vatican envoy faced fire
Chilling photos reveal inside of Russian 'torture chambers' in Ukraine after mass grave discovery
Vladimir Putin's Energy War With Europe Seems to Falter
Ukrainians Try Crowdsourcing to Catch Russian War Criminals
WSJ Opinion: Ukraine's War With Russia Reaches a Tipping Point
Russia Expands Attacks on Civilian Targets in Ukraine After Battlefield Losses
Ukraine warns of 'nuclear terrorism' after strike near plant
Baltic nations close borders to Russians over Ukraine war
Ukraine says Russia strikes Pivdennoukrainsk nuclear power plant, reactors undamaged
Germany to supply four more Panzerhaubitze 2000s to Ukraine
If you like what you see, please "Like" and/or Follow us on FACEBOOK
here,
GETTR
here
, and TWITTER
here
.