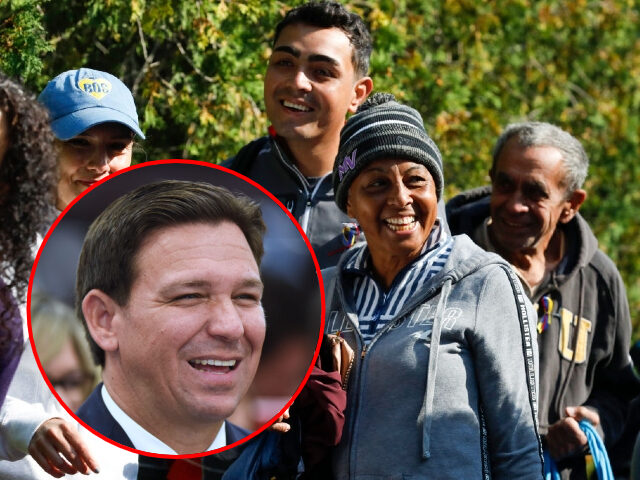 TX Democrat Sheriff Investigating DeSantis's Migrant Flight 'Not Able' to Find Broken Laws:
Bexar County Sheriff Javier Salazar, a Democrat, is "not able" to find any laws broken in relation to Gov. Ron DeSantis (R) sending dozens of migrants to Martha's Vineyard, announcing an investigation into the matter.
Salazar announced an investigation this week, claiming that the migrants were "lured under false pretenses." Further, he asserted that someone "hunted them down, preyed upon them… for the sake of political theater."
"I believe people need to be held accountable for it," he added.
WATCH:
However, he admitted during the press conference that he is "not able" to say that any laws were even broken or a that a crime was committed.
"At this point, I'm not able to definitively say 'Here's the statute that they broke,' either federal, state or local. But what I can tell you is it's wrong just from a human rights perspective, what was done to these folks is wrong," he said, essentially undercutting his own argument.
He continued: --->READ MORE HERE
Texas sheriff investigating Gov. Ron DeSantis' migrant flights to Martha's Vineyard:
A Texas sheriff on Monday opened an investigation into two flights of migrants sent to Martha's Vineyard by Florida Gov. Ron DeSantis, but did not say what laws may have been broken in putting 48 Venezuelans on private planes last week from San Antonio.
Bexar County Sheriff Javier Salazar, an elected Democrat, railed against the flights that took off in his city as political posturing. But he said investigators had so far only spoken to attorneys representing some of the migrants and did not name any potential suspects who might face charges.
He also did not mention DeSantis in a news conference that appeared to mark the first time a law enforcement official has said they would look into the flights.
"I believe there is some criminal activity involved here," Salazar said. "But at present we are trying to keep an open mind and we are going to investigate to find out what exact laws were broken if that does turn out to be the case."
DeSantis' office responded with a statement that said the migrants had been given more options to succeed in Massachusetts.
"Immigrants have been more than willing to leave Bexar County after being abandoned, homeless, and 'left to fend for themselves," DeSantis spokesperson Taryn Fenske said. "Florida gave them an opportunity to seek greener pastures in a sanctuary jurisdiction that offered greater resources for them, as we expected." --->READ MORE HERE
If you like what you see, please "Like" and/or Follow us on FACEBOOK
here,
GETTR
here
, and TWITTER
here
.