Russia to hold sham referenda in occupied Ukraine as Kyiv gains ground:
Russian-backed separatists in Ukraine will hold a slew of sham elections to vote on joining Russia — all while Moscow strengthened its laws against desertion, an indication that the country may start calling up yet more troops for the seven-month-long war.
Russian puppet governments in the Luhansk, Donetsk and Kherson provinces — as well as what's left of the Russian occupation in Zaporizhzhia — announced Tuesday that they will hold referenda by week's end on becoming part of Russia.
The hawkish moves come after a surprise Ukrainian counterattack took back the Kharkiv province, made inroads in Luhansk, and forced a Russian retreat in recent weeks.
Russia already recognizes the two regions of Luhansk and Donetsk, which were occupied by separatists in 2014, as the self-styled Luhansk and Donetsk People's Republics. Those regions held similar referenda in May 2014 to declare themselves autonomous states — votes which were widely seen by the community of Western democracies as illegitimate. --->READ MORE HERE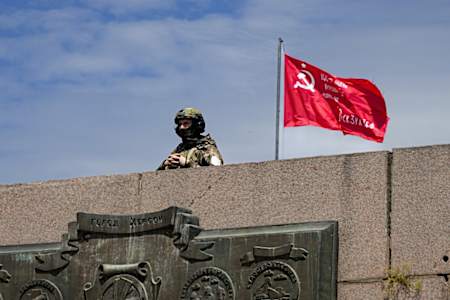 Ukraine may have Russian forces caught in 'beautifully defensible grave':
A major Russian military force could be destroyed by Ukraine following a gambit that baited Russia's commanders into sending their troops into a vulnerable position.
"They are trapped between Ukrainians and the river," a senior European official told the Washington Examiner. "They are all in range of Ukrainian artillery at the moment."
That bleak scenario for Russian forces has been described not only by trans-Atlantic observers eager for Ukraine's victory but also by pro-Russian sources alarmed by the turn of events sprung upon the invading troops in recent weeks. The Russian lines have traced the shape of a fishhook on the map of Ukraine — from Crimea and Kherson in the south, north and east toward Donbas before curving around toward Kharkiv — but Ukrainian counterattacks have blunted that hook near Kharkiv and exposed the vulnerability of the invading troops at the opposite end of the Russian line in a precarious position, as even Russian sources acknowledge.
"An interesting technique: they achieved success in one direction — brought us to a state where we do not think about any offensive operations in this direction, only about stabilizing the frontline — and offensive surpluses are transferred to another sector," the commander of the Vostok Battalion, Aleksandr Khodakovsky, who has led the pro-Russian force since his defection from Ukraine in 2014, wrote in a Telegram post. "A developed transport infrastructure allows them to maneuver with limited forces, creating accumulations in places where it is necessary according to the plan, and the presence of a plan and its implementation is the possession of a strategic initiative."
That grim compliment, translated by the Estonia-based War Translated project, reflects the "brilliant" stratagem of Ukrainian General Valerii Zaluzhnyi, as a former U.S. ambassador put it. The curvature of the Russian positions gave Ukrainians the advantage of "interior lines" — that is, the defending Ukrainian forces inside the fishhook can move along a straight line from one contest to another, while the Russian troops have to take a longer route along the outside of the curve to move from one end of the war zone to the other. --->READ MORE HERE
Follow links below to
+++++relevant+++++
and related stories:
+++++Russia-Ukraine News LATEST UPDATES: (REUTERS) (AP) (NY POST) and (WSJ)+++++
+++++Donetsk militants plan to involve children in sham referendum+++++
+++++UK Defense Ministry: 'No amount of threats, propaganda can hide that Ukraine is winning'+++++
Zelensky: Mobilization of Russian reservists won't change Ukraine's plans
Russians rush for flights out amid partial reservist call-up
Russia's mobilisation was 'predictable', shows war effort failing, Ukraine says
Chilling video shows incendiary ammo falling on Ukrainian town
Russia Moves to Annex Occupied Lands in Bid to Halt Ukrainian Advance
Ukraine's Defence Minister mocks mobilisation in Russia: Kremlin has taken up challenge from Moskvich car factory
Putin's plan is to "get rid of Russians" – Secretary of National Security Council of Ukraine
Reaction to Russia mobilising more troops for Ukraine
US orders kamikaze drones Switchblade 600 for Ukraine
Putin's Best Bet in Ukraine Is Negotiation
EU dismisses referendums planned in Russian-controlled areas of Ukraine as illegitimate
Ukraine must demine 12,000 km2 of liberated areas in Kharkiv region: official
Ukrainian intelligence: Russia starts conscripting plant workers in Donetsk Oblast
If you like what you see, please "Like" and/or Follow us on FACEBOOK
here,
GETTR
here
, and TWITTER
here
.