WSJ: Russia Mobilizes Quarter-Million Men, Ukraine Shrugs, Fights On:
Moscow's new troops are unlikely to be fully integrated for several months, giving Kyiv time to press its offensive
After seven months of war, Ukraine now faces Russian President Vladimir Putin's plans to mobilize more than a quarter of a million men for his invasion, in what the Kremlin hopes will be a display of the massive human resources available to it.
Kyiv's response: Keep calm and continue tactics that have proven to work.
Moscow is banking on its efforts, which are already under way, to throw another 300,000 mobilized soldiers into its faltering attack on Ukraine. Russia's goal is to harden battle positions that it gained in Ukraine's east and south and prevent further losses like those it suffered earlier this month in the northeast, when its forces were routed by a swift Ukrainian advance and driven from the strategically important city of Izyum.
Ukraine still has months to make gains before the mobilized troops are integrated into the Russian army, giving it a window of opportunity to carry on with plans to win back territory. For now, Kyiv is unlikely to accelerate any offensive operations in the south or east of the country, Ukrainian and Western military analysts say.
Even with the new forces in place, Ukraine's use of Western weapons and nimble force structures will likely give it the upper hand against Russia's reliance on sheer numbers of likely demoralized troops, they said.
"They're trying to boost their numbers without remedying their weaknesses," said Mykola Bielieskov, research fellow at the Kyiv-based National Institute for Strategic Studies, a government-backed think tank.
Since Mr. Putin's mobilization announcement earlier this week, thousands of men across Russia with prior military service have been rounded up at home and their places of work to start a planned two-week training period before they are deployed in some cases to front lines.
The Kremlin leader said in a nationwide address Wednesday that the measures were necessary "for the protection of the motherland, its sovereignty and territorial integrity."
For Russia, mobilization will ensure that the conflict continues for the foreseeable future, even if it doesn't bring any immediate gains. It plays to Russia's belief it can tolerate the pain of the war longer than the Ukrainians or their Western backers in Europe, which will be paying more for energy over the winter months. --->READ MORE HERE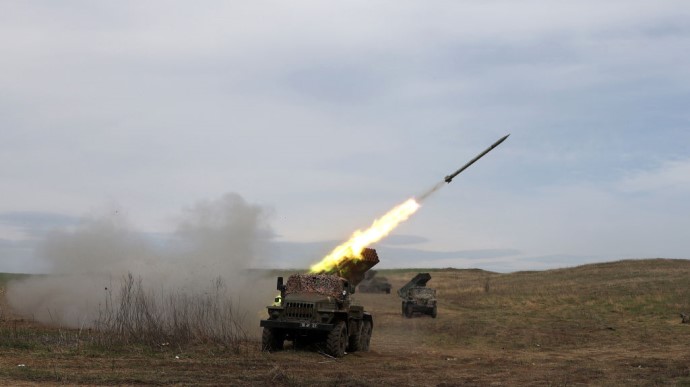 Russians are retreating, Armed Forces of Ukraine are destroying their equipment and weapons:
Russian occupiers are gradually retreating in the South of Ukraine. Ukraine's Armed Forces managed to destroy the areas where their equipment and weapons are concentrated.
Source: Natalia Humeniuk, the head of the press centre of Operational Command Pivden (South), on air of national 24/7 newscast, reports Interfax-Ukraine
Quote from Humeniuk: "The fighting is fierce, it is quite hot here in the south, despite the fact that the weather has become a little cooler. The fire is coming from one side and from the other. But the enemy is still giving way; we are securing territories, little by little. And this stresses the Russian forces out, so the shelling becomes more or less intense, depending on the amount of [Russian] ammunition we hit during the night...
We landed quite significant hits over the past day; these [targets] are control points, command posts, and areas of concentration of equipment and weapons, as well as people, but we do not see the results yet, because they are still being investigated. It is clear that it is more difficult to estimate such results in the occupied territory. But we are very grateful to the local population, [and] very grateful to the resistance movement; they help us in this, and we are sure that by the evening the report [on Russia's losses] will be quite powerful."
Details: --->READ MORE HERE
Follow links below to
+++++relevant+++++
and related stories:
+++++Russia-Ukraine News LATEST UPDATES: (REUTERS) (AP) (NY POST) and (WSJ)+++++
+++++G7 condemns Russia's 'scam' Ukraine referendums+++++
+++++Governor: Armed Russian proxies knock on doors, demand locals to 'vote' on joining Russia+++++
Armed Forces of Ukraine liberate village of Yatskivka in Donetsk Oblast and improve positions near Bakhmut
UK intelligence: Ukraine's military assault Lyman, secure bridgeheads on east bank of Oskil
Ukrainian Armed Forces repel Russian attacks near 3 settlements – General Staff report
Russian men join exodus, fearing call-up to fight in Ukraine
Staged Annexation Vote Starts in Russian-Occupied Areas of Ukraine
Moscow-held regions of Ukraine in 'sham' vote to join Russia
Occupied Ukraine holds Kremlin-staged vote on joining Russia
Meduza: At least 5 recruitment offices set on fire in Russia amid mobilization
Vladimir Putin's Nuclear Threats Work, but Using the Weapons Probably Wouldn't
Letting both sides declare 'victory' in Ukraine may be best solution
Bipartisan Group in Congress Urges Pentagon to Send Ukraine Advanced Drones
Family tries to rebuild life in shattered Ukraine village retaken from Russia
Russia's EU Neighbors Won't Welcome Conscripts Fleeing Mobilization for Ukraine War
The West freezes up to $500 billion Russian assets
In Izium 447 bodies exhumed, many women and children
If you like what you see, please "Like" and/or Follow us on FACEBOOK
here,
GETTR
here
, and TWITTER
here
.