Rosin: Ukraine will be able to push back Russian troops from the western bank of the Dnieper in two months
According to the head of the cyber command, Colonel Kaupo Rosin, the Armed Forces of Ukraine will be able to push back Russian troops from the western bank of the Dnieper in two months, and it may take several years to liberate the entire territory of Ukraine.
Rosin noted in the program Ukraina stuudio on the ETV channel that although hostilities are also being conducted on the Kharkiv and Donbass fronts, the center of gravity of the larger offensive of the Armed Forces of Ukraine is the Kherson region and the western bank of the Dnieper.
"Now we can say that they have achieved tactical success. At the same time, they themselves said that they are acting slowly and methodically, looking for the weak points of the Russian occupiers and putting pressure on these weak points," Rosin quoted Ukrainian authorities as saying.
He explained that the Ukrainians are trying to use the weaknesses of the Russian army - logistics and management. Rosin considers this tactic to be the most expedient at the moment. "For larger-scale offensives, you need very good armored forces, a large number of tanks, armored vehicles, with good control. In this case, you need to know where the enemy is. It seems that the Ukrainians have chosen the best tactics according to their capabilities. And now it seems that it works," Rosin says. --->READ MORE HERE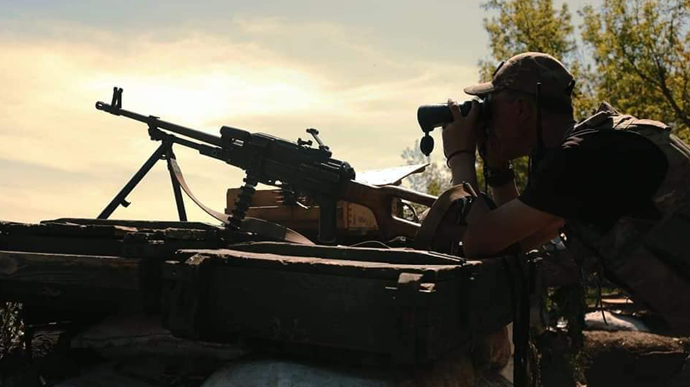 Ukrainian defenders repelled 11 Russian attacks, shot down two Su-25s and Ka-52 Alligator helicopter – General Staff report
As of 18.00 on 7 September, the Ukrainian defenders repelled 11 attacks by the Russian invaders, managing to destroy two Russian Su-25 aircraft and a Ka-52 helicopter.
Source: General Staff of the Armed Forces of Ukraine
Quote from General Staff: "The enemy continues to focus its efforts on establishing full control over the territory of Donetsk Oblast, holding the captured areas of Kherson, Kharkiv, Zaporizhzhia and Mykolaiv oblasts.
[The Russian army] constantly conducts aerial reconnaissance of UAVs, and continues to take measures to improve the logistics support of its troops.
During the current day, the enemy launched more than 8 missile and 10 air strikes on objects on the territory of Ukraine."
Details: In particular, infrastructure was damaged in the areas of the settlements of Kharkiv, Tsyrkuny, Velyki Prokhody, Sloviansk, Siversk, Kramatorsk, Bohoiavlenka, Konstiantynivka, Dorozhnianka, Olhivske, Bilohirka, Kostromka, Sukhyi Stavok, Bezimenne, Andriivka and Bila Krynytsia.
On the Siversk, Kharkiv, Sloviansk, Kramatorsk, Bakhmut, Avdiivka, Novopavliv and Zaporizhzhia fronts, Russians continue to fire at military and civilian facilities. Russia fires mortars as well as rocket and tubed artillery on Ukrainian positions. --->READ MORE HERE
Follow links below to
+++++relevant+++++
and related stories:
+++++Russia-Ukraine News LATEST UPDATES: (REUTERS) (AP) (NY POST) and (WSJ)+++++
+++++New explosions in Kherson Oblast: Armed Forces of Ukraine destroy Russian equipment – Odesa Military Administration+++++
+++++Ukraine says Russian military death toll surpasses 50,000+++++
Russia's War on Ukraine Deepens International Cyber-Defense Cooperation
Survivor of Russian strike on Kramatorsk train station: 'Dead people were everywhere'
Dying — but Living, Too
Russia to buy rockets, artillery shells from North Korea: US intelligence
Ukrainian authorities in Brussels renew calls for special Russian war crimes tribunal
Two Russian embassy staff dead, four others killed in suicide bomb blast in Kabul
Shelling resumes near Ukraine nuclear plant, despite risks
Putin's legs seen shaking amid speculation about health
Putin claims Russia hasn't 'lost anything' in Ukraine — despite more than 15K casualties
Inspectors call Ukrainian nuke plant situation 'not sustainable'
Video shows Ukrainian chimp brought back to zoo on bicycle following escape
If you like what you see, please "Like" and/or Follow us on FACEBOOK
here,
GETTR
here
, and TWITTER
here
.