Horowitz: Report from UK government flagged lack of safety data on vaccine for pregnant and nursing women:
Think of the number of pregnant and nursing women in the military, health care, education, and many other professions who were forced to get shots that the U.K. government admitted at the time should not have been given. The "fact checkers" are sputtering about minutiae of the timing of this document, but the reality is that the establishment pressured and even forced some pregnant and nursing women to get a shot that even they admitted at the time had no reliable data, and although they now say it's safe, the reality paints a very different picture.
Last week, Norman Fenton, professor of risk information management at Queen Mary University of London, among other U.K. researchers, posted a link to a report titled, "Summary of the Public Assessment Report for COVID-19 Vaccine Pfizer/BioNTech," in which researchers clearly recommend against vaccinating pregnant and nursing women. The report was originally posted in December 2020, but like many CDC reports, this U.K. government paper has been updated a few times, the most recent of which was Aug. 16, 2022. The money quote from the paper is as follows: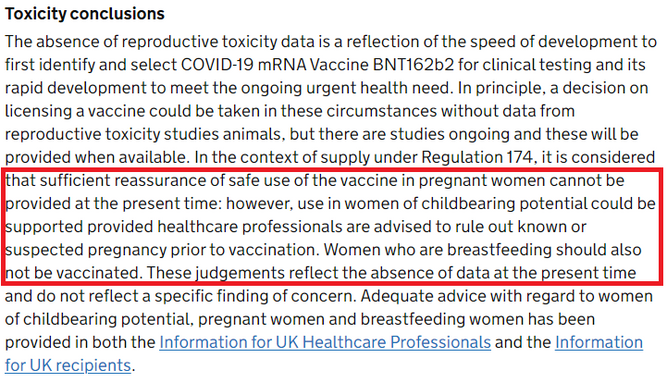 --->READ MORE HERE
YouTube / The White House
Biden's COVID head: 'God gave us two arms' to get double vaccinations:
President Biden's coronavirus response coordinator has said Americans should all get an annual COVID-19 vaccine alongside a flu shot — flippantly saying it is "why God gave us two arms."
Dr. Ashish Jha told a White House press briefing Tuesday that the administration's focus was making "vaccines a more routine part of our lives" with "annual protection."
"The good news is you can get both your flu shot and COVID shot at the same time. It's actually a good idea," said Jha, who is also a dean of the Brown University School of Public Health.
"I really believe this is why God gave us two arms — one for the flu shot and the other one for the COVID shot."
Jha also repeated messaging from earlier in the pandemic that people should get vaccinated to help grandparents and vulnerable members of the community.
"So, today, we're calling on all Americans: Roll up your sleeve to get your COVID-19 vaccine shot," he said. --->READ MORE HERE
Follow links below to relevant/related stories and resources:
China extends coronavirus lockdown of megacity Chengdu indefinitely, with no end in sight to strict "zero-COVID" policy
Americans ditch face masks, plan more travel than ever: poll
USA TODAY: Coronavirus Updates
WSJ: Coronavirus Live Updates
YAHOO NEWS: Coronavirus Live Updates
NEW YORK POST: Coronavirus The Latest
If you like what you see, please "Like" and/or Follow us on FACEBOOK
here,
GETTR
here
, and TWITTER
here
.