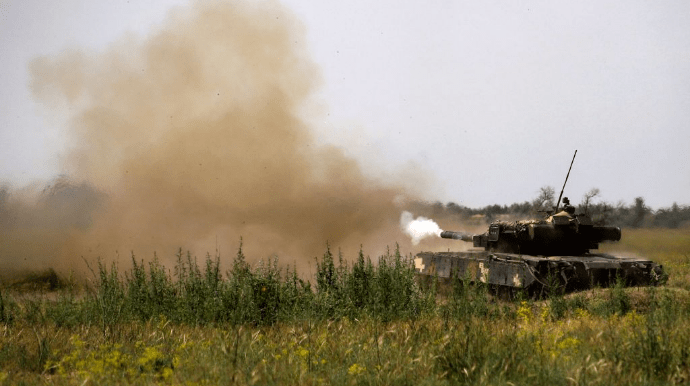 Ukrainian Armed Forces repel Russian offensive on three fronts in eastern Ukraine – General Staff:
The Armed Forces of Ukraine has repulsed offensives from Russian forces on three fronts - Sloviansk, Avdiivka and Bakhmut.
Source: General Staff report as of 06.00 on 28 August
Details: On the Bakhmut front, Russian forces tried to advance in the areas of Vershyna, Kodema, Semyhiria and Zaitseve. Ukrainian defenders stopped the invaders and pushed them back. Areas around the settlements of Bakhmut, Bakhmutske, Soledar, Shumy, Vesela Dolyna, Yakovlivka, Maiorsk and Zaitseve were hit by fire from tanks, tubed artillery and MLRS. Russian aircraft struck near Kodema.
On the Avdiivka front, the Russian army led an offensive in the area of Lozove - Pervomaiske, was repulsed and retreated. The areas of settlements of Nevelske, Vodiane, Orlivka, Novooleksandrivka, Vesele, Niu-York, Krasnohorivka, Marinka and Pervomaiske were shelled using tanks, tubed and rocket artillery. There were airstrikes near Valentynivka and Vodiane.
On the Sloviansk front, the Russian army tried to conduct an assault in the area of the settlements of Dovhenke and Bohorodychne, but was unsuccessful and had to withdraw. There was shelling using tubed artillery and multiple-launch rocket systems near the settlements of Dovhenke, Kurulka, Adamivka, Dolyna, Brazhkivka, Dibrivne, Bohorodychne, Krasnopillia and Kostiantynivka. --->READ MORE HERE
Rival Chechen fighters take war to battlefields of Ukraine:
Kneeling in a patch of yellow wildflowers, a Chechen soldier carefully attaches an explosive device to the bottom of a small drone. Seconds later, it is released. It explodes next to two old storefront mannequins set up 200 meters (yards) away, one with a Russian-style military hat on its head.
After this and other training outside the Ukrainian capital, the Chechen soldiers, in assorted camouflage footwear and protective gear, will be heading to the front lines in Ukraine, vowing to continue the fight against Russia that raged for years in their North Caucasus homeland.
Fighters from Chechnya, the war-scarred republic in southern Russia, are participating on both sides of the conflict in Ukraine.
Pro-Kyiv volunteers are loyal to Dzhokhar Dudayev, the late Chechen leader who headed the republic's drive for independence from Russia. They form the "Dudayev Battalion" and are the sworn enemies of Chechen forces who back Russian President Vladimir Putin and joined Russia in the months-long siege of Ukraine's key port of Mariupol and other flashpoints in eastern and southern Ukraine.
One group of new Chechen arrivals, many of whom live in Western Europe, was being trained at a makeshift firing range outside Kyiv before heading east. At a training session Saturday, the new recruits ‒ all Muslim men ‒ shouted "Allahu akbar!" ("God is great!"), holding their rifles in the air before being handed military ID cards that are issued to volunteers. --->READ MORE HERE
Follow links below to
+++++relevant+++++
and related stories:
+++++Russia-Ukraine News LATEST UPDATES: (REUTERS) (AP) (NY POST) and (WSJ)+++++
+++++The Armed Forces of Ukraine hit three Russian control points in Kherson Oblast – Operational Command Pivden (South)+++++
+++++In Donbas, Marines of the Ukrainian Armed Forces destroyed two "Hyacinth-S" artillery systems, self-propelled guns and an armored personnel carrier+++++
Ukrainian Armed Forces bring down Russian UAV on southeastern front
Explosions at Russian military base in occupied Svatove – Luhansk Oblast Military Administration
Russia plans to mobilize about 90,000 fighters - intelligence
IAEA mission to Ukraine's Zaporizhzhia nuclear plant 'on its way' after shelling
Ukraine on edge after Zaporizhzhia nuclear plant, region's towns shelled
Russian patrol team in Mariupol lured out and blown up – Advisor to Mariupol Mayor
UK says it is unclear how Russia will recruit more soldiers
Russians use expensive high-precision missile to blow up a toilet in Kherson Oblast
Workers at Ukraine's Zaporizhzhia nuclear plant fear Russian torture ahead of UN visit
Russian rockets hit cities near Ukraine nuclear plant, raising fears of catastrophe
U.N. Inspectors Head to Ukraine Nuclear Plant as Safety Fears Grow
Zelenskyy: Even if we negotiate with Russia, it will come for more of our land
If you like what you see, please "Like" and/or Follow us on FACEBOOK
here,
GETTR
here
, and TWITTER
here
.