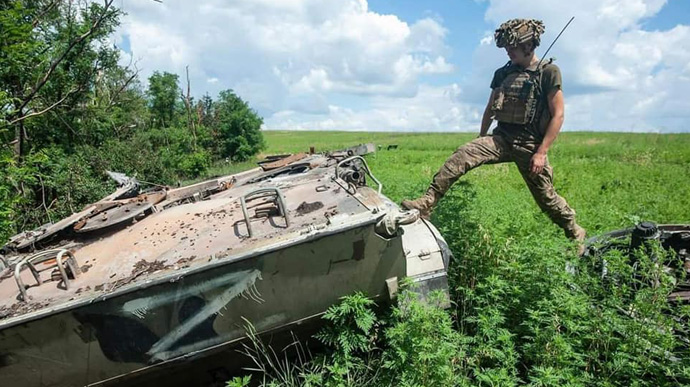 Ukrainian Armed Forces repel Russian assault on Marinka – General Staff report:
Russian occupying forces attempted to mount an assault on Marinka and to advance on Lozove, but they were unsuccessful and were forced to retreat.
Source: General Staff of the Armed Forces of Ukraine on Facebook, information as of 18:00 on 5 August
Details: On the Sivershchyna front, Russia is maintaining units of the Western Military District in the areas of Bryansk and Kursk oblasts (Russia) near the Russian-Ukrainian border.
Russian troops are carrying out combat engineering tasks to reinforce their positions and are installing video surveillance systems.
They used artillery to shell civilian infrastructure in and around Zaliznyi Mist and Hremiach (Chernihiv Oblast) and Starikove (Sumy Oblast).
Russia's efforts on the Slobozhanshchyna front are focused on preventing the Ukrainian Armed Forces from creating favourable conditions to mount an offensive. --->READ MORE HERE
Ukraine posts dramatic footage of strike that allegedly killed six Russian commanders:
Dramatic footage posted to social media Thursday claims to show a precision strike on a small Russian convoy, killing six of Moscow's commanders.
The video, posted to social media by Ukrainian officer Anatonly Shtefan Stirlitz, shows a birds-eye view of two small trucks traveling at speed up a rural road.
As the trucks reach a ninety-degree turn, lone missile streaks in from off-screen, striking the lead vehicle in a large explosion. Obviously damaged and out of control, it careens into a nearby field.
The second truck passes through the area seconds later, navigates the turn, but loses control, rolling over into the gutter.
Stirlitz writes that the trucks contained Russian "commanders [who] were on their way [back] from a meeting." --->READ MORE HERE
Follow links below to
+++++relevant+++++
and related stories:
+++++Russia-Ukraine News LATEST UPDATES: (REUTERS) (AP) (NY POST) and (WSJ)+++++
+++++Ukrainian defenders destroy three Russian bases in south Ukraine+++++
+++++Russian state TV: North Korea offering Kremlin 100,000 'volunteers'+++++
Damaged Russian ship spotted in Sevastopol – media
Exclusive: U.S. readies new $1 billion Ukraine weapons package
Russian media report fire at Donetsk railway station, allegedly due to shelling
NATO members working with defence companies to boost weapons supplies to Ukraine
Deputy Prime Minister on Amnesty International report: Ukrainian Armed Forces repeatedly call for evacuation of civilians
A strike on the funeral of a "DPR" commander in central Donetsk, Office of the President says: Russians hit themselves
Bulgaria Sent 4,200 Tons of Weapons to Ukraine - Secretly via Poland
Belarus Weekly: Russia continues to conduct airstrikes against Ukraine from Belarus
Ukraine calls for Black Sea grain deal to extend to other products, Financial Times reports
The West Must Wean Itself Off Russian Titanium
Ukraine war making 40 million people go hungry, Africa to bear brunt, says U.S.
Kazakhstan's Unease Toward Russia Grows as Ukraine War Drags On
UK says Russia's actions at Zaporizhzhia power plant likely undermine its security, safety
Pope meets Russia envoy; decrees Ukraine-based priest martyr
Ukrainian frontline city imposes weekend curfew to root out collaborators
If you like what you see, please "Like" and/or Follow us on FACEBOOK
here,
GETTR
here
, and TWITTER
here
.