Ukraine's Drone Spotters on Front Lines Wage New Kind of War:
A reconnaissance unit using drones to direct artillery strikes is frequently a target itself. Commercially available drones selling for as little as $3,000 are revolutionizing combat.
"Fire," a Ukrainian reconnaissance unit commander said after receiving a message from the artillery team.
It took more than 20 seconds for the sound of an outgoing Ukrainian artillery round to reach this narrow strip of woodland on the front line between Ukrainian-held Mykolaiv and Russian-occupied Kherson in southern Ukraine.
As the shell whistled overhead, another member of the team who goes by the call sign Zhora zoomed in on his terminal's screen to see where it landed. A third member, Thor, leaned over to mark the location on a tablet with Kropyva, a mapping and artillery software developed for the Ukrainian military.
A plume of dark smoke could be seen on the drone's feed before the sound of the explosion traveled back. "Oh, that was real close!" said the 34-year-old Zhora with a smile, noting the short distance between the impact spot and a fortified Russian position sheltering a BMD armored fighting vehicle.
That is how much of the fighting goes on these days in Ukraine, where the front lines—with the exception of some parts of the Donbas area in the east—haven't moved much in months. The two armies try to weaken each other in daily artillery exchanges that are guided by hundreds of spotters flying drones over enemy lines.
Abdulla, the commander of this special drone reconnaissance platoon, known as Terra, relayed the coordinates for the next round of artillery. Like most other Ukrainian soldiers, members of the platoon are allowed to be identified only by their call signs.
Just minutes earlier, Abdulla and his men were themselves scampering to seek cover in two dugouts after Russian forces spotted their drone in the air and fired several rounds in their general direction. The rounds landed too far away to cause damage. Not far from the spot, the remains of a burned-out car marked Russia's success in eliminating another Ukrainian drone team a few weeks earlier. --->READ MORE HERE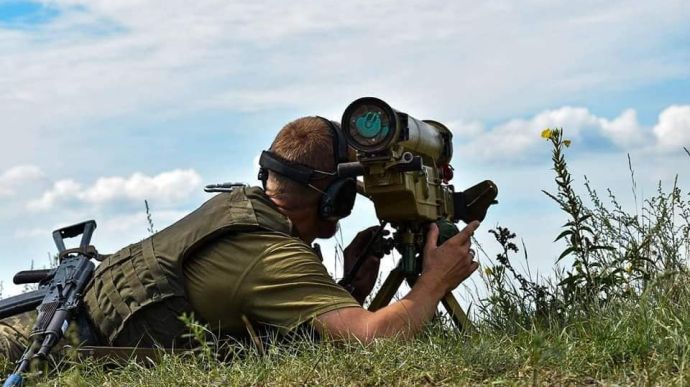 Russian assaults on Avdiivka and Pisky fail, hostilities ramp up in Kharkiv Oblast – General Staff:
On the Kharkiv front, Russian forces are attempting to prevent the Ukrainian Armed Forces from advancing further into the territory they currently control. In Donetsk Oblast, the Ukrainian Armed Forces have thwarted Russian attempts to advance on Avdiivka and Pisky and have repelled a Russian assault on Bakhmut.
Source: General Staff of the Armed Forces of Ukraine on Facebook, information as of 18:00 on Monday, 8 August
Details: Today marks 166th day of Ukraine's resistance to Russia's invasion.
There were no significant changes on the Volyn, Polissia and Sivershchyna fronts. On the Sivershchyna front, the Russian forces shelled the areas near the villages of Hremiach and Senkivka in Chernihiv Oblast and near Sukhodil, Manukhivka, Novi Vyrky and Pavlivka in Sumy Oblast. The Russians used UAVs to conduct aerial reconnaissance in the areas near the Ukrainian border.
Russian forces on the Kharkiv front used tank guns, as well as tubed and rocket artillery to prevent the Ukrainian Defence Forces from advancing further into the territory temporarily occupied by the Russians.
The Russians also attacked the areas around the towns and villages of Uda, Svitlychne, Zolochiv, Slatyne, Nove, Borshchova, Ruski Tyshky, Tsyrkuny, Peremoha, Slobozhanske, Chervone, Husarivka and Asiivka. --->READ MORE HERE
Follow links below to
+++++relevant+++++
and related stories:
+++++Russia-Ukraine News LATEST UPDATES: (REUTERS) (AP) (NY POST) and (WSJ)+++++
+++++Fresh shelling delays reopening of Kherson bridge, Interfax reports+++++
+++++Russians threaten to blow up mined Zaporizhzhia Nuclear Power Plant – Energoatom+++++
Air Force explains what aircraft are needed to free occupied areas in tandem with HIMARS
The largest package of military aid from the USA: what exactly will Ukraine receive
As Many as 80,000 Russian Troops Hurt or Killed in Ukraine, Pentagon Says
Exclusive: Russian weapons in Ukraine powered by hundreds of Western parts, report says
US announces another $1 billion military aid package for Ukraine
Counterintelligence officers show how they kill Russian soldiers with drones
Since February 24, the Russian Federation has lost more than five thousand units of military equipment in Ukraine - experts
Ukraine probing almost 26,000 suspected war crimes cases
Volodymyr Zelenskyy honours airmen and reveals the secret of success in the sky
British Intelligence on the numbers of Russian generals killed in the war
Wood-Pellet Exports Boom Amid Ukraine War, Environmental Concerns
Ukraine court jails Russian soldier for firing tank at apartment block
Attacks at Ukraine Nuclear Plant Are Suicidal, U.N. Chief Warns
Ukraine receives three German anti-aircraft systems
Ukraine's security forces foil Russian assassination attempts on Defence Minister and intelligence chief
If you like what you see, please "Like" and/or Follow us on FACEBOOK
here,
GETTR
here
, and TWITTER
here
.