Ukraine hits base of Russian paramilitary group Wagner after photos revealed location:
Ukraine said Monday that it successfully struck the headquarters of the Wagner Group, the elite Russian paramilitary organization fighting on behalf of the Kremlin — just days after photos posted online mistakenly revealed the location.
Ukrainian governor of Luhansk Serhiy Hayday announced the country's forces struck the group's main operation in the eastern city of Popasna, according to the BBC.
Pro-Kremlin war reports also acknowledged the attack.
Details about the strike were not immediately clear, including how many died in the attack and the extent of the damage it caused.
Ukraine was able to locate the headquarters after a Russian propagandist, Sergei Sreda, accidentally revealed its location in photos posted to Telegram on Aug. 8, Ukrainian newspaper Ukrainska Pravda reported. --->READ MORE HERE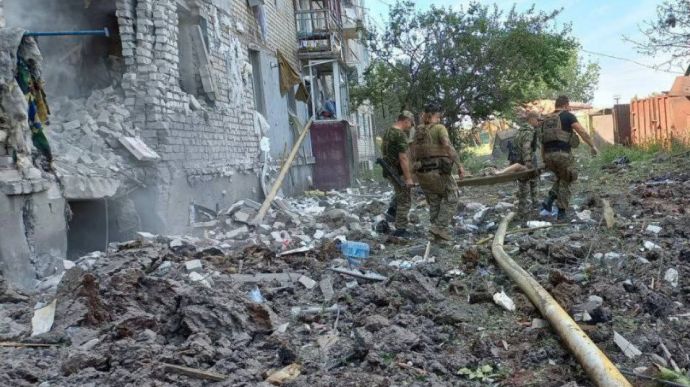 Armed Forces of Ukraine hit Wagner HQ in Popasna, the photo of which was exposed by Russian war reporter – Russian channels
Russian Telegram channels report on the attack of the Armed Forces of Ukraine on the headquarters of the Wagner PMC [a network of mercenaries who serve as the de facto private army of Russian President Vladimir Putin] in the occupied Popasna, Luhansk Oblast, a photo of which was recently published by the Russian military correspondent.
Source: the Russian department of Radio Liberty
Details: Reports of the Armed Forces of Ukraine attack on the Wagner PMC headquarters in Popasna appeared on Sunday in Russian telegram channels. A photo of the destruction was also published.
According to Radio Liberty, the telegram channels of Wagner PMC confirm the strike.
On 8 August, Russian military correspondent Sergey Sereda wrote about his visit to the "headquarters". He published a post on Telegram, writing: "Arrived in Popasna, stopped by the headquarters of Wagner PMC. They met me like family and told several funny stories." --->READ MORE HERE
Follow links below to
+++++relevant+++++
and related stories:
+++++Russia-Ukraine News LATEST UPDATES: (REUTERS) (AP) (NY POST) and (WSJ)+++++
+++++Russian occupiers attempted to break through Ukrainian defences in Kharkiv region and several other areas, but failed – General Staff+++++
+++++One-fifth of Russian units in Ukraine have been defeated – Zaluzhnyi+++++
Ukraine targets Russian soldiers accused of threatening nuclear plant
Anti-aircraft gunners shoot down second Russian helicopter over the weekend
Defenders from Ukrainian State Border Guard Service destroy Russian trucks moving on other side of Siverskyi Donets
People in Ukraine town dig up hastily buried bodies for proper funeral
Meet Putin's inner circle of evil, from Nikolai Patrushev to Ramzan Kadyrov
Russia admits it's in talks for Brittney Griner-Viktor Bout prisoner exchange: diplomat
Russia's Goal in Attack on Nuclear Plant: Take the Electricity, Ukraine Says
War Thrust This Ukrainian Psychiatric Hospital Onto the Front Lines
Ship carrying grain for Ethiopia ready to leave Ukraine
Air defence units destroy 2 Russian UAVs, X-59 air-to-surface missile
In Ukraine, rebuilding starts with neighbors' help
Russia's war priority: reorient units to strengthen southern Ukraine, UK says
As Russia destroys Donbas, people leave homes in mandatory evacuation drive (PHOTOS)
Zelenskyy to Russians: If you remain silent, you are complicit in war
If you like what you see, please "Like" and/or Follow us on FACEBOOK
here,
GETTR
here
, and TWITTER
here
.