Ukraine Braces for Brutal Fight for Occupied Southern Regions as Referendum Looms:
Armed with Western weapons, Ukraine prepares to retake Kherson region in the south
When Ukrainian troops deployed in Kyselivka on the Kherson front line in April, the village's empty homes provided some protection from relentless Russian shelling.
"Now, there aren't many places left to hide here anymore," said a soldier who goes by his call sign Kulak, pointing to a landscape of craters and twisted trees. "Most houses have burned down from incendiary shells, and the church is gone, too. It is never quiet down here."
No civilians live in the village anymore. A white goat wandered from one wrecked house to another, looking for food. Russian drones with motion detectors frequently hover over the spot from which Kulak observes Russian movements about a mile away and directs artillery strikes.
The unit's mission, he said, is to hold firm. "The Russians shoot left and right, into the steppe, anywhere," he said. "As for us, we have to economize the ammunition, so we only fire according to precise coordinates."
The situation, for now at least, is similar across the Kherson front line that stretches for more than 100 miles. This strategic terrain represents Russia's only foothold on the western bank of the Dnipro River and a potential avenue of advance on to the ports of Mykolaiv, Odessa and the rest of Ukraine's remaining Black Sea shoreline.
"Neither side has the forces or the equipment to begin a decisive offensive here, and so both are preparing for positional warfare, so far," said Maj. Roman Kovalyov, the executive officer of a Ukrainian battalion in another part of the Kherson region. Much of the front line in Kherson runs along the Inhulets River that, while relatively shallow, has turned out to be a significant obstacle for major troop movements, he said.
"The Russians are like locusts. We keep killing them and they just keep sending more, with no end," said one of the battalion's artillery commanders. --->READ MORE HERE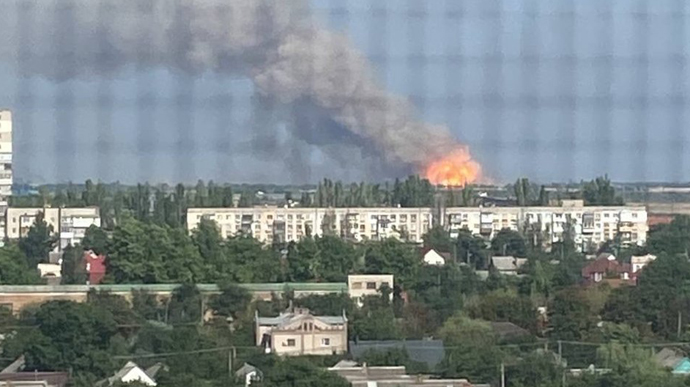 South: Ukrainian Armed Forces launched fire attack on Russian base in Chornobaivka:
Ukrainian army missile and artillery units have struck the location of the occupation troops' base in Chornobaivka.
Source: Operational Command Pivden (South) on Facebook
Quote: "The enemy continues to conduct hostilities along the occupied defence line. They have started to prepare an assault group on the Kryvyi Rih front.
It is probable that the enemy is preparing a counteroffensive aimed at reaching the administrative border of Kherson Oblast."
Details: Russian aggressors attempted combat reconnaissance under the cover of two tanks along the Sukhyi Stavok – Bilohirka line. They failed and retreated with losses.
However, they launched two air strikes and two rocket strikes at Ukrainian positions later during the day.
The attacks were carried out from the temporarily occupied territories of Kherson and Mykolaiv regions, along the contact line, by helicopters and Smerch (Tornado) multiple-launch rocket systems. --->READ MORE HERE
Follow links below to
+++++relevant+++++
and related stories:
+++++Russia-Ukraine News LATEST UPDATES: (REUTERS) (AP) (NY POST) and (WSJ)+++++
+++++Ukrainian Armed Forces prevent Russian troops from advancing on Marinka and Bilohirka – General Staff report+++++
+++++Deadly Blaze Engulfs 'Amazon Of Russia' Warehouse Near Moscow, Deemed "Suspected Arson"+++++
Russian strike force taking aim at Zelensky's hometown, Kyiv says
Russian ceasefire and troop pullout must precede any talks, says Ukraine
UN fact-finding mission will probe Ukraine prison killings
Zelensky: If the Russian Federation wanted negotiations, it would not withdraw reserves to the south of Ukraine
As Russia's war continues, Ukrainian businesses struggle to compensate damages
UN warns stability of Ukraine's nuclear plant is 'extremely grave' under Russian control
U.S. Senate Ratifies Adding Finland and Sweden to NATO
Romanian Black Sea port to keep shipping Ukrainian grain, seeks EU funding
Russia Shells Apartment Buildings in Southern Ukraine
Swiss adopt new EU sanctions on Russia, allow oil payments
U.S. Sanctions Woman It Calls Vladimir Putin's Girlfriend
Three ships may leave Ukrainian ports daily after first successful departure -Turkish official
3.5 million Ukrainians homeless due to Russian property destruction, Kyiv says
Cash-strapped Ukraine faces pushback from Wall Street in debt talks: sources
If you like what you see, please "Like" and/or Follow us on FACEBOOK
here,
GETTR
here
, and TWITTER
here
.