Arizona to build own wall, frustrated over Biden inaction on border crisis
Arizona has given up on waiting for President Biden to address the ongoing border crisis along the southern limits of the Grand Canyon state and is moving forward with building its own border wall.
Republican Gov. Doug Ducey unveiled the plan Friday as construction began on the new barrier.
"Arizona has had enough. We can't wait any longer. The Biden administration's lack of urgency on border security is a dereliction of duty," Ducey said in a statement.
"For the last two years, Arizona has made every attempt to work with Washington to address the crisis on our border. Time and time again we've stepped in to clean up their mess. Arizonans can't wait any longer for the federal government to deliver on their delayed promises."
The state is planning to construct the wall in a thousand-foot gap near Yuma with 60 double stacked shipping containers that measure to approximately 22-feet-high each. The top of the barrier will feature concertina wire.
Ashbritt, an Emergency management contractor, is handling the construction which is anticipated to be finished over the weekend.
The project is expected to cost approximately $6 million. --->READ MORE HERE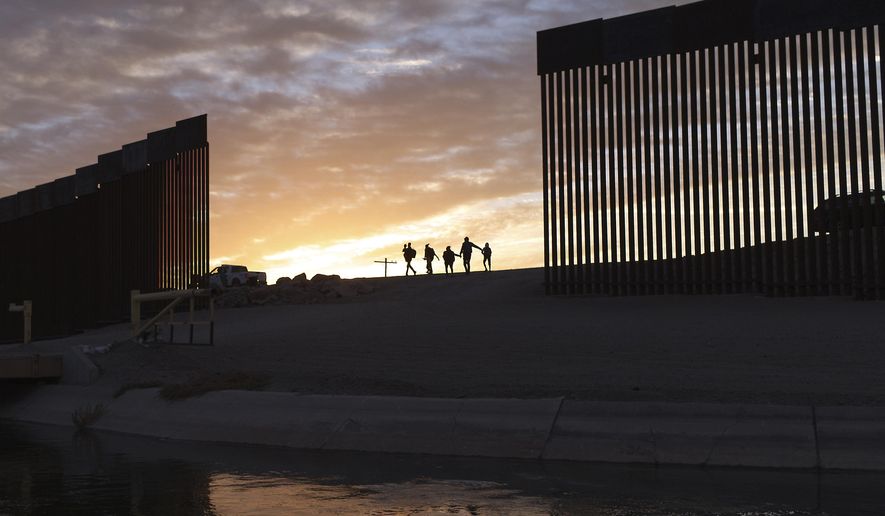 AP Photo/Eugene Garcia
Arizona won't wait for feds, starts filling border wall gaps:
Arizona began moving in shipping containers to close a 1,000-foot gap in the border wall near the southern Arizona farming community of Yuma on Friday, with officials saying they were acting to stop migrants after repeated, unfulfilled promises from the Biden administration to block off the area.
The move by Arizona comes without explicit permission on federal land, with state contractors starting to move in 60-foot-long shipping containers and stacking two of the 9-foot-tall containers on top of each other early Friday. They plan to complete the job within days, and the containers will be topped with 4 feet of razor wire, said Katie Ratlief, Republican Gov. Doug Ducey's deputy chief of staff.
The state plans to fill three gaps in the border wall in the coming weeks totaling 3,000 feet.
"The federal government has committed to doing this, but we cannot wait for their action," Ratlief said.
John Mennell, a spokesman for U.S. Customs and Border Protection, said the agency had just learned of Arizona's action and "is not prepared to comment at this time."
The move is the latest pushback by a Republican-led border state to what they contend is inaction by Democratic President Joe Biden on immigration. It was immediately prompted by the announcement of the end of the "Remain in Mexico" program that was announced this week, Ducey's top lawyer, Annie Foster said. That program required asylum-seekers to return to Mexico and await a court date, although thousands of migrants who make it into the country were not returned. --->READ MORE HERE
Arizona To Use Shipping Containers to Fill In a 1,000 Foot Border Gap in Yuma:
On Aug. 12, Arizona Governor Ducey issued an Executive Order to immediately fill in gaps in the Yuma Border Wall.
The Governor will put 60 double-stacked shipping containers, reinforced with concertina wire at the top, in the gaps. As a result, construction began Friday morning, Aug. 12, on the thousand-foot gap in the border wall near Yuma, Arizona.
The Governor's press release said that the shipping containers will be 22 feet high. This is lower than the nearby border wall which reaches 30 feet high. The release said that the state-owned, 8,800-pound, 9-by-40-feet containers will be linked together and welded shut.
Governor Ducey said he took this action as a result of a "dereliction of duty" by the Biden Administration. He said that their policies was all but encouraging transnational criminal organizations to import illegal drugs across an unrestricted southern border.
"Our border communities are being used as the entryway to the United States, overwhelming law enforcement, hospitals, nonprofits and residents," Governor Ducey said. "It's our responsibility to protect our citizens and law enforcement from this unprecedented crisis." --->READ MORE HERE
If you like what you see, please "Like" and/or Follow us on FACEBOOK
here,
GETTR
here
, and TWITTER
here
.