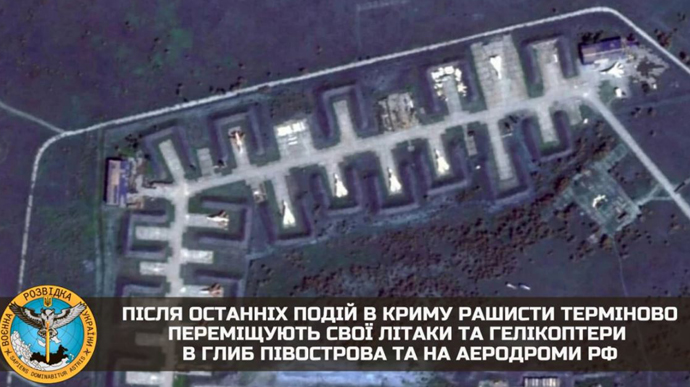 After explosions in Crimea, Russians move their aircraft to territory of the Russian Federation – Ukrainian intelligence:
After the recent explosions at Russian airfields in occupied Crimea, the Russians began moving their combat aircraft to the Russian Federation and deep into the peninsula.
Source: Chief Intelligence Directorate of the Armed Forces of Ukraine
Quote: "After the recent events in Crimea, the Rushists [Russian soldiers] are urgently moving their planes and helicopters deep into the peninsula and to the airfields of the Russian Federation.
The occupiers are taking measures to partially transfer the aviation equipment from forward-based airfields in Crimea to alternative airfields and the airfields permanently based on the territory of the Russian Federation."
Details: It should be noted that such activity began after a series of explosions at military infrastructure facilities in the temporarily occupied Crimea, including these in Saky (9 August) and Hvardiiske (16 August).
The Chief Intelligence Directorate reports that at least 24 planes and 14 helicopters have been seen to be transferred. --->READ MORE HERE
Half of Russia's Black Sea fleet's combat jets out of operation, Western official says:
Blasts at the Saky air base in the annexed Crimean peninsula earlier this month have put more than half of the Russian Black Sea fleet's naval aviation combat jets out of use, a Western official said on Friday.
The air base near Novofedorivka on the west coast of the peninsula, which Russia annexed from Ukraine in 2014, suffered multiple explosions on Aug. 9. read more
The official, speaking on condition of anonymity, said Ukraine was now consistently achieving "kinetic effects" deep behind Russia's lines which was having a material impact on Russia's logistics support and "a significant psychological effect on the Russian leadership".
"We now assess that the events of Saky airfield on August 9 put more than half of Black Sea fleet's naval aviation combat jets out of use," the official said.
On Aug. 12, Britain's Ministry of Defence said in its intelligence update that while a fraction of Russia's air fleet was destroyed in the blast, the navy's air capability was seriously degraded. read more --->READ MORE HERE
Follow links below to
+++++relevant+++++
and related stories:
+++++Russia-Ukraine News LATEST UPDATES: (REUTERS) (AP) (NY POST) and (WSJ)+++++
+++++Ukrainian Intelligence shares video of destruction of Russian electronic warfare system+++++
+++++Wagner Mercenaries Enter the Spotlight as Russian Troops Struggle in Ukraine+++++
Ukrainian army repels all Russian attacks and assaults over day – General Staff report
Russian villagers evacuate after ammunition base fire near Ukraine border, official says
28 wagons with missiles for S-300 air defence system on the way from Ulan-Ude to border with Ukraine – Armed Forces of Ukraine
Russians attack Kharkiv: residential building on fire, 7 killed
Ukraine fears Russian false-flag attack at nuclear power plant: report
Exiled Putin foe who sold home to Ivanka Trump mysteriously found dead in DC
Ukraine Presses U.N. Over 'Nuclear Blackmail' at Russian-Occupied Plant
High-level talks in Ukraine yield little reported progress
Denmark to invest $5.5 billion in new warships
Russian Jews head for Israel as Kremlin targets emigration group
Russia calls U.N. idea to demilitarise Ukraine's Zaporizhzhia nuclear plant unacceptable
Ukrainian celebrity crowdfunds radar satellite for armed forces
Months after Russian withdrawal, Bucha buries bodies of unidentified victims (PHOTOS)
Zelenskyy after meeting with Erdoğan: Negotiations with Russia possible only if Russian troops withdraw from Ukraine
If you like what you see, please "Like" and/or Follow us on FACEBOOK
here,
GETTR
here
, and TWITTER
here
.