Almost every House Democrat voted on Thursday to reward Indian H-1B visa workers by offering the huge prize of citizenship to their adult children in exchange for their parents taking Fortune 500 jobs from American graduates.
Sixty-two Republicans also voted for the corporate giveaway within the defenses authorization bill for 2023.
But the legislation was rejected by most of the GOP's leadership — including Rep. Kevin McCarthy (R-CA), Jim Banks (R-IN), and Jim Jordan (R-OH).
The GOP leadership's opposition may help stop Senate approval, said Rosemary Jenks, policy director at NumbersUSA. But, she warned, "We have our work cut out for keeping this off the Senate version."
"Your green card expansion will not be in the final [Pentagon bill] after [the joint House-Senate] conference, we will make sure of that," said a tweet from the Federation for American Immigration Reform to the leading Democratic sponsor, Rep. Deborah Ross (D-NC). "It is bad policy and has no place in a defense bill," the tweet added.
If approved by the Senate, the giveaway legislation will make it easier for Fortune 500 companies — and their many subcontractors — to fill corporate jobs with more Indian visa workers instead of American professionals.
Many corporations use the H-1B visa program to dangle the prize of citizenship before cheap and compliant Indian graduates when recruiting for jobs that would otherwise go to skilled, underused, innovative, and outspoken American professionals. This replacement process spikes the stock bonuses of C-suite executives but undermines the companies' ability to innovate amid growing foreign competition.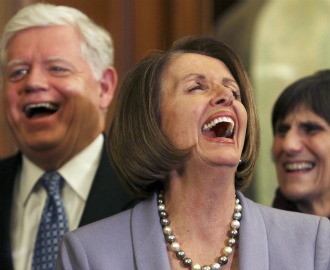 The existing visa worker system has brought at least 1.5 million foreign contract workers into coastal-based jobs at many Fortune 500 companies.
This huge inflow of foreign workers drains investment from GOP-majority Midwest and Southern towns and it demotes millions of the ambitious sons and daughters of American parents. The giveaway legislation benefits the visa workers and their foreign-born children but provides no compensation to Americans or their communities.
The chain migration giveaway also threatens the jobs of GOP members. Naturalized Indian immigrants are one of the most pro-Democratic voting blocs, partly because they feel little pressure to give up their ancient caste culture to better integrate into U.S. society.
All but three of the 218 Democrats voted for the chain migration giveaway.
This lockstep Democratic support for corporate outsourcing may be risky. A July 5-7 poll of 849 registered voters by Siena College showed that Democrats have the support of 57 percent of white college graduates. That group — and their children — are most impacted by the expanded giveaway of benefits to foreign contract workers. The clear opposition by the GOP leadership gives the GOP an opportunity to reduce that crucial Democratic advantage — if the GOP leaders are willing to anger their national corporate donors in the Fortune 500.
--->Read the rest from Neil Munro HERE
If you like what you see, please "Like" and/or Follow us on FACEBOOK
here,
GETTR
here
, and TWITTER
here
.