A belated victory against COVIDiocy:
In a belated victory against COVID insanity, a state Supreme Court judge has declared null and void New York's Rule 2.13, endowing the state health commissioner with unbounded power to issue isolation and quarantine orders.
Enacted in February 2022 and renewed since, the regulations have been published in the state register for possible permanent adoption. Yet it would be madness to codify this power months after the real threat of COVID receded into nothing.
Lunatic, too, given New York's atrocious record on protecting the most vulnerable (i.e. the elderly) from the virus.
Kudos to state Sen. George Borrello (R.-Chautauqua) and his fellow complainants on their successful lawsuit over the rule — and to Judge Ronald Ploetz for his ruling. --->READ MORE HERE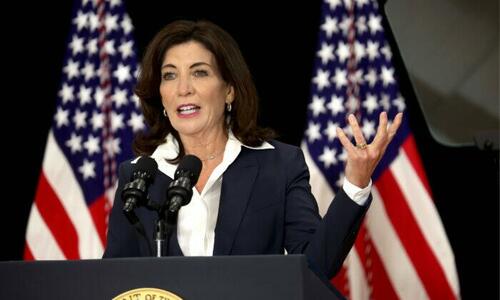 New York COVID-19 Quarantine Rules Unconstitutional And Illegal: Judge
A New York Supreme Court judge this month quietly ruled that regulations mandating that people infected with or exposed to highly contagious communicable diseases be quarantined are a violation of state law, declaring them null and void.
The Isolation and Quarantine procedures, known as Rule 2.13, were enacted in February.
Under the rule, "whenever appropriate to control the spread of a highly contagious communicable disease, the State Commissioner of Health may issue and/or may direct the local health authority to issue isolation and/or quarantine orders, consistent with due process of law, to all such persons as the State Commissioner of Health shall determine appropriate."
Isolations may include those at home, or in residential or temporary housing, subject to what the public health authority issuing the order determines is "appropriate."
However, the rule notes that "where symptoms or conditions indicate that medical care in a general hospital is expected to be required, the isolation location shall be a general hospital." --->READ MORE HERE
Follow links below to relevant/related stories and resources:
Major Study Confirms COVID Vaccines Alter Women's Periods
Cruise ships still pose a health disaster threat: Ship sanitation officer
USA TODAY: Coronavirus Updates
WSJ: Coronavirus Live Updates
YAHOO NEWS: Coronavirus Live Updates
NEW YORK POST: Coronavirus The Latest
If you like what you see, please "Like" and/or Follow us on FACEBOOK
here,
GETTR
here
, and TWITTER
here
.