Trump, Cruz stand by gun rights at NRA convention days after elementary school shooting:
One by one, they took the stage at the National Rifle Association's annual convention and denounced the massacre of 19 students and two teachers at an elementary school across the state. And one by one, they insisted that changing U.S. gun laws or further restricting access to firearms was not the answer.
"We must not react to evil and tragedy by abandoning the Constitution or infringing on the rights of our law-abiding citizens," said Texas Sen. Ted Cruz, who was among the Republican leaders who lined up to speak before the gun rights lobbying group Friday as hundreds of protesters angry about gun violence demonstrated outside.
Former President Donald Trump, in his remarks, called for "drastically" changing the nation's approach to mental health and "a top-to-bottom security overhaul at schools across this country," while dismissing calls for further firearm restrictions.
"The existence of evil in our world is not a reason to disarm law-abiding citizens," he said. "The existence of evil is one of the very best reasons to arm law-abiding citizens." --->READ MORE HERE
Trump Defends Second Amendment in Speech to NRA Days After Texas Shooting:
With the nation in fresh mourning and horror over the shooting deaths of 19 children and two teachers at a Texas elementary school and the delayed response of law enforcement, many Texas politicians and performers skipped the National Rifle Association convention, which began Friday in Houston.
That was not the choice of former President Donald Trump, who headlined the NRA's opening day meeting and chided those who did not "show up" at the event. He started with an homage to the victims, reading each name as a gong resounded offstage. He then segued into a laundry list of policies to control gun violence – some of which have been undermined as details of Tuesday's mass shooting have been revealed.
Then, abandoning the Teleprompter, Trump reverted to his post-election campaign mode, complaining about the "rigged" election, trashing President Joe Biden, and serving up a word salad that ranged from personal insults of media and political figures to how a foreign group of people – unclear if he meant Afghans or Chinese – don't like dogs.
"We witnessed a now familiar parade of cynical politicians seeking to exploit the tears of sobbing families to increase their own power and take away our constitutional rights," Trump said, slamming Democratic lawmakers who have appealed for universal background checks or more restrictive gun laws. --->READ MORE HERE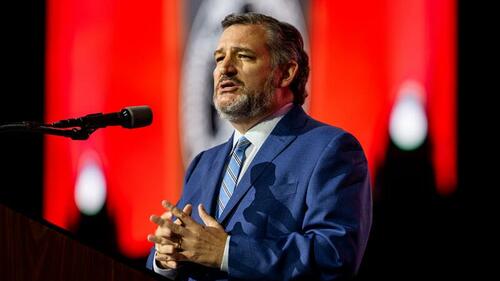 Ted Cruz Asserts "We're Not Responding To Tragedy By Giving Up Rights":
Texas Senator Ted Cruz defiantly signalled to anti-Second Amendment campaigners that he intends to fight off efforts to impinge on rights in the wake of the Uvalde school shooting last week.
Speaking at the NRA conference in Houston this past weekend, Cruz stated "It's far easier to slander one's political adversaries and to demand that responsible citizens forfeit their constitutional rights than it is to examine the cultural sickness giving birth to unspeakable acts of evil."
"It's far less comfortable to ask why despair and isolation and violent hatred is so prevalent in America," he further urged, adding that "the elites who dominate our culture" are intent on pushing the idea that "firearms lie at the root of the problem."
Cruz continued, "Tragedies like the events of this week are a mirror forcing us to ask hard questions, demanding that we see where our culture is failing, looking at broken families, absent fathers, declining church attendance, social media bullying, violent online content, desensitizing the act of murder in video games, chronic isolation, prescription drug, and opioid abuse and their collective effects on the psyche of young Americans is both complicated and multifaceted."
"It's a lot easier to moralize about guns and to shriek about those you disagree with politically, but it's never been about guns," the Senator further declared.
"Taking guns away from these responsible Americans will not make them safer, nor will it make our nation more secure," Cruz said, adding that "In an age where elites embrace defunding the police, when homelessness runs rampant, when gangs dominate entire communities, and when radical district attorneys refuse to prosecute violent crime in cities across America, rarely has the Second Amendment been more necessary to secure the rights of our fellow citizens."
Watch: --->READ MORE HERE
Follow link below to a related video:
Watch Trump and Cruz speak at NRA convention
If you like what you see, please "Like" and/or Follow us on FACEBOOK
here,
GETTR
here
, and TWITTER
here
.