Biden Drives Foreign-Born Population to 47M, Largest in History
President Joe Biden's policies have helped drive the nation's foreign-born population to 47 million as of April, the largest in United States history, new analysis reveals.
Researchers at the Center for Immigration Studies analyzed monthly Census Bureau data, finding that, as of April, about 47 million foreign-born residents reside in the U.S. This is "the largest number ever recorded in any U.S. government survey or decennial census," as researchers note.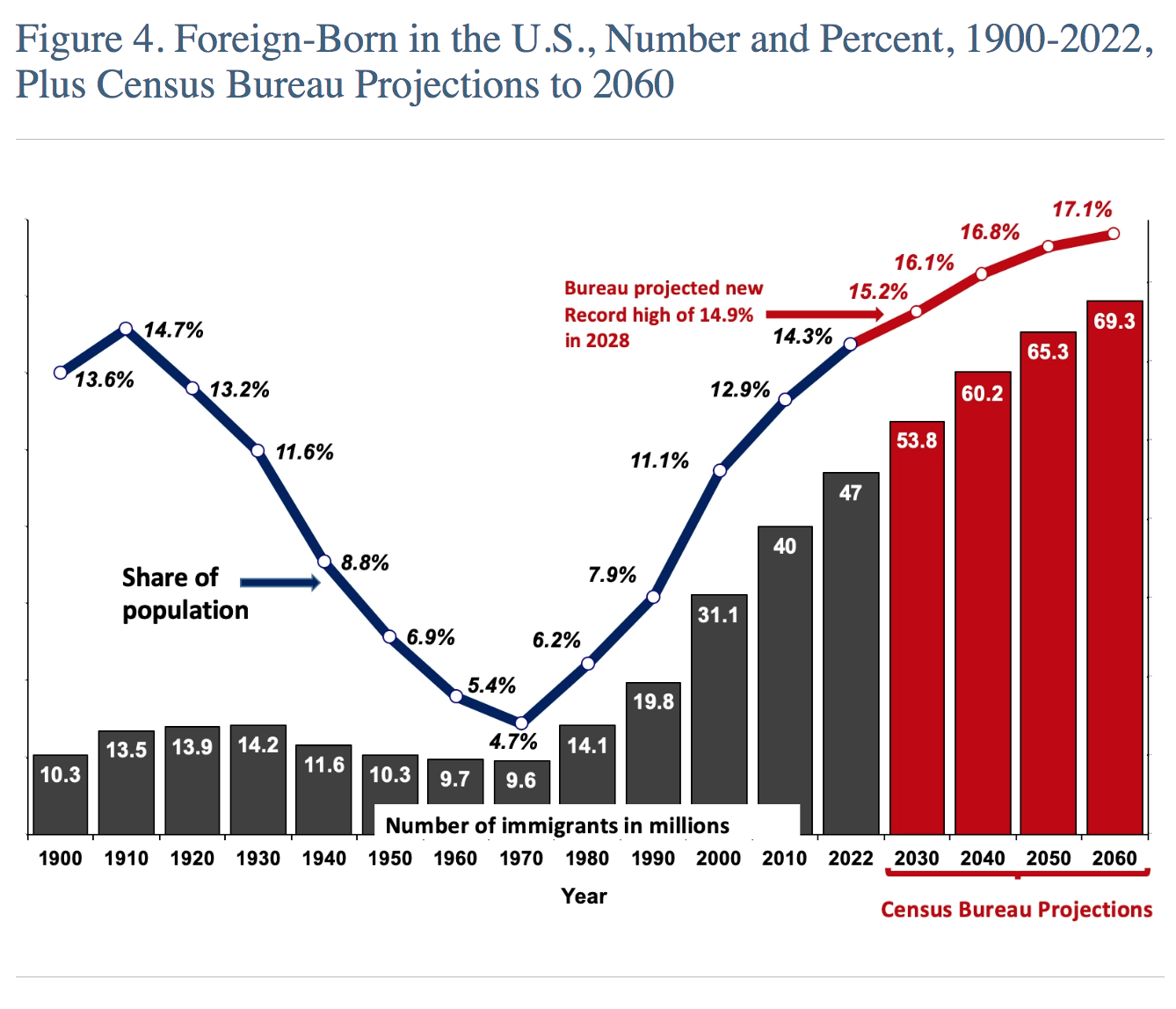 Center for Immigration Studies
From February 2021 to April, Biden's policies have helped add two million foreign-born residents to the U.S. population.
The data suggests that nearly 145,000 foreign-born residents are being added to the nation's already historically-high population every month. Today, more than 331 million residents live in the U.S., the highest in U.S. history. --->READ MORE HERE
1.35 million new illegal immigrants settled in U.S. under Biden, study shows:
The U.S. has added more than 2 million immigrants to its population since President Biden took office in 2021, the vast majority of them here illegally, according to a new report Wednesday that says most of the newcomers are arriving illegally.
The surge is so overwhelming that it's pushed up the projected point at which the U.S. will have its largest-ever share of immigrants, according to the Center for Immigration Studies.
At the current pace of growth, 14.9% of residents will be immigrants as of sometime next year, topping the record set around the turn of the 20th century. That's half a decade earlier than the Census Bureau's last calculation, said Steven A. Camarota, the center's director of research and the lead author of the new report.
"I've been at this a long time, when people used to say we're never going to come up to that level. It looks like we're going to blow past it some time next year," Mr. Camarota told The Washington Times.
Immigrants made up 14.8% of the U.S. population in 1890, and 14.7% in 1910, before beginning a decline. In 1970 they bottomed out at less than 5%, and as recently as 1990 still only comprised 7.9%. As of April, it stood at 14.3%, Mr. Camarota calculates. --->READ MORE HERE
If you like what you see, please "Like" and/or Follow us on FACEBOOK
here,
GETTR
here
, and TWITTER
here
.