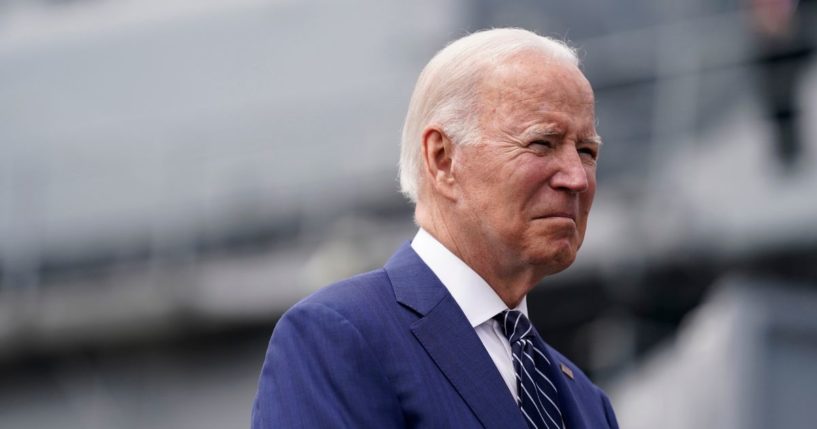 Biden Admin Suffers 'Massive Defeat' as Federal Judge Strikes Down Attempt to Abandon Immigration Enforcement:
A federal judge in Texas has handed the Biden administration another defeat in its ongoing attempts to liberalize immigration policy.
In his Friday ruling, Judge Drew Tipton struck down a rule issued in September by Homeland Security Secretary Alejandro Mayorkas to Immigration and Customs Enforcement that forbid agents from detaining or deporting illegal immigrants unless they had recently entered the U.S. or been identified as a potential threat to public safety or national security.
Texas and Louisiana had sued to overturn the rule, which they argued violated federal law. Tipton agreed, but stayed his ruling for a week to give the administration time to file an appeal of his decision.
A spokesperson for DHS told Fox News it was "considering next steps."
Tipton reasoned that, while the federal government has "case-by-case discretion" to enforce immigration law regarding individual illegal aliens, it does not have the authority to make broader decisions about enforcing — or not enforcing — laws put in place by Congress regarding entire classes of people. --->READ MORE HERE
Judge Blocks Biden Immigration Policy: DHS Cannot Change Law:
A federal judge has blocked President Joe Biden's Department of Homeland Security (DHS) from enforcing a policy that limits who immigration officials can arrest and deport.
DHS Secretary Alejandro Mayorkas issued a rule last year that authorizes immigration officials to pick and choose who they can arrest and deport. Instead of arresting and deporting immigrants just for being in the county illegally, Mayorkas ordered immigration authorities to focus on immigrants the department deems a threat to national security, public safety, or border security.
Mayorkas also directed immigration officials to look at "aggravating factors" like the severity of the crime committed and the immigrant's criminal background, as well as "mitigating factors" like age and length spent in the United States.
"In exercising our discretion, we are guided by the fact that the majority of undocumented noncitizens who could be subject to removal have been contributing members of our communities for years," Mayorkas's memo said.
Texas and Louisiana sued the Biden administration over Mayorkas's policy, arguing the rule violates federal immigration law and financially burdens the state by diverting resources to immigrants who are in the country unlawfully. --->READ MORE HERE
Follow links below to relavant/releated storiesL
+++++Court strikes down Mayorkas' limits on ICE enforcement+++++
Federal Judge Blocks Biden Administration Restrictions On Immigration Arrests
If you like what you see, please "Like" and/or Follow us on FACEBOOK
here,
GETTR
here
, and TWITTER
here
.